Raw Peach Crisp with Berry Syrup
One of the many things I love about the raw food diet is that with just a few steps, a few ingredients and literally a few minutes you can create heaven on a plate.  Sometimes just a fresh, ripe, organic, local peach can be like drops of honey in your mouth.  It really is about simplicity, getting overly complicated can take the enjoyment out it.  So, if anything takes more than five to ten minutes to make and there are too many dishes to clean after I'm not interested!
This particular recipe I absolutely love love love because not only is it so scrumptious but it can be substituted with a different fruit every time and it feels like a new recipe each time.  So with just a few basic ingredients you can have a different and delicious dessert with endless variety.  I usually eat this as a meal because it is so filling.  That is the joy of the raw food diet, you can have dessert as a meal with no guilt afterward.  Afterall, it is sugar-free, gluten-free, and low in fat.  You really can have your cake and eat it too! 🙂
Serves: 1
Recipe:
1/4 cup almonds (soaked overnight, rinsed & drained)
6 medjool dates, pitted (if using smaller dates at least 8)
dash of cinnamon
3 medium size ripe peaches
1 cup frozen raspberries (slightly thawed, 10-15 minutes)
1 cup fresh blackberries
Directions:
To make the crumble:
In a food processor ( I used a mini-food processor) pulse dates, almonds and cinnamon….
…..  Until it becomes a sticky dough. You want to have some chunks of nuts so be sure not to over process.
 In a blender, blend the berries on low, you want to have some chunks of berries so be sure not to blend to high or too long. It should become a chunky thick syrup consistency (almost like sorbet).
Slice the peaches, layer with crumble in a medium size bowl. Drizzle  berry syrup on top, then relish with delight!
Posted in Recipes and tagged with almonds, basic, berry, blackberries, cake, cinnamon, complicated, create, crumble, differentt, eat, enjoyment, few, filling joy, fresh, frozen, fruit, gluten free, honey, ingredietns, lo fat, local, love, meal, medjool dates, mini food processor, organic, overly, peach crisp, raspberries, Raw, raw desserts, raw food diet, recipe, relish, ripe, scrumptious, simplicity, soaked, substituted, sugar free, syrup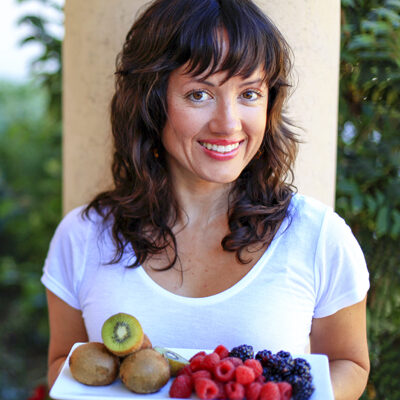 Hi, I'm Christine, thanks for stopping by! As a fibromyalgia thriver (symptom-free for over 10 years now thanks to diet and lifestyle changes), it is my passion to share the healing power of food.
As an RN and Holistic Nutrition Practitioner, it is my desire to empower you to take charge of your life.
Let's journey together to glowing health. Learn More
Your Health Transformation
Starts Here!
Sign up to get FREE healthy lifestyle tips and recipes!