Keeping Hydrated with Watermelon
I think I have found my favorite thing about summer.  And that is a big statement because I just love practically everything about summer! Even our wopping 112 degree days we had this week, I embrace it all! 🙂  But, yesterday in the midst of one of our hottest days I turned to a big plump, juicy watermelon looking for relief. I decided to be adventurous and instead of slicing it up eating it nice and cold like I always do, I walked on the wild side and decided to blend it in my Vitamix. 🙂  The first thing that really struck me about it was the absolutely gorgeous pink that it turned into once blended, and the sweet smell that just bursted from it, but nothing tops the incredible delightful flavor that came from it.  Being just about my most favorite fruit, I have tasted a many sweet watermelon.  But having blended it up just enhanced it that much more.  I felt like I was drinking a watermelon jollyrancher!
On these hot and humid days, it is so important that you stay hydrated, especially if you spend a lot of time outside under the hot sun.  So, what I have been doing is not only drinking it blended as my breakfast but I will bring a large 32 ounce bottle of it with me to stay hydrated during the day.  Watermelon contains almost 90 percent water and the highest sources of potassium, magnesium and manganese and 2% of your daily value of almost all other minerals (except sodium).  So forget Gatorade or other chemical sports drinks watermelon taste wonderful, is natural and keeps you perfectly hydrated during the day.  Make a big jug of it when you go out or are just coming back from a work out. Watermelon is so sweet tasting too, that it is a perfect snack to turn to when you are craving sugar, it really quenches your thirst and your craving! Watermelon also has wonderful antioxidants such as vitamins A& C, and beta-carotene which is a powerful cancer fighter, along with Lycopene.  Watermelon also provides a great source of fiber and protein.
CHOOSING WATERMELONS
Here are a few tips on how to choose a ripe watermelon:
1) The most obvious thing you want to look for is on the bottom of the melon from where it was growing, you will see a discolored spot.  If this spot is green it is not ripe.  If the spot is yellowish-white, the melon should be ripe.
This is the spot to look for
2) Look for a firm, symmetrical watermelon.  It should not have any soft spots. 
3) When you thump on the watermelon if it is ripe it should sound hollow.
4) Since watermelon are about 90 percent water, if it's ripe it should feel heavy for its size.
Recipe for watermelon juice:
1 baby watermelon
1 c ice (optional)
Blend in a blender and drink as much as you want, put the rest into a mason jar. Bring to sip on during the day. Drink your heart out!!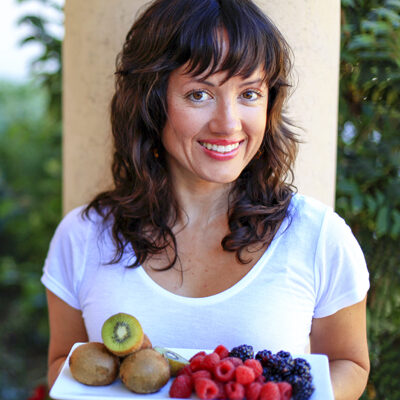 Hi, I'm Christine, thanks for stopping by! As a fibromyalgia thriver (symptom-free for over 10 years now thanks to diet and lifestyle changes), it is my passion to share the healing power of food.
As an RN and Holistic Nutrition Practitioner, it is my desire to empower you to take charge of your life.
Let's journey together to glowing health. Learn More
Your Health Transformation
Starts Here!
Sign up to get FREE healthy lifestyle tips and recipes!