Pomegranate Citrus Brussels Sprouts Salad
Ok I know what you're thinking…brussels sprouts,…raw..salad um I don't know about that! I totally get it I was skeptical too when I saw a shaved brussels sprouts salad recipe and I'm a fan of cooked brussles sprouts. I promise you you're going to like this one. The whole trick is in the cut of the vegetable, the slices must be thin. If they're too thick they'll be crunchy ad hard to chew.
The next important step is a delicious dressing. The dressing I created for this salad is oil-free so it's essentially fat-free and guilty free but don't worry still totally delicious! I love using citrus juice in my salad dressings, it makes for such tangy flavor and you can balance it our with a sweetener of choice, I prefer maple syrup. Then simply add your favorite herb or herbs, blend and there you have it a delicious fat-free dressing.
When you use fat-free dressing like this one it's nice to add some nuts or seeds or chopped fruit to give the salad extra heartiness. In this salad I use pecans and pomegranates which gives it a fall feel to it and make for a wonderfully tasty combination. But feel free to substitute with your favorite additions.
I have to admit that I would see brussels sprouts at the market and for so long have passed them right up, mostly because the idea of eating them raw just didn't appeal to me.  But, when I saw the original recipe featured on one of my favorite food bloggers blog I decided to give it a go. I am always looking to try new things so I was excited to try it! And I have to say I was pleasantly surprised when I tasted it.
This is my version with the fruits and nuts that I love but feel free to experiment adding different flavors and foods. Almond slivers would go great as a substitute for the pecans, sliced grapes or even pears would be a delicious combo if you don't have pomegranates. On the raw food diet the variety is endless that's one of the reasons I love it and never get bored!
By the way in case you're thinking that pomegranates take way too much time to deseed…you're right. It is a little bit tedious although so rewarding when you bite into the fresh, juicy, mouth-watering seeds. But these days most stores sell the seeds all year long, no cutting, knife or stains required! So, no excuse not to make this!
This Citrus Mint Salad dressing is:
-Salt free
-Oil free
-Fat free
-Salt free
-Totally delicious
It really is so important to eat a variety of foods on the raw food diet.  Sometime it can be so easy to stick just with spinach, or kale or some other green but each has its own important nutritional value and we should really be benefitting from all of them. So, I hope you try this and love it! And if you do leave a comment below and let me know!
Recipe:
2 cups brussels sprouts sliced
1 pomegranate (seeds of)
1/2 cup chopped raw pecans
Place all the above ingredients in a large bowl.
To make the dressing:
2 oranges (juice of)
1 lime (juice of)
1 tablespoons maple syrup
several fresh mint leaves
(optional) 1 tablespoon olive oil
Blend the above ingredients in a mini food processor and pour over salad tossing to combine well.  Serve immediately.
Just a few health benefits of brussels sprouts:
– Brussels sprouts are high in fiber.
– Research has shown that these vegetables protect against cancer by promoting healthy DNA, and have detoxifying effects.
– They are a good source of folate, omega-3 fatty acids, potassium, vitamin K, vitamin C, vitamin A and manganese.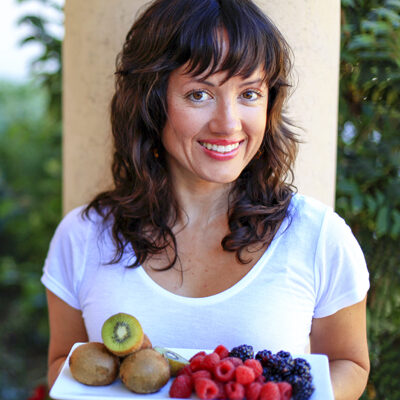 Hi, I'm Christine, thanks for stopping by! As a fibromyalgia thriver (symptom-free for over 10 years now thanks to diet and lifestyle changes), it is my passion to share the healing power of food.
As an RN and Holistic Nutrition Practitioner, it is my desire to empower you to take charge of your life.
Let's journey together to glowing health. Learn More
Your Health Transformation
Starts Here!
Sign up to get FREE healthy lifestyle tips and recipes!