Persimmon Apple Kale Salad with Tangy Tahini Dressing
This kale salad is a must try.  I guarantee you will LOVE it! It is full of juicy flavor that just bursts in your mouth.  It has a mix of flavors between sweet and tart, with a creamy tahini citrus dressing.  It is so hearty it makes for a full meal all by itself and it is simply delectable.  Well if you can't tell I'm really loving this kale salad.
…And who doesn't love persimmons?? They are just one of the most fantastic fruit ever! These are the fuyu persimmons so they are crunchy and can be eaten like an apple. They are a powerhouse of nutritional benefits and are packed with fiber so they keep you feeling full longer. I literally take several of them to work with me and make a lunch out of just persimmons.
Can you see the gorgeousness here? It's like a fall festa in your mouth.  The pomegranate jewels bursting with luscious juice, the sweetness of crisp pink lady apples sweet as candy, the crunchy buttery flavor of pecans, and the refreshing crunch of sweet crisp grapes over a bed of hearty kale.  It makes for a savory mix.  If you are not a kale fan, you will be after you eat this kale salad!
The great thing about this salad is that it is salt-free and oil-free.  With so much flavor going on there is absolutely no need.  I really try to use minimally refined oils.  They filled with fat and unnecessary calories.  I have been using tahini for my salad dressings instead.  It has a rich nutty flavor and it mixes well with so many things.  My favorite combo is with the juice of citrus like orange, lemon or limes.  It's so simple to make but really completes the salad well.
This is a perfect dish to bring to a potluck or to contribute a dish when being invited over for dinner.  Rawfoodies or not people in general love a good hearty salad.  Plus, you make sure that you will have something that you can eat too.
Servings 2 as meal, or 4 as a side salad
Recipe:
1 bunch curly kale
3 pink lady or fuji apples, cored
1 pomegranate, seeds of
3 fuyu persimmons
1 cup red grapes, cut in half
1/3 cup chopped pecans
Wash and chop kale into small pieces.  Cut the apples into thin slices, (about 2 inches long).  Cut the tops off the persimmons and cut into long slices. To seed the pomegranate, place it in a bowl of water and cut in half.  Then remove the seeds under water.  This prevents the juice from squirting all over. Place all the above ingredients into a large bowl.
Dressing:
1 lime, juice of
2 Tbsp raw tahini
1 tsp maple syrup
Water as needed for desired consistency
In a small bowl whisk the above ingredients together ( or you could blend in a mini food-processor).  When creamy pour over salad and toss to combine well.  Serve immediately.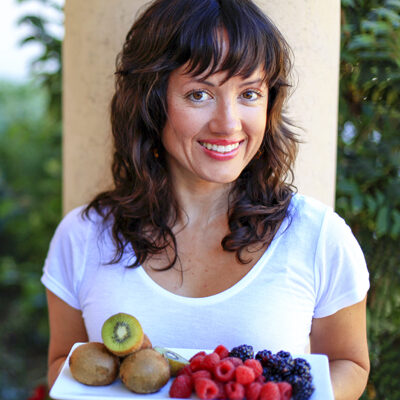 Hi, I'm Christine, thanks for stopping by! As a fibromyalgia thriver (symptom-free for over 10 years now thanks to diet and lifestyle changes), it is my passion to share the healing power of food.
As an RN and Holistic Nutrition Practitioner, it is my desire to empower you to take charge of your life.
Let's journey together to glowing health. Learn More
Your Health Transformation
Starts Here!
Sign up to get FREE healthy lifestyle tips and recipes!