This Veggie Soba Noodle Bowl is perfect for busy people who are looking for a healthy recipe.  Soba noodles cook in as little as 5-6 minutes and all you have to do is add fresh, cut-up vegetables of choice add a quick little sauce and you have a great meal. I love to use to use  Soba noodles because they are so versatile you can make so many different varieties of this dish simply by changing the veggies and spices used.  Here I used cabbage and broccoli as the main veggies but you can use spinach, kale, carrots, zucchini, cucumber or any other veggies of choice.  You can also add fresh herbs like basil, cilantro or mint…just thinking about it I'm getting hungry!
Soba noodles, or buckwheat noodles,  are a great alternative to pasta.  Buckwheat is loaded with health benefits.  It's a great source of fiber, which keeps you feeling full longer.  It contains all eight essential amino acids, so it is a complete protein.  Buckwheat,despite the name, is actually gluten-free.  However, many packaged varieties also contain wheat flour, so be sure to always read the label to make sure it is 100% buckwheat and gluten-free.  I love making a soba noodle bowl when I am craving pasta, it's kind of a comfort food for me and it totally hits the spot!
Soba noodles can also be served chilled if you prefer.  Since they taste just as good even when chilled, I usually make this for dinner and make enough to bring to work the following day.  I do not use microwaves so I eat it at room temperature over a bed of greens and make it like a soba noodle salad and it's perfect.  If you have minimal time in the morning to prepare just have it all ready to go the night before in a container, and all you have to do is pull it out in the morning.  It's super easy, time-saving and you have a delicious healthy meal to keep you going through your day and keep you out of the local fast food down the street, which is so easy to slip into doing.  Eating healthy just takes a little extra preparation and organization but once you start doing it, it really becomes second nature.
The quantity of vegetables used are variable so use as much as you want of each one.
Recipe:
2 Servings Soba noodles (I used about 6 oz)
1 cup Red cabbage, chopped
1 cup White cabbage, chopped
1/2 cup Green onion, diced
1 Jalapeño, diced
1 cup Broccoli florets
Marinade:
2 Tbsp sesame oil
1.5 Tbsp Coconut Amino's
1/2 tsp grated ginger
1/4 tsp red chili flakes (more if you like it spicy)
(optional) 1 garlic clove, minced
Directions:
1) Cook soba noodles according to package instructions (they cook in about 5 minutes, so make sure not to over cook them).  Once cooked and drained place in a large bowl.  Add the chopped veggies and jalapeño.
2) In a small bowl combine the ingredients for the marinade, mix well and pour the marinade on top mixing in to combine well.
3) Garnish with black sesame seeds.
What is your favorite way to eat soba noodles? Leave a comment below I'd love to hear from you!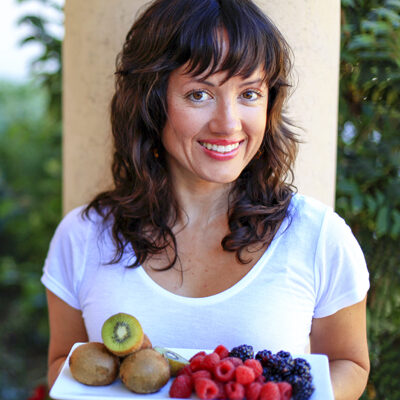 Hi, I'm Christine, thanks for stopping by! As a fibromyalgia thriver (symptom-free for over 10 years now thanks to diet and lifestyle changes), it is my passion to share the healing power of food.
As an RN and Holistic Nutrition Practitioner, it is my desire to empower you to take charge of your life.
Let's journey together to glowing health. Learn More
Your Health Transformation
Starts Here!
Sign up to get FREE healthy lifestyle tips and recipes!