Guest Post: "Raw Foods Helped Me Heal Quickly & Easily From Surgery"
In 2005 I started having serious stomach issues that included bloody diarrhea, pain, constantly running to the bathroom, weakness, etc. After being hospitalized and being told I was moments away from cardiac arrest from serious blood loss, I was finally diagnosed with Crohn's disease. Crohn's is a form of Irritable Bowel Disease, it is an auto-immune disorder. The disease is treated with biologic medications that come with cancer warnings and when they stop working you are pretty much screwed. This happened to me and I had to resort to living on different doses of prednisone (steroids) for over three years.
During this time I tried all sorts of diets but found that a vegan diet high in raw foods helped me to feel my best. Unfortunately, it was not enough. Finally, in September of 2013, I decided to see a doctor in NYC and see if I could finally get off of these harsh medications. After my new doctor ran many tests, it turned out I had Ulcerative Colitis, the sister disease of Crohn's. Not only had I been misdiagnosed for years, but I also had numerous pre cancer cells all over my colon. My doctor suggested surgery to have my entire colon removed. My small intestine would become what they call a "j-pouch" and act as my colon. The last thing I wanted was surgery, but with the thought of cancer growing inside of me, surgery would help me live a normal life. I would have normal bowel movements and the disease would not return so there would be no need for more surgery. So I decided to go for it.
On November 8, 2013 I had my extremely diseased colon removed. I had heard it would be a rough road ahead of me and that I would be in pain for weeks. I prepared for this the best I could. The night I was out of surgery, I took two laps around the hospital floor. The nurses were amazed. I was told most don't make it to the door after this surgery. I had barely needed pain medication and did everything for myself in the hospital. The nurses loved me! They told me I was one of the easiest patients they had and I had a positive upbeat attitude. I did have my moments and break downs but I got through them with the hope for my future!
I was on a liquid diet for a few days, I was told to drink chicken broth and Gatorade. That wasn't happening, I brought my own raw coconut water, almond milks, spring water, and other nut milks. Once I was allowed solids, I had to be on a low residue diet for 4-6 weeks. During this time I kept it vegan and as raw as possible. I enjoyed lots of smoothies made with bananas and Sunwarrior protein powder, green juices, cooked potatoes and sweet potatoes, lots and lots of bananas in all sorts of forms. When I saw my doctor and surgeon at week 3, I was told I could slowly go back to my normal diet because I was healing so well! I was so happy I didn't have to wait the 4 to 6 weeks that they had originally instructed.
Since then, I have gotten back to a mostly raw diet (raw until dinner, then a cooked or high raw dinner). The cooked portion of my day is usually cooked sweet potatoes or veggies, soups, quinoa, other gluten-free grains and beans. Nothing processed and always gluten-free and vegan. I am two months post surgery and I feel the best I've felt in years! I've been told I can eat anything I want now, but I won't! I feel so amazing eating mostly raw foods and I know eating that before surgery is the reason I recovered so quickly and had such an easy time with everything. My husband even mentioned to me that I am in superhero shape (he said this in a loving way), I did workout beforehand, but not enough to say that was why I had such an easy time. I will be starting P90x3 on the first week of January, hoping my next two surgeries go as well. I believe in the power of raw foods! I can't wait to live my life to the fullest as I have always wanted.
                                                                                                                                After being off predni-
Before surgery on prednisone                                                                            sone a month and a half
Lauren Nastasi is a mother, wife, pug lover and
cacao goddess who lives in New Jersey.
She blogs about her journey at gingeristhenewpink.blogspot.com
Twitter and instagram: laurenginger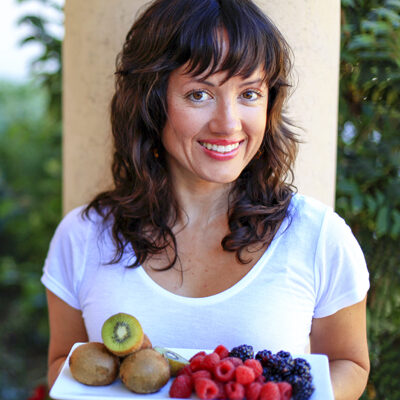 Hi, I'm Christine, thanks for stopping by! As a fibromyalgia thriver (symptom-free for over 10 years now thanks to diet and lifestyle changes), it is my passion to share the healing power of food.
As an RN and Holistic Nutrition Practitioner, it is my desire to empower you to take charge of your life.
Let's journey together to glowing health. Learn More
Your Health Transformation
Starts Here!
Sign up to get FREE healthy lifestyle tips and recipes!