Vegan Mushroom Risotto With Fresh Thyme
One of my favorite dishes to make when I have guests over is risotto.  It's so easy, versatile and is always a huge success! I'm by no means a chef in the kitchen but it's one of those dishes that usually impresses people even though it's really so simple to make….but, shhh don't tell anyone haha!
This week I was craving mushrooms. I love the amazing flavor they add to food.  Sometimes I'll marinate them to use them in salads or eat them cooked over rice.  This week I decided to make a vegan mushroom risotto. I'd been looking online at the vegan menu of the Wynn Las Vegas hotel restaurant The SW Steakhouse, and was inspired by their mushroom risotto.
Side note..I was recently informed that they brought on a vegan chef there to start creating a vegan menu, which I thought was awesome! So if you're ever in Vegas you can have plenty of options to choose from.  How great is that? It makes me so happy to hear that it's becoming so much more mainstream and our voices are being heard for the need to have options! There's been a few times I've had to go to a steakhouse cause my husband and group of friends wanted to go and I was stuck eating some sorry looking "salad"…Ahem ok now what was I saying? Oh yes back to the recipe, I was hoping to use Porcini mushrooms but there were none to be found at the stores so I used Cremini and Shiitake mushrooms instead.
The two together really made for a nice texture, not to mention the fabulous flavor.  The key to enhancing the flavor in risotto is to add the broth a little at a time, so that the flavors can really be absorbed.  This is gluten-free, vegan dish and the best part is that there's no sacrifice in the taste despite it being dairy-free.
I have to share this funny story with you…When I planned to make this I asked my husband to oversee me since he's the self-proclaimed "Italian cook", lol, he's really very good actually. Being the authentic, straight from Italy, Italian that he is, he had in his mind without doubt that we'd be doing it the Italian way to the tee.  It was almost offensive to him that I'd actually consider changing even one ingredient of their already perfect hundred year old recipe. When I told him that it'll be vegan with a pine nut cream, it was like blasphemy to his culture and food. I'm totally cracking up as I write this! I've only been eating this way for four years now and each time he's as surprised as the first time that I'm making my vegan twist on a dish. Anyway, despite his thinking that he wouldn't like it, in the end he quickly asked for seconds after finishing his first.  So, I'd have to say that says it all right there!
I rarely if ever drink wine and only once in a great while cook with it, so if you prefer to omit it from this recipe you can totally do that.  When it comes to cooking or preparing raw foods, I really limit the amount of oils and salt that I use.  But, I have come to learn that just because I eat that way doesn't mean that my family always wants their food prepared like that.  So, for them I will use ingredients I may not normally for myself. If it helps them enjoy a plant-based dish instead of adding animal products to their plate then I'm totally for it! We can't force our taste buds on others.  At the end of the day, we all have to really enjoy what we eat.
I used a pine nut cream to really add a creamy and savory flavor.  You could substitute it with cashews, but I find pine nut cream so light and fluffy similar to actual heavy cream.  Plus, I love their mildly sweet and nutty flavor, it really adds a comfort factor to this dish.  My husband liked it so much he added a dollop on top of the rice too for extra creaminess.
The subtle, dry flavor of the fresh thyme just really tops it off well, but you could also use fresh parsley or other fresh herbs like sage. I'm just partial to thyme, I put it in everything.
I can't wait for you to try this recipe I just know you're gonna love it!  This is also the perfect dish to make when you have guests, they'll absolutely love it and you'll have a meal that you can eat and enjoy with everyone else! You don't even have to say it's vegan all they'll know is that they had a fabulous meal!
Serves 4
Prep time: 15 minutes
Cook time 45 minutes
Recipe:
1 oz dried Shiitake mushrooms
2 cups chopped Cremini mushrooms
3 cups warm water
2 teaspoon fresh thyme (set aside 1/2 teaspoon for garnish)
2 Talebspoon olive oil (if you want to keep it oil-free replace oil with 1/4 cup water)
1 garlic clove, minced
1/2 red onion (1 cop chopped)
1 1/2 cups Arborio rice
1 cup white dry wine ( I used Pinot Grigio)
4 cups vegetable broth
1/4 cup pine nut cream, recipe below (add more for desired creaminess)
(optional) 2 tsp Himalayan salt
Recipe for Pine Nut Cream:
1 cup raw pine nuts, soaked in filtered water 2+ hours
1/3 cup + 2 Tablespoon water
Blend in a blender on high until smooth and creamy. NOTE: You may need to stop the blender a couple of times and scrape down the sides using a spatula.  Make sure not to put too much water this should be thick and creamy not liquified.
Directions:
1) Soak Shiitake mushrooms in warm water for 20-30 minutes, then remove from water and slice thinly. 2) Heat olive oil in a large pan with onions and garlic until translucent (about 10 minutes).  3) Then add mushrooms, salt, white wine and 1/2 cup of broth, keeping flame on medium-high. 4) Once the liquid starts to evaporate add the rice stirring in well. Let it toast for about 5 minutes then lower the flame to medium-low and add thyme and a cup of broth. 5) As liquid evaporates add 1 cup at a time of broth. Stir constantly until the rice is tender and creamy. 6) Once rice has softened turn off the stove and add in pine nut cream stirring well until thoroughly mixed in.  Garnish with cracked pepper, fresh thyme  and a drizzle of olive oil as desired.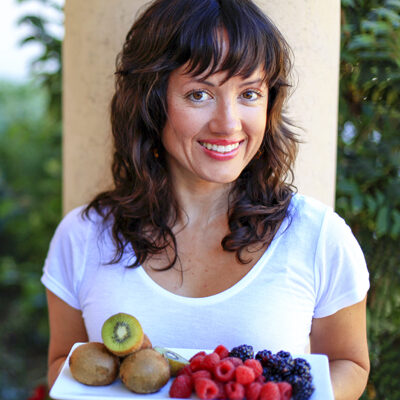 Hi, I'm Christine, thanks for stopping by! As a fibromyalgia thriver (symptom-free for over 10 years now thanks to diet and lifestyle changes), it is my passion to share the healing power of food.
As an RN and Holistic Nutrition Practitioner, it is my desire to empower you to take charge of your life.
Let's journey together to glowing health. Learn More
Your Health Transformation
Starts Here!
Sign up to get FREE healthy lifestyle tips and recipes!