Raw Vegan Days 24-28 + The Truth About Red Skin Syndrome
Day 24 thru 28 – Raw Vegan and Red Skin Syndrome Awareness
The Honest Truth About Red Skin Syndrome:

The last few days have been really tough; I apologize for my delay in getting my raw vegan menu out to you guys. As Christine so kindly mentioned, I haven't been able to use my hands.
Many patients with Red Skin Syndrome (Topical Corticosteroid Addiction) suffer the most from their hands being severely effected by burning, rash, pain and the constant exfoliation – regeneration cycle. Since we used our hands to apply our prescribed Topical Corticosteroid Creams to our body, or hands are technically the most effected part of the body due to exposure. Even if we didn't have a rash on our hands, the hands touched the Topical Corticosteroid Cream the most. In fact, I used hands as part of my Facebook logo on my "Eczemancipated" page because of this reason.
So for the last few days, my hands have been desperately trying to rejuvenate skin. But it is happening so quickly that the skin is paper-thin and very tight as there is no elasticity to the new skin. Any movement of the hands while in this state result in tears in the skin, creating swelling and inflammation and even more fissures and cuts in the skin. It becomes extremely painful. I feel that I can deal with a lot of pain, but having my hands this compromised is debilitating. We take our hands for granted when we can use them normally.
For more information on how to donate to ITSAN: https://itsan.org/about_eczema_Donate.html
Day 24 thru 28 Raw Vegan Challenge:
Day 24 BREAKFAST – I had a Berry Smoothie.
Day 24 SNACK – I saw Christine's "raw humus" recipe made from Zucchini and to be honest I was like there is no way that it tastes as good. Um, turns out it is fabulous! Followed her recipe and ate entire head of celery with the raw zucchini humus.
Day 24 LUNCH/DINNER – Went to a friend's house for dinner and packed up a veritable pantheon of meal options for myself, as I knew everything there would be meat related or dressed in something with cheese. I made a humongous salad of Baby Kale, Celery, Carrot, Pecans, Black Olives, Cherry Tomatoes and squeezed Lemon juice all over it with a dash of salt and drizzle of Olive oil.
DAY 24 SNACK – I contributed a bowl of my "Rawmesco" dip which was a big hit.
DAY 24 DESSERT – I also brought over my own dessert which was all the left over Raspberry sauce from last week and a big Dollop of Frangipane Cream.
Day 25 – Lack of pictures. I was really down for the count on Sunday, my hands hurt terribly so I couldn't take pictures. I'm sooo sorry but a lot of what I had you can see pictures of in earlier posts.
Day 25 BREAKFAST – I had a Berry Smoothie. (See above. I REALLY like my berry smoothie.)
Day 25 LUNCH – My husband got me my Chipotle Salad.
Day 25 DINNER – I wasn't really hungry cause I felt so bad. Just ate 2 oranges and picked at some dried fruit and nuts.
Day 26 Raw Vegan Challenge:
BREAKFAST– I had a Berry Smoothie. (See picture above.)
Day 26 LUNCH – I had "Cocoa-Nut" smoothie. I got creative and used the juice of an flesh of 1 Young Thai Coconut, 2 Tablespoons Raw Cocoa Powder, Couple dashes of Cinnamon, 1 teaspoon of vanilla, 2 tablespoons of Raw Almond butter and YES, I have given in and purchased dates… So I added 3 dates and blended. Thick, rich and creamy goodness.
Day 26 Dinner – Ok so I totally LOVE humus, if you guys haven't noticed. I had some left over Butternut Squash so I made raw humus, the same as Day 24 but instead of Zucchini I used a cup of chopped Butternut Squash. Then I made a fun plate of kale, Flatbread, tomato and avocado to make fun sandwiches.
Day 27  Raw Vegan Challenge:
BREAKFAST – Since we are going away for the weekend, I'm trying to finish up all the vegetation in the house. I made a fantastic smoothie out of an entire peeled grapefruit, 1 cup pineapple juice, ½ cup water, teaspoon vanilla, 1 mandarin orange peeled, water and flesh of Young Thai Coconut blended to perfection.
Day 27 LUNCH – After perusing Christine's 30 Day journal, I saw she had made coleslaw and thought it sounded good. I have a close friend who makes a great (not totally vegan) coleslaw. So I kind of made my recipe based on the both or theirs.
Fennel Carrot Coleslaw Recipe – ½ of a Napa Cabbage shredded or julienned, 3 carrots shredded, 1 large bulb of fennel julienned or shredded, ½ cup pecans, ½ cup raisins, 1/3 of a fresh pineapple sliced in ¼ inch chunks. For the dressing, I made ½ of the "Grapefruit Ginger" dressing from last week and then I added ¼ cup of Apple Cider Vinegar, 1 teaspoon salt, 1 teaspoon ground mustard, 1 peeled clove of garlic and blended it. Drizzle gradually thru the coleslaw, tossing to mix evenly. Enjoy!
Day 27 DINNER – I sliced up an avocado, tomato, baby gherkin and piled it high on my raw mustard slathered juice pulp flatbread.
Day 27 SNACKS – I had some dried Apricot, which we are now referring to in the house as "candy". I also had a Raw Kombucha I picked up at a local health food store called "Staff of Life".
Day 28 BRUNCH – Went back to Café Gratitude today and met a friend for brunch. They gave us so much food; I took half of it home and ate it later for dinner. You are looking at a Young Thai Coconut shake with Dates and Almond butter.
Also I got "Nachos" which were actually flaxseed/Carrot crackers with a Cashew pepper jack "cheese", spicy salsa, and guacamole and over mixed greens. There was also another spicy item on the plate that was tasty but I don't remember what it was.
This is what my friend ordered, it was totally vegan and almost completely raw except for the warm brown rice. We both got the Young Thai Coconut shake. It was all very scrumptious.
Snacks – Other than brunch, I've been drinking a lot of water, had 1 lemon coconut "cookie" I took home from Café Gratitude and some dried cherries and an orange. Nothing too much to write home about.
TWO DAYS TO GO!!!
Heather Petersen
www.eczemancipated.com
Facebook: Eczemancipated
Twitter: @HPEsthetics
Pinterest: HP Esthetics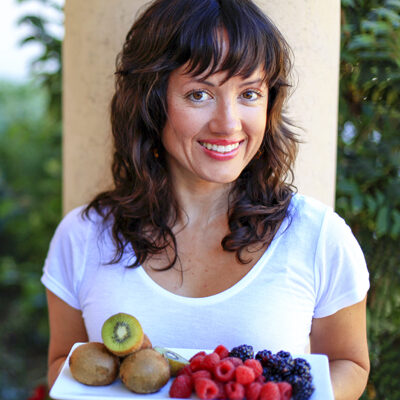 Hi, I'm Christine, thanks for stopping by! As a fibromyalgia thriver (symptom-free for over 10 years now thanks to diet and lifestyle changes), it is my passion to share the healing power of food.
As an RN and Holistic Nutrition Practitioner, it is my desire to empower you to take charge of your life.
Let's journey together to glowing health. Learn More
Your Health Transformation
Starts Here!
Sign up to get FREE healthy lifestyle tips and recipes!