Guest Post:Raw Juice Pulp Flatbread Recipe
Raw flaxseed vegetable crackers recipe:
To begin, make yourself about 16-20 ounces of vegetable juice. I used ½ English cucumber, 2 apples, 7 carrots, 4 large handfuls of spinach and 2 cloves of garlic.
Take all of the pulp out of the juicer (should make approximately 4 cups of pulp) and place in a large mixing bowl. Add ¾ cup of ground flaxseed and 1 cup of a mixture of nuts. See nut mixture recipe below.
The nut mixture recipe (pictured in the left glass measuring cup) is: ½ cup almonds, ½ cup of walnuts, 4 tablespoons poppy seeds, 1 teaspoon thyme, 1 teaspoon garlic powder, 1 ¼ teaspoon cayenne pepper. Place in the food-processor to blend and grind the nuts down more finely.
Then, mix 3 cups of water into the large mixing bowl of pulp adding the ground flaxseed and nut mixture. Be sure to mix well, then let this mixture sit for about 20 minutes to firm up.
Next spread the mixture onto large parchment paper lined dehydrator trays.
Smooth out so that the edges are flush. The mixture should be spread down to about 1/3 inch – ½ inch thick. (This depends on whether you want "flatbread" or "crackers".) I wound up with 1 tray of flatbread and 2 trays of crackers.
The dehydrator I used allows for 5 trays to be in the machine at once. Since I only had 3 trays I spaced them apart with so they weren't stacked all on top of each other. Go ahead and place the trays how you wish, just keep in mind the more air flow – the more evenly items will dehydrate. They will need to stay in the dehydrator for 4 hours on 104 degrees Fahrenheit before scoring and flipping.
After 4 hours, take the trays out and score them into the size you would like them to be later when they have completed dehydrating. Then flip them over and peel the parchment paper off and throw in the garbage.
NOTE: If the mixture doesn't stick to the parchment paper as you are flipping, it needs more time in the dehydrator before you do this step.
Place the "dough" back in to the dehydrator. (Take a moment to see which side of the cracker/bread is the dryest and place that side away from the fan as you place trays back in to the dehydrator. This will allow for everything to cook evenly.)
NOTE: Each time you open the dehydrator it will take about an hour for it to get back up to the proper temperature you've set it at. So this means, after scoring as pictured above, it should take about 6 more hours to get the "flatbread" consistency.  However if you want crackers you will need to probably leave it in a total of 8-10 hours. Timing is also dependent on how your dehydrator works and how crispy you want the "crackers" to be. (For example: Since I opened my dehydrator after 6 hours to get the flatbread out, I needed another hour to let the dehydrator get back up to temp and then another 3 hours for the crackers to get to the crispiness I wanted them.)
Once everything is finished dehydrating, take the trays out and break them up where the lines were scored.
Voilà! Raw Crackers and Raw Flatbread.
This vegetable flatbread is flexible too and makes for a great sandwich or  pita:
I have really been enjoying this flatbread, it makes a great addition to a salad or raw veggies with some hummus making a pita out of it. Or just as a snack.  Plus, I love the idea that I am not wasting my juice pulp!
Enjoy!
Heather Petersen
www.eczemancipated.com
Facebook: Eczemancipated
Twitter: @HPEsthetics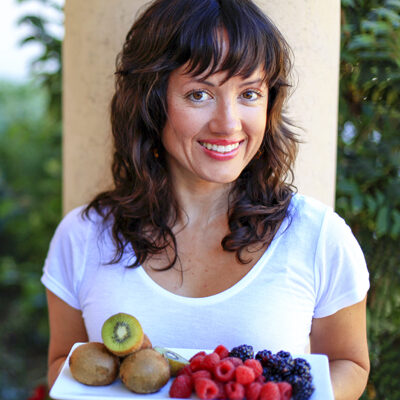 Hi, I'm Christine, thanks for stopping by! As a fibromyalgia thriver (symptom-free for over 10 years now thanks to diet and lifestyle changes), it is my passion to share the healing power of food.
As an RN and Holistic Nutrition Practitioner, it is my desire to empower you to take charge of your life.
Let's journey together to glowing health. Learn More
Your Health Transformation
Starts Here!
Sign up to get FREE healthy lifestyle tips and recipes!