Guest Post: Raw Vegan Days 20/21 + Butternut Squash "Couscous" Recipe
Day 20 and 21 – Raw Vegan and Red Skin Syndrome Awareness
Sorry I got behind in my posts. Yesterday was a bit hectic, had to get my taxes done. Fun times!
I wanted to say that for the last week my nut, oil and avocado intake have been really high. So by last night I felt really blah after eating my super delish dessert that I made because it was like 50% nuts. After chatting about it with Christine today, we agreed my fat intake per meal has been at times too much. So moving forward I'm gonna keep myself in check with the ratio of fat to food.
Red Skin Syndrome Fireside Chat:

Today we are going to hear from Loren, one of the faithful care-taking mother of an infant with Topical Corticosteroid Addiction. You can read an interview I did with her on my blog back in January, the post was called "Three Wonderful Mothers Share Their Story".  Let's listen to Loren tell us how she and her son have benefited from finding ITSAN:
"My son Kline is now 3 years old. He used topical steroids or 2.5 years and truly suffered terribly from July 2011- April 2012. Before we found ITSAN we never knew what was going on with his skin. His eczema went from normal hot spot eczema to full body rashes. Finally, UK Kelly (also interviewed on Heather's blog) led me to ITSAN. After going to ITSAN.org I knew in seconds that Kline was suffering from Topical Corticosteroid Addiction (aka Red Skin Syndrome).
Within 10 days we were on a plane to Los Angeles to see Dr. Rapaport for a diagnosis. Kline has now been a year off steroids and the support we have gotten through ITSAN is immeasurable! On the days and nights I thought we were doomed their support got me/us though!!! Without ITSAN, I would have never known about RSS and my little baby would have been on a very scary path of continuously being prescribed stronger and stronger courses of Corticosteroids to get his skin under control. Although this journey of coming off of Corticosteroids and suffering through RSS is treacherous, ITSAN makes the journey much easier by providing support and over all concern for the sufferers and caretaker.
For more information, check out www.itsan.org, the (ITSAN) International Topical Steroid Addiction Network.
Day 20 and 21
TUESDAY BREAKFAST – Was running late when I woke up and got ready. So just ate about 5 Juice Pulp Crackers with a few tablespoons of humus with my quart of water.
TUESDAY LUNCH – Still out and about gathering stuff for my taxes so I went to raw vegan restaurant called CAFÉ GRATITUDE. They have locations in Berkley, Santa Cruz, Venice and Los Angeles. I ordered a smoothie to go. It was so YUM! Young Thai Coconut, Almond Butter, Vanilla and Hazelnut Milk.
TUESDAY SNACK – I also thought I'd try a few of their truffle treats and got 4 to take home.
TUESDAY DINNER – I made a Butternut Squash "CousCous" and then threw it together with Spinach and the Citrus Salad Dressing I made on Monday.
BUTTERNUT SQUASH "CousCous" RECIPE – 2 cups of butternut squash peeled, seeded and cut up into big chunks. ½ cup of raw walnuts, 1 clove garlic, ¾ inch piece of ginger with peel on, 1 teaspoon salt, ½ teaspoon pepper, ¼ teaspoon coriander. (I didn't have it but you can throw a handful of cilantro or parsley in too.) Throw all the ingredients into the food processor and pulse down to the texture you like.
TUESDAY DESSERT – Raspberry Parfait. I made a "Frangipane" cream and Raspberry sauce and then layered them in a glass to make a parfait. Would be great for any time of the day. Here are the recipes, they are both modified versions of Ani Phyo's:
"Frangipane" Cream: 1 cup filtered water, 1 cup raw almonds, 1 teaspoon pure vanilla extract, 3 Tablespoons Raw Coconut Syrup. Throw it all into the blender and blend until smooth. (I don't have a high-speed blender so I had to stop it a couple of times and stir up the mixture before it became creamy smooth.) You may need to add a little less water to keep it like a thick cream.
Raspberry Sauce Recipe: 12 oz Organic raspberry's, juice of 1 lime, 3 tablespoons of raw coconut syrup. Throw into blender and blend until smooth. Should keep in the fridge for a week.
WEDNESDAY BREAKFAST – 2 tangerines and a quart of water
WEDNESDAY LUNCH – 2 Sandwiches that I made with the rest of my juice pulp Flatbread, Butternut Rice, Spinach and humus.
WEDNESDAY SNACK – A couple of the fruit crackers I made like a week and a half ago and 2 more tangerines.
WEDNESDAY DINNER – Pineapple Mango Smoothie. (1 Cup Organic Pineapple Juice, ½ Cup water, 1 Cup Organic Frozen Mango blended til smooth)
I kinda did everything backwards today. Did my hearty food in the AM and my smoothie in the PM. I usually like to have the Smoothies first thing in the morning or as dessert.
Heather Petersen
www.eczemancipated.com
Facebook: Eczemancipated
Twitter: @HPEsthetics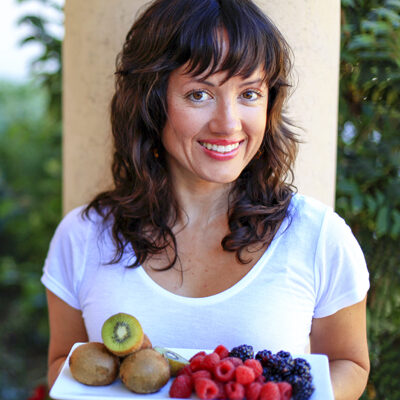 Hi, I'm Christine, thanks for stopping by! As a fibromyalgia thriver (symptom-free for over 10 years now thanks to diet and lifestyle changes), it is my passion to share the healing power of food.
As an RN and Holistic Nutrition Practitioner, it is my desire to empower you to take charge of your life.
Let's journey together to glowing health. Learn More
Your Health Transformation
Starts Here!
Sign up to get FREE healthy lifestyle tips and recipes!