Raw Vegan Days 17/18 + Key Lime Cream Recipe
Weekend Update Day 17 & 18 – Raw Vegan and Red Skin Syndrome Awareness
This weekend has had both ups and downs. Yesterday afternoon I had to go somewhere far away and a friend of mine chauffeured me around. I guess I over did it because, this morning, I flared pretty badly on the neck, décolleté, arms and hands. In fact I was experiencing so much burning pain I cried most of the morning and my loving husband stayed at my side all day to comfort me. Tomorrow I think I will chat about the importance of Caregivers, both family and friends. But in the meantime, here is an interesting RSS tidbit.
Red Skin Syndrome Fireside Chat:

Dr. Mototsugu Fukaya in Chapter 6 and 7 of his book "Atopy Steroid Addiction in Japan" talks a lot about how experienced and impressive Dr. Rapaport is in the dermatology field. He said he has never met another dermatologist with such adept understanding and judicious medical practice when it comes to treating patients with Red Skin Syndrome. Dr. Fukaya continues to discuss his disconcerting observations that most dermatologist want to turn a blind eye to Topical Corticosteroid Withdrawal because Corticosteroids are a main source of their treatment plans for all skin conditions and a major source of their income in Japan is prescribing Corticosteroids.
Interestingly Dr. Fukaya comments, "Skin diseases are the most difficult, second to mental diseases to quantify the symptoms and dermatologists have to depend on clinical description for diagnosis. Therefore, dermatologists actively employ classical methods such as pattern recognition and descriptive science, which is the biggest factor that made me choose dermatology." He was impressed during his internship in Internal Medicine that a Dermatologist could just look at the skin and make a diagnosis while Internal Medicine doctors had to diagnose things by going one at a time through different criteria before establishing the problem. He continues, "It's strange that Dermatologists with such sharp eye fail to notice the phenomenon of Steroid Addiction."
For more information, check out www.itsan.org, the (ITSAN) International Topical Steroid Addiction Network.
Weekend Update – Day 17 & 18 Menu
Another weekend down with some exciting and some boring fare, partly because of my energy levels being so low today.
SATURDAY BREAKFAST – Besides my usual quart of water, I made a really awesome Mango, Berry, Coconut Water and splash of Cherry Juice smoothie for me and my friend who came to chauffeur me around in the afternoon.
SATURDAY LUNCH – Was a total bust. We were out longer then I had expected and we ate lunch at dinner time. Since the time and our hunger level we had to go to a chain restaurant which I thought would have a decent salad selection. Unfortunately the salad I ordered wound up being the worst salad I ever had. A Romaine lettuce laden plate with a whisper of apple, cranberry, avocado, red onion and walnuts – it was like a "froofy lady salad", not a robust raw vegan salad at all. I did remember skip the dressing and instead they gave me a side of salsa to put on top. That was the only redeeming quality…
SATURDAY DINNER – Wasn't super hungry. But my friend stayed at the house for a bit after we got back and so we completed the Key Lime Cream and "Coco" Walnut Cookies. I was winging it off of Ani Phyo's recipe. So here is my version of hers.
Friday I gave you the "Key Lime Cream" recipe. But if you didn't see it here it is:
Key Lime Cream Recipe:
2 Cups Cashews, 1 cup lime juice, 1/2 cup raw Coconut Syrup, ¼ cup of Avocado Oil and about a ½ cup of Organic Coconut Water. Blended it on high in my blender. I don't have a Vitamix or Ninja so I had to stop the blender a few times and mix the stuff around and then turn it back on. I poured the cream into lined cupcake containers (made 10 cup cakes) and then put them in the freezer over night for the rest of my recipe tomorrow… Super simple!
NOTE: (I adjusted this recipe today after eating the "Cream Sandwiches" yesterday, needed more lime and sweetener.) Don't fill the cupcake liners all the way up as you see in my picture. Either pour it into a pie/casserole tray and use the same cookie cutter you use to make the "Coco Cookies" after the "Key Lime Cream" is chilled. – OR – only fill the cupcake liners HALF way up, otherwise it's too much cream.
Coco Walnut Cookie Recipe:
Okay we did this recipe 2 different ways. We made one batch with Carob & Ginger and then we made a second batch with just Raw Cocoa. So pay attention because I will make notes through the recipe. Also these don't taste like a traditional cookie, so there's that…
1 Cup Dried Mission Figs (cut the stems off), ¾ Cup Raw Walnuts, 1/8 tsp. Sea Salt and EITHER ¼ Cup Carob and ½ inch piece of peeled raw ginger – OR – ½ cup Raw Cocoa. Combine all of it in the food processor until the dough begins to stick together. Place a large square of parchment paper on the counter and dump the "cookie dough" onto the parchment. Place another piece of parchment on top of the "cookie dough" and then roll it out to be about 1/3-1/2 inch thick. Cut out with Cookie cutter and place on a parchment paper lined tray/plate when placing in the freezer to chill for about 30 minutes. (These will keep in the freezer a really long time. You may want to thaw a few minutes before eating.)
Both me and my friend preferred the Raw Cocoa Cookie and we both remarked that if it hadn't been for the Ginger in the Ginger Carob Cookie we most likely wouldn't have liked it. The Ginger really went well with the Key Lime Cream. But, to each his own.
Assemble the "Key Lime Cream Sandwiches" by placing 1 cookie on the bottom, ½ inch thick Cream bar on top and another cookie on top of the Cream bar. Eat it up, Yum!
SUNDAY BREAKFAST – Hubs made me a cup of hot water with mint leaves to sooth my sad discomfort today. Then he made me my favorite Mixed Berry smoothie.
SUNDAY LUNCH – Later Hubs drove me to Whole Foods so I could make my own salad and "Eureka!" they had VEGAN dressing. It was delightful. I tossed spinach, mixed greens, Lima beans, green peas, corn, artichoke (I think the corn and artichokes were possibly cooked, unsure, I plead the 5th.) and beets. Also, my favorite humus is Whole Foods brand "LEMON HUMMUS", it really tastes lemony. Considering the day I was having, I really wasn't worried about the humus being Raw, I just was happy it was Vegan. I ate it with my Carrot Pulp Crackers that I made last week.
SUNDAY SNACKS – Totally not that hungry. So made a version of Christine's Pineapple Ginger Ice Cream (https://glowingwhealth.wpenginepowered.com/raw-vegan-pineapple-ginger-ice-cream/). I didn't have all her ingredients so I made "Mango Ginger Freeze". Then later as a special treat, Hubs made me his famous Guacamole for me. In fact, as soon as I'm done here, I'm going to eat it up with my Raw Juice Pulp Crackers I made this week and the rest of them from last week.
MANGO GINGER FREEZE RECIPE: 1 thumbprint size chunk of ginger, juice of 1 lime, 1 capful of organic vanilla extract (about 1/3 tsp.), 3 Tbsp. Organic Pineapple Juice, 1 cup frozen organic mango. Directions: In a Vitamix, or any high-speed blender, mix the ingredients above.  Put the Mango in last and make sure they are cut in small pieces to make it easier to blend.  Blend on high for about a minute or until it becomes creamy and smooth but not too long because the blade will begin to heat up causing the mixture to melt. (I don't have a high-speed blender, so it took several starting, stopping and mixing before mine blended properly. Aggravating but totally worth it.) I topped mine with 2 dried apricots.
Heather Petersen
www.eczemancipated.com
Facebook: Eczemancipated
Twitter: @HPEsthetics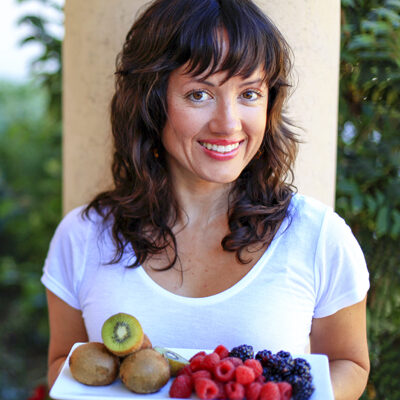 Hi, I'm Christine, thanks for stopping by! As a fibromyalgia thriver (symptom-free for over 10 years now thanks to diet and lifestyle changes), it is my passion to share the healing power of food.
As an RN and Holistic Nutrition Practitioner, it is my desire to empower you to take charge of your life.
Let's journey together to glowing health. Learn More
Your Health Transformation
Starts Here!
Sign up to get FREE healthy lifestyle tips and recipes!