Raw Vegan Day 12 + Juice Pulp Cracker Recipe
Day 12 – Raw Vegan and Red Skin Syndrome Testimonials
Christine and I decided to give you a "Weekend Update" all in one post, so today you're getting a double menu.
Red Skin Syndrome Fireside Chat:

Today we are going to hear from one of the ITSAN private Facebook members and fellow Red Skin Syndrome patient. Her name is Wendy Hewitson, she lives in the United Kingdom (UK); 46 years on Topical Corticosteroids and now she is 14 months off of Topical Corticosteroids. Woohoo! Go Wendy! I consider Wendy to be an "Upperclassman" to my junior 10 months off of Topical Corticosteroids. Here is Wendy's story:
"I started using topical steroids at age two for nappy/diaper rash. Soon the eczema spread to arms and legs and I was then hospitalized with wet wraps (no doubt with steroids) at age 4. I used Synalar-N-ointment throughout childhood which is a potent Topical Corticosteroid. I continued to use steroids continually until I was 46, but mainly hydrocortisone 1% in adulthood. A few years ago I noticed my skin was itchier, scalp was oozing, I was getting prickly sensations on my chest, and large rashes were appearing on my back and front of my torso. I was then prescribed Eloncon and Eumovate for use on the hands and torso rashes.
In the summer of 2011 I was on the Internet daily looking for answers to worsening eczema. I decided that I was steroid phobic as I was really afraid to use potent steroids again. Just as I was about to embark on blasting the eczema with more steroids I came across Kelly Palaces' site which was the forerunner to ITSAN. Her site has helped me self-diagnose Topical Steroid Withdrawal (TSW) and has supported me while I stick with a painful and uncomfortable withdrawal process. I reckon it may take 3-4 years before I fully recover and I'm now at 14 months into quitting Topical Corticosteroids. The withdrawal has only affected my upper body so far but there's plenty time for spread. It's been great to see people become well and post their stories on the ITSAN web site, so I'm always hopeful. People like me who have itched all their lives have so much to gain by recognizing TSW. Children generally grow out of childhood eczema and I didn't get a chance to as the steroids maintained and worsened the eczema into adulthood. I may grow out of my eczema by the time I'm 50 – better late than never!"
For more information, check out www.itsan.org, the (ITSAN) International Topical Steroid Addiction Network.
Day 12 Raw Vegan
I felt a lot less hungry today and I equate that to eating the flatbread and crackers over the last couple of days. I also have felt more content with my food since adding the raw grains and seeds, like buckwheat and flax-seed. So definitely moving forward when I do a raw vegan diet I will plan on incorporating some of these things into my weekly diet.
Today's Breakfast – 1 quart of water (I start every morning with a quart of water upon arising.) and 16oz of fresh juice. (7 carrots, 2 fuji apples, 4 cups baby kale, 1 Meyer lemon)
Lunch – An actual sandwich on my savory flatbread. Sandwich was 1/3 cup baby spinach, flatbread, 1 ripe Roma tomato, 1 teaspoon of fresh raw mustard (I made it last week) and a bit of salt and pepper. SOOO delish.
Dinner – The rest of the humus I had yesterday at lunch (3 types – Kalamata olive, garlic and red pepper humus) plus ½ an English cucumber, several of the juice pulp crackers I made last night, oil cured black olives.
Juice Pulp Cracker recipe: Yup, I salvaged the juice pulp from yesterday's fresh juice and I made crackers with it in the dehydrator.
2 cups of pulp (mine was carrot, apple, cucumber, spinach), 1 cup ground flax-seed, 1 ½ cup purified water, 1 tablespoon poppy seeds, 1 tsp garlic, 1 tsp cayenne pepper, 1 tsp real salt and ¼ tsp cracked black pepper. Mix all ingredients together, let it sit for 20 minutes, smooth out thin layer on parchment paper lined dehydrator trays about 1/3 inch thick, place in dehydrator for 4 hours on 105 degrees Farenheit, pull out and score into cracker shapes, flip over and pull parchment paper off, rotate trays when putting them back in the dehydrator, should take about 8 more hours to get them super crispy. Take them out break the into crackers from scored lines. Bag the ones you aren't going to eat immediately and store in the fridge up to 4 weeks.
Snack – 1 orange and possibly a berry smoothie if I feel like it later.
Heather Petersen
www.eczemancipated.com
Facebook: Eczemancipated
Twitter: @HPEsthetics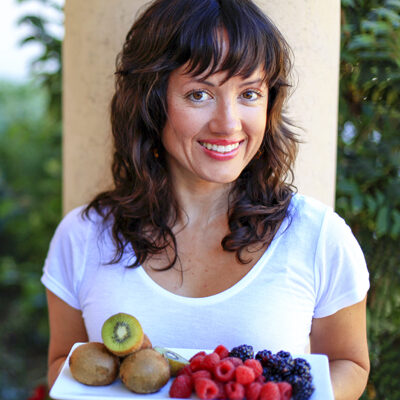 Hi, I'm Christine, thanks for stopping by! As a fibromyalgia thriver (symptom-free for over 10 years now thanks to diet and lifestyle changes), it is my passion to share the healing power of food.
As an RN and Holistic Nutrition Practitioner, it is my desire to empower you to take charge of your life.
Let's journey together to glowing health. Learn More
Your Health Transformation
Starts Here!
Sign up to get FREE healthy lifestyle tips and recipes!