Raw Vegan Day 23 + Donate to ITSAN
Day 23 – Raw Vegan and Red Skin Syndrome Awareness
Red Skin Syndrome Fireside Chat
Yes, many of you have inquired and you can donate to the International Topical Steroid Addiction Network.  ITSAN is still in the grass-roots stages of being a 501(c)(3) tax-exempt charity per the IRS of the USA and could really use the support of donations.
 Children and adults around the world are over-prescribed topical steroids for eczema creating an addiction. Your donations will help ITSAN achieve their mission to raise awareness about topical steroid addition and withdrawal through education and advocacy.
Donations will directly support this growing community and provide valuable resources to help those who are sick.
as well as…
The new informational website & forum
Setting up teleconferences with Dr. Rapaport
Funding for education, advocacy, awareness
Funding for a documentary film on the subject
Funding to attend conventions to reach patients/doctors
Legal, bookkeeping and tax service
Marketing and media materials/outreach
Those who make a pledge will be featured and recognized on the website. This is a high honor and you will be saving lives. Please remember a gift of any amount is greatly appreciated – no gift is too small, or too big! See the website for more information: https://itsan.org/about_eczema_Donate.html
Stay tuned for future fund-raising events for ITSAN through www.justglowingwithhealth.com over the next year.
Day 23
FRIDAY BREAKFAST – Acai Bowl at Café Brazil.
FRIDAY LUNCH – Chipotle Salad Bowl with Romaine, Pico De Gallo, Corn Salsa and Guacamole. Usually this is my Wednesday lunch but this week's schedule was jumbled around.
FRIDAY DINNER – Oh yes I did! Spaghetti and Meatballs in Heirloom Tomato Gravy. You'll have to pardon the picture, I'm sure the sauce is not a pleasant color but, oh my, it was so good.
As for the Meatballs: Yesterday I made juice pulp flatbread in the dehydrator and decided to take some of the "batter" and make it into little balls to try to see what they'd taste like. I threw in some extra Italian type spices and they came out like a cross between falafel and meatballs. (Back when I ate meat, I made my meatballs 50% veg and 50% meat.) Hit the spot, really had a crispy out texture like a browned meatball and super moist on the inside.
The "spaghetti" is actually 1.5 spiralized zucchini. I garnished the dish with a green heirloom tomato.
As for the "gravy": I saved half of my tomato soup from yesterday and blended it with 1 tablespoon pine nuts, 1 tablespoon Kalamata olives, 2 more large basil leaves, 1 more clove of garlic and 1 tablespoon of diced sun-dried tomato. It thickened a bit into "gravy" and I tossed it with the spaghetti.
I ate the entire dish.
Heather Petersen
www.eczemancipated.com
Facebook: Eczemancipated
Twitter: @HPEsthetics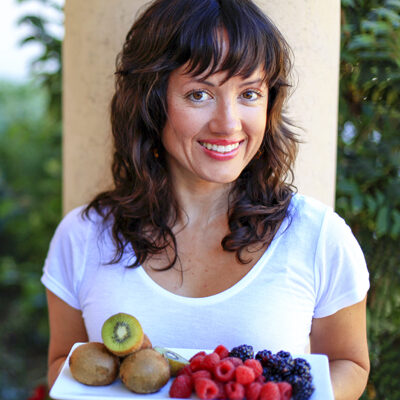 Hi, I'm Christine, thanks for stopping by! As a fibromyalgia thriver (symptom-free for over 10 years now thanks to diet and lifestyle changes), it is my passion to share the healing power of food.
As an RN and Holistic Nutrition Practitioner, it is my desire to empower you to take charge of your life.
Let's journey together to glowing health. Learn More
Your Health Transformation
Starts Here!
Sign up to get FREE healthy lifestyle tips and recipes!