Raspberry Mint Grape Smoothie
This is the perfect refreshing smoothie on these hot summer days.  It is sweet, tangy and icy so it really hits the spot.  During the summer I thrive on fresh fruits and veggies, I hardly ever cook because it's just too hot for me and my body craves fresh fruit more than anything.  This mint grape smoothie is dairy-free, soy-free, and has no added sugar so it is 100 percent good for you.  It's so important to keep hydrated and a fresh fruit smoothie like this is perfect.  It is filled with tons of essential vitamins and minerals.  Grapes not only have a ton of amazing health benefits but are high in water content.  This means that they are low in calories and very hydrating, just another benefit of this delightful smoothie!
Instead of keeping hydrated with a chemical filled, sugar filled sports drink or sodas, why not reach for fresh, ripe fruit or make a smoothie like this to refresh with.  Why put anything less than the best for you in your body?  When you eat raw, fresh, organic fruits and vegetables throughout the day you will see that your body begins to thrive off of them and you start to crave them even more.
If you are new to the raw food diet or are looking to lose weight or feel healthier and don't know where to begin, just by starting your morning off with a  luscious fruit smoothie as this instead of a heavy breakfast.  You will be amazed at the results you will see just from one easy change as that.
Recipe:
6 oz of fresh organic raspberries
1 bunch of red seedless grapes (about 1 1/2 cups)
1 cup of frozen organic green grapes
3 fresh mint leaves
1/2-1 lime, juice of (depending on how tangy you like it)
a few ice cubes
Blend above ingredients in a blender on high until smooth and creamy.  Pour into a glass and enjoy under the sun!
Health benefits of grapes:
– Grapes contain resveratrol, which act as anti-inflammatory. It has been found to have strong anti-cancer properties due to its anti-inflammatory effects, particularly with colorectal cancer and breast cancer.
– Grapes are packed with flavonoids, minerals and vitamins such as vitamin C, K and A that boost the immune system.
– Grapes can prevent age-related loss of vision and macular degeneration.
– Red grapes have strong antibacterial and antiviral properties that can protect you from infections.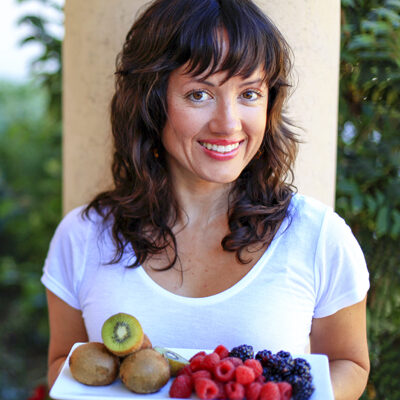 Hi, I'm Christine, thanks for stopping by! As a fibromyalgia thriver (symptom-free for over 10 years now thanks to diet and lifestyle changes), it is my passion to share the healing power of food.
As an RN and Holistic Nutrition Practitioner, it is my desire to empower you to take charge of your life.
Let's journey together to glowing health. Learn More
Your Health Transformation
Starts Here!
Sign up to get FREE healthy lifestyle tips and recipes!