Tropical Pineapple Blackberry Smoothie + How to Core a Pineapple
Summer is officially here and we have been having a heat wave this week of up to 109 degrees! I hope you all are keeping cool in the shade.  I don't know about you but when it gets that hot, I don't have much of an appetite for heavy foods, much less cooked foods.  This time of the year is when I tend to eat 100% raw foods because that is all my body craves.  Fruit is so cooling and so refreshing.
This pineapple smoothie recipe is so much fun to drink, and makes for a beautiful presentation if you wanted to serve it to guests.  It's bursting with tropical flavors so as you sip on it, just close your eyes and imagine the sand between your feet and the warm sea water flowing between your toes. 🙂  Now that I've set the mood for this smoothie (hehe) are you ready to get your sippin on?
Are you feeling the tropical breeze yet?
🙂
Fruit is so gorgeous and inviting. Look at the vibrant gorgeous colors when it's fresh, ripe, and organic.  Not to mention that it just bursts with juicy sweet flavor in your mouth.  Is your mouth watering for a smoothie yet?
Serves: 32 ounces
Recipe:
1 cherimoya, peeled and seeds removed
1 1/2 cup pineapple, cut up (or 5 rings if you are coring the pineapple)
1 cup blackberries
1 orange, peeled
1 orange, juice of
2 tbsp shredded coconut
Directions:  To see a step by step demonstration on how to use a pineapple cutter to core out the pineapple click here.
Step 1: Cut the top off of a fresh pineapple.
Step 2: Insert the pineapple cutter onto the exposed fruit.
Step 3: Using gentle pressure twist until you reach resistance, hitting the bottom.
Step 4: Once you hit the bottom gently pull up with the device.  You may need to wriggle it a little if it doesn't pull up easily.
Step 5: Push the lever to release…
…and voila' symmetrical decorative pineapple rings!
Pour the juice left over in the pineapple in the blender along with all the above ingredients and blend on high until creamy. Enjoy with a smile and sunshine!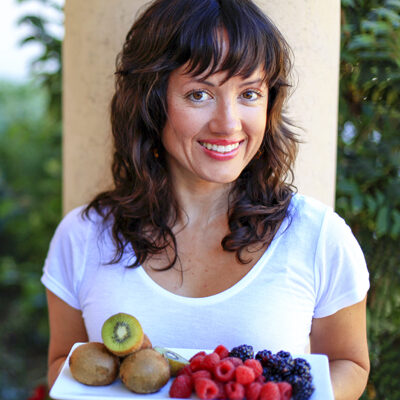 Hi, I'm Christine, thanks for stopping by! As a fibromyalgia thriver (symptom-free for over 10 years now thanks to diet and lifestyle changes), it is my passion to share the healing power of food.
As an RN and Holistic Nutrition Practitioner, it is my desire to empower you to take charge of your life.
Let's journey together to glowing health. Learn More
Your Health Transformation
Starts Here!
Sign up to get FREE healthy lifestyle tips and recipes!