Zucchini Pasta with Sun-Dried Tomato Kale Pesto (Raw Vegan)
If you are craving a savory, aromatic comforting meal that'll make your taste-buds dance with delight then this is the dish for you. Look no further! This dish is full of fresh basil, sun-dried tomatoes that give it such a nice salty tangy flavor, creamy pine nuts, zesty lemon juice and earthy kale. It makes for such an aromatic delight! The amazing part is that it's oil and salt free, yet the flavors are off the hook!
I've had so much zucchini popping up in my garden that I'll have enough zucchini pasta to last me through the summer. It's great, nothing like preparing a meal and literally picking it just minutes before eating. I planted these certified non-gmo, organic seeds two and a half months ago and you can see in the photo the results I already have. It's phenomenal!
Usually I use a spiralizer to make my zucchini pasta dishes, but I thought I'd show you another option if you don't have one. I got this julienne peeler at a local farmers' market for eight dollars. You should be able to find them in any home goods store.
To tell you the truth after using it today on this dish I actually like the texture better and it's even easier not having to pull out and then wash the spiralizer. The texture of the zucchini is perfect just like al dente pasta, with a slight crunch to it. It makes for a great gluten-free alternative.
This recipe is literally two steps: spiralize…pulse blend…eat…okay three, lol.
When I first served this to my husband I was very curious to see if he'd give it a try. He's from Italy and pasta is one of his staple foods. But I'm always trying to sneak in some tasty raw meals when I can to him. He tried it and couldn't believe how good it was.  He's even been specifically asking for it for dinner. So if he loves it I'm sure your family will too!
When you take the top off of the food processor make sure to stop for a sec and just take in a whiff of the amazing aromatic flavors going on, it's truly incredible. Who says raw food is boring? Not here!
This will last for up to two days in the fridge in a tight container. You could even make it the night before and bring it to work. Or have it ready for dinner when you come home. I know when I have a long day at work the last thing I want to think about is coming is what to prepare.
Servings 1
Recipe:
2 large zucchini
1 cup sun-dried tomatoes (oil-free)
1 cup fresh basil leaves
5 kale leaves, stems removed (lacinto or dinosaur)
1 clove of garlic
1/2 cup of pine nuts (soaked overnight in purified water)
2 tbsp lemon juice
1/4 cup soak water
Directions: 1)Soak the sun-dried tomatoes in filtered water for about 20 minutes, or until soft. 2) Julienne (or spiralize) the zucchini and place into a bowl. 3) Next, place the rest of the ingredients into a food processor and pulse blend until coarsely chopped, add in 1/4 cup of soak water and pulse blend until mixed in.  4) Scoop out onto the pasta, mix in well and serve on a plate with fresh basil.
Buonappetito.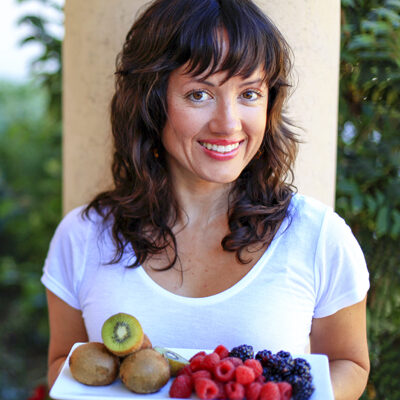 Hi, I'm Christine, thanks for stopping by! As a fibromyalgia thriver (symptom-free for over 10 years now thanks to diet and lifestyle changes), it is my passion to share the healing power of food.
As an RN and Holistic Nutrition Practitioner, it is my desire to empower you to take charge of your life.
Let's journey together to glowing health. Learn More
Your Health Transformation
Starts Here!
Sign up to get FREE healthy lifestyle tips and recipes!