Super Salad: Filling and Delicious
Sometimes when I encourage people to have a salad for a meal they look at me like I am crazy.  They say a "salad will never fill me up!" When you think of the little salads we are accustomed to eating at a restaurant with a little bowl of iceberg lettuce a couple of shriveled tomatoes and dried up carrots, then yes that is absolutely true.  However, when I eat a salad for a meal I fill it up with so many vegetables, nuts/seeds, and or fruit (always based on correct combination of course) that when I finish I am so content and my stomach is full.  So, I'd like to share with you one of my favorite salads that is delicious and quite filling.  Unfortunately, I don't have the best photo of it because I lost the pictures on my camera, but at least I had one from my cell phone.
By the way, another key to add an extra heartiness to a salad is to make the dressing out of a mix of fruits, vegetables or nuts.  This helps add more calories and nutrients keeping you satisfied longer, not to mention it is oil free.  Anyway, here is the recipe of both the salad and the dressing.  The amounts really vary according to liking, so keep that in mind.
Serving: 1
Salad recipe:
1/2 head Romaine lettuce
1 cup baby spinach
1/2 small avocado
1 apple with skin, sliced thinly
10 cherry tomatoes, cut in halves
1 cucumber ( I used english, which is quite long so I used 1/2.  If organic no need to peel).
1/2 cup of sun-dried tomatoes (those without the oil)
Dressing recipe:
1/2 small avocado
1 stalk celery
1/2 red bell pepper
4 cherry tomatoes
1 Tbsp lemon juice
(If you desire the consistency more liquidy add water to liking)
Cut up the romaine leaves and  mix in a large bowl with the rest of the salad ingredients.
For the dressing, mix all the ingredients in a blender until creamy and drizzle over the salad. Mix in well. EAT! 🙂
Posted in Recipes and tagged with apple, avocado, calories, celery, cherry tomatoes, content, cucmber, favorite, filling, fruit, full, hearty, lemon juice, nutrients, nuts, oil free salad dressing, organic, red bell pepper, romaine lettuce, salad, salad recipe, satisfied longer, seeds, sun dried tomatoes, vegetables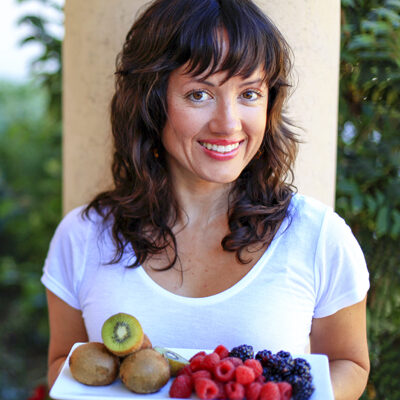 Hi, I'm Christine, thanks for stopping by! As a fibromyalgia thriver (symptom-free for over 10 years now thanks to diet and lifestyle changes), it is my passion to share the healing power of food.
As an RN and Holistic Nutrition Practitioner, it is my desire to empower you to take charge of your life.
Let's journey together to glowing health. Learn More
Your Health Transformation
Starts Here!
Sign up to get FREE healthy lifestyle tips and recipes!