How to Maintain a Raw Diet in a Social Setting
This weekend we went to a party at a friend's house.  Of course I was very excited to go and  was looking forward to it, but one of the first things that came to my mind is how will I be able to maintain my raw diet in a social setting.   So, I thought for those of you who may find yourselves in a similar situation I would give you a few simple tips that always work for me.  Using them I am able to enjoy the food and not be tempted to eat foods that I would regret or feel worse after as a result.  This goes for just eating healthy in general, not just for the raw food diet.
– Ask to contribute a dish and bring a delicious display of one of your favorite raw food dishes.  Raw food platters can be so colorful and attractive (not to mention delicious) that it will probably be the talk of the party.
– Eat in advance so you don't arrive starving ready to compromise and eat whatever is in sight.
– Bring little snacks that you can munch on while everyone is munching on theirs. For example, some type of raw bars, trail mix or some dried fruit, etc.
– Don't stand near the food tables.  Many times eating can be more of a social habit more than anything else so if you keep busy socializing and interacting with other guests instead of focusing on the food it makes it easier.
– Most parties or dinners have some type of cut up raw veggies, fruit or salads available.  Sometimes even guacamole or salsa.  Make up your own little raw platter getting creative with some of these things.  For example, you can use the guac or salsa as a little dressing over a plate of veggies in a salad.
– When all else fails, just remember as you go to grab for some food that normally may make you feel sick or may add back on a couple extra pounds you just worked so hard to lose, it's not worth it! Put it back! Do you really want to back track after all the hard work and effort you put in to arrive at where you are?
I have to say these tips help me stay on track, so I was able to enjoy the party, the food and feel great at the same time! Remember, even if you feel like you are standing out as different, it is better to be standing out with glowing health than blending in and not happy or healthy.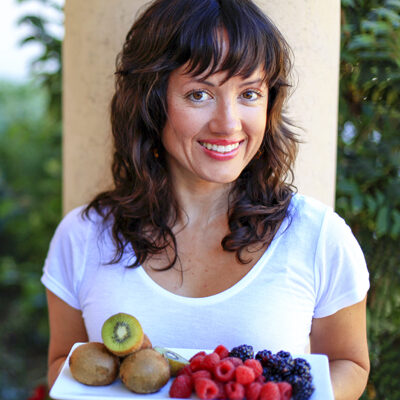 Hi, I'm Christine, thanks for stopping by! As a fibromyalgia thriver (symptom-free for over 10 years now thanks to diet and lifestyle changes), it is my passion to share the healing power of food.
As an RN and Holistic Nutrition Practitioner, it is my desire to empower you to take charge of your life.
Let's journey together to glowing health. Learn More
Your Health Transformation
Starts Here!
Sign up to get FREE healthy lifestyle tips and recipes!