Raw Banana Ice Cream Parfait
I have been working a lot on raw dessert recipes.  For one, because with these 85 degree days here in L.A. I am often desiring ice cream, sorbet or a cold refreshing dessert.  But, also because I think about the fact that so many kids eat so much junk with sweets, candy, soda, etc. that it really is important to me to find alternatives that are healthy and still a dessert for them.  I always try to keep the desserts with just a few ingredients and not too complicated or time-consuming, this way busy parents can make them in minutes and it's not a burden, but rather a delight.  So, dump the soft freeze ice creams from McDonald's this summer and try some of these quick, simple, yummy desserts for you and your kids!
Serves 2
Recipe:
Crust:
1/2 c raw almonds
1/2 c raw pecans
1/2 c sun-dried raisins
1/2 tsp cinnamon
Directions: Pulse the almonds and pecans in food processor until coarsely chopped.  Add raisins and cinnamon.  Process until blended well. Press into two 4 inch dishes about 1/4″ thick all around. There will be some crumble left over which will be used to layer in between the ice cream (about 1/2 cup). Freeze for at least 1/2 hour.
 Banana ice cream:
3 frozen bananas
1 cherimoya
2 strawberries
Directions: Cut bananas in half. Cut the cherimoya in half peel off the skin and extract all the seeds. (There are a lot of seeds make sure you get them all.  They can be toxic if blended).  Blend the bananas on high-speed in blender (the Vitamix works really well for this one because it gives it that ice cream consistency). When creamy add in the cherimoya and blend on high until it looks like this consistency:
As you can see it becomes thick like ice cream, but be careful not to blend it too long or it will have a heating effect and start melting it.
Take out the dishes from the freezer and pour the banana ice cream layering it with the crust crumble. Top with a strawberry.
Cherimoya health benefits:
In case you have never tried a cherimoya, they are an incredible fruit! Super sweet, soft and creamy.  The flavor is a touch of apple crossed with banana.  It is high in vitamin C, B-complex vitamins, potassium, fiber and antioxidants
Posted in Recipes and tagged with almonds, alternatives, antioxidants, B-complex vitamins, banana, candy, cherimoya, creamy, delicious, fiber, health benefits, healthy, hot days, ice cream, junk, pecans, potassium, quick, raw dessert recipes, refreshing, simple, soda, soft freeze ice cream, sorbets, sugar, summer, sun-dried raisins, sweets, vitamin c, vitamix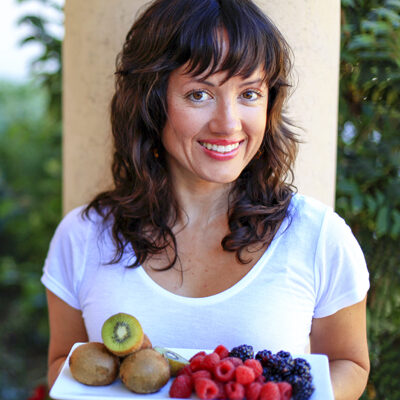 Hi, I'm Christine, thanks for stopping by! As a fibromyalgia thriver (symptom-free for over 10 years now thanks to diet and lifestyle changes), it is my passion to share the healing power of food.
As an RN and Holistic Nutrition Practitioner, it is my desire to empower you to take charge of your life.
Let's journey together to glowing health. Learn More
Your Health Transformation
Starts Here!
Sign up to get FREE healthy lifestyle tips and recipes!