Guest Post: Day 8 Raw Food Challenge + Raspberry Neapolitan Bars Recipe
My routine throughout the week varies little. I pretty much have to tend to my skin a very specific way in the morning to successfully make it through my other activities. It seems that if I skip that step and alter my morning skin care I have a much harder time of things. At Dr. Rapaport's orders I have been laying on my deck for half an hour a day getting direct sunlight. It is amazing how much the sun heals my skin. You can see a difference in 24 hours just from 30 minutes on the deck.
If it weren't for my mom finding the International Topical Steroid Addiction Network (see www.itsan.org) who knows if I would have ever found out what was wrong with me. And I would never have found Dr. Marvin Rapaport. ITSAN has really come a long way in the last 2 years of my membership. When my mom found them in March 2012 they didn't quite have 200 members. They now have over 1000 members from around the world that are currently related to, friends with or personally recovering from Topical Corticosteroid Addiction (TSA). It is really amazing because many of the ITSAN members found ITSAN in the quest to find answers to what they were suffering from; question that no one could answer.
TSA (also known as "Red Skin Syndrome" or "RSS") is due to negligent physician oversight and the improper dosing of prescription Topical Corticosteroid Creams, Ointments, Sprays and Foams. TSA can also be due to the unsuspecting patient's prolonged use of over-the-counter Topical Corticosteroid Creams, Ointments, Sprays and Foams. (You would be shocked to know how much skin care and makeup contains Corticosteroids.) Any person of any age and any country can unknowingly become addicted. There are infants and toddlers, as well as, elderly people suffering. If you or someone you know is suffering from prolonged Atopic Dermatitis of some type and is using Topical Corticosteroids of any kind, you should send them the information to www.itsan.org. You may help them regain control of their life.
Day 8 Raw Vegan Challenge
Quart of water upon arising.
I made a 40oz Green Smoothie using my Strawberry Basil Frappe as the base. A friend of mine stopped by so I shared the smoothie with her.
Strawberry Basil Frappe (16oz thawed)
Mixed Baby Greens (2 cups)
Banana (1 peeled)
Superfood Powder (2 TBSPNS)
For Lunch (as seen on Instagram) was a large Green Salad consisting of Romaine Lettuce, Carrots, Celery, Pecans, Yellow Bell Pepper, Sun-dried Black Olives, Roma Tomatoes, English Cucumber and Fuji Apple. I made a fresh Mango Cilantro Dressing to go with it. For snack I ate 1 Frozen Lime Cashew Cream Sandwich.  I wasn't actually able to eat my entire salad because it was gigantic! So I finished the rest for Dinner. Here is the Dressing Recipe:
Mango (2 cups)
Lime (juice of 1)
Navel Orange (juice of 1)
Cilantro (1/2 a head)
Ginger (2 inch peeled chunk)
Garlic (1 peeled clove)
Cold Pressed Olive Oil, if desired but unnecessary (1-2 TBSPN)
Blend in Vitamix till smooth. If needed you can drizzle more Orange juice or Coconut Water to thin it out. You could basically drink this dressing as a smoothie if you wanted. I may actually make it a Green Smoothie tomorrow. LOL!
Tonight I will be bringing my Monday treats to a friend's house. We shall see the reaction I get from everyone. Aren't they gorgeous though! We'll call them Frozen Raspberry Neapolitan Bars. They are basically the Frozen Lime Cashew Cream I made last week, the Chocolate Mousse I made yesterday and my go-to Raspberry Sauce from last year's 30 Day Raw Vegan Challenge. (I make the Raspberry Sauce all the time.) Here is how to assemble:
Layer 1: Once you have the Cashew Lime Cream prepared, you will pour it into a parchment paper lined cookie or baking pan (I used a glass lasagna dish). Make sure you make a ½ inch layer that is even. Put in the freezer for 4 hours.
Layer 2: Pull it out of the freezer and pour a ¼ inch layer of Raspberry Sauce over it. Make sure the layer is even. Cover and place back in the freezer for 3 hours.
Layer 3: Pull it out of the freezer and spread a layer of the Chocolate Mousse evenly over the top. I would make it a good ½ inch layer. Put back in the freezer for like 2-3 hours or overnight.
When you are ready to serve them or make them into individually wrapped treats, be sure to pull it out of the freezer and thaw (about 15-20min) it long enough that you can stick a butter knife through it to cut the pieces. (I used a cookie cutter to make the outline of the cuts and then a butter knife to make the final cuts.) Serve 'em up!
Find Heather on Facebook, Instagram, Pinterest and Twitter @hpesthetics. For more information on TSA/RSS, check out www.itsan.org, the International Topical Steroid Addiction Network. You can also read about Heather Petersen's experience at: www.eczemancipated.com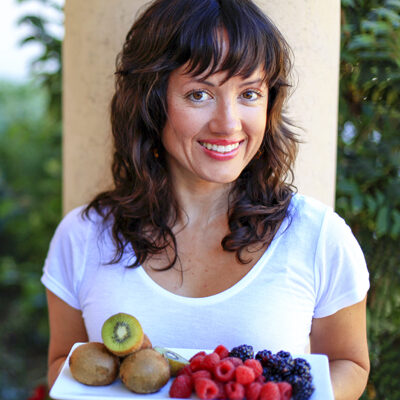 Hi, I'm Christine, thanks for stopping by! As a fibromyalgia thriver (symptom-free for over 10 years now thanks to diet and lifestyle changes), it is my passion to share the healing power of food.
As an RN and Holistic Nutrition Practitioner, it is my desire to empower you to take charge of your life.
Let's journey together to glowing health. Learn More
Your Health Transformation
Starts Here!
Sign up to get FREE healthy lifestyle tips and recipes!