Guest Post: Day 4 Raw Food Challenge + Sweet Kale Green Smoothie
I've had a great day today. The first session with my "Post Rehabilitation" Personal Trainer went well. We adjusted my routine and I feel really good about it. Just as a side point, is anyone else blown away that it's the middle of May already?
Day 4 of 30 Day Raw Food Challenge
Again, SOOOO HOT today! 77 degrees in my house this morning at 7AM, can you blame me for just wanting water? I probably got dehydrated just lying in my bed sleeping last night. So this morning I grazed,  Breakfast consisted of:
Banana (1 whole, peeled)
DoughNot Hole (1)
Lime Cashew Cream Cookie Sandwich (2)
I felt a little guilty while I was eating like I was being naughty. Raw Vegan is the best guilt free food that cures what ails yah.
Not only did I work out today, but I had to take a quick trip to Quest Diagnostics for quarterly blood work. This crazy awesome Green Smoothie hit the spot. It seems like it would be a blood builder and cleanser. It made almost 8 cups and I drank it all!
Christine what's your comments on these ingredients?
Well, you definitely have some nutritionally powerful ingredients in this smoothie Heather.  For one, kale is an excellent source of iron and is rich in chlorophyll making it a great blood builder.  Apricot is also a rich source of iron which is essential in the transport of oxygen to the cells. Celery alkalizes the body balancing the pH , so is very cleansing and detoxifying.  Coconut water is rich in electrolytes, and is very hydrating.  It is very similar to blood plasma.  It acts as a carrier delivering nutrients directly to the cells. In fact, it has been used as blood transfusion in different countries. So yes this smoothie is blood building, cleansing and very hydrating!
Baby Kale (2 cups)
Hadley Dates (7)
Apricots (3)
Navel Orange (1 whole peeled and chopped)
Navel Orange (2 oranges juiced)
Ginger (2 inch hunk, peeled)
Celery (2 stalks chopped)
Coconut Water (3-4 cups ish)
CHRISTINE: " ….    "
Yesterday I forgot to give you the fresh Salsa Recipe that I made to go with my salad. (I also forgot to mention that I had 1/3 cup pecans and ¼ cup of the left over Basil Pesto Cheese from the Rawsagna that I also threw in the salad.)
Heirloom Cherry Tomatoes (1 Pint)
Red Onion (1/2 peeled and chopped)
Jalapeno Pepper (1, stem removed)
Lime (juice of 1)
Cilantro (1/2 a head)
Garlic (1 clove)
Pulsed in the Food Processor. Poured in a dished. Topped it on my salad yesterday.
Dinner tonight is going to be left over Rawsagna (see recipe in previous post). I had enough for 2 meals.
And I am totally sure I will be having another could Lime Cashew Cream Sandwiches as well at some point today. Don't forget to check in tomorrow because I will be posting the Banana Strawberry Basil "ice cream" recipe everyone has been asking about. I love frozen treats all the time. This really hits the spot too!
Find Heather on Facebook, Instagram, Pinterest and Twitter @hpesthetics. For more information on TSA/RSS, check out www.itsan.org, the International Topical Steroid Addiction Network. You can also read about Heather Petersen's experience at: www.eczemancipated.com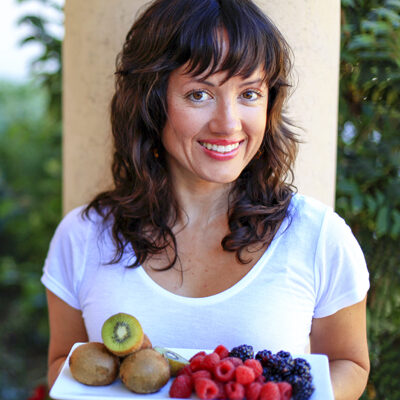 Hi, I'm Christine, thanks for stopping by! As a fibromyalgia thriver (symptom-free for over 10 years now thanks to diet and lifestyle changes), it is my passion to share the healing power of food.
As an RN and Holistic Nutrition Practitioner, it is my desire to empower you to take charge of your life.
Let's journey together to glowing health. Learn More
Your Health Transformation
Starts Here!
Sign up to get FREE healthy lifestyle tips and recipes!