Guest Post: Raw Food Challenge Day 2 + Raw Vegan Lasagna Recipe
Today went much more smoothly then yesterday. It's been so hot here in Santa Cruz, CA, that I've craved liquid in the morning.  So I headed off to the gym with 24 ounces  of my Lemon Date Water (pictured on Instagram).
Here is the post-workout Ginger Apricot Smoothie I made today:
Apricots (3 pitted, chopped)
Navel Orange (peeled, chopped)
Ginger (2 inch piece, peeled)
Cashews (1/3 cup)
Coconut Water (enough to cover over everything in the Vitamix)
Blend til Smooth. Drink up.
Around 12:30pm I wanted Lunch.  So I chopped 5 Celery Sticks and 5 peeled Carrots placing them with 12 Heirloom Cherry Tomatoes on a plate to enjoy them with my Zucchini "Hummus". Since there is no eating of beans for the next 30 Days we have to get creative for dips. Here was a great recipe I was inspired to make from this recipe here on JustGlowingWithHealth.
Green Zucchini (2 Medium, chopped)
Yellow Zucchini-like Squash (1 Medium, chopped)
Garlic (1 peeled clove)
Lemon (Juice of 1)
Ground Cummin (2 tspn)
Tahini (2 TBSP)
Place all ingredients in food processor and blend til smooth, according to your taste for texture. Place in a serving bowl and dip your veggies.
It's dinner time, so I decided to make "Raw Lasagna". Thank you Jocelyn at, Lick-the-Earth, I used your recipe to make dinner. Check out her recipe here.
I did miss having a Tomato Sauce to drizzle over, since Jocelyn's version is all bell peppers and basil. So I made a Tomato Sauce to pour in between the layers.
Roma Tomatoes (2 Whole, chopped)
Sundried Tomatoes (1/2 cup)
Garlic (1 Clove, peeled)
Oregano (2 tspn dried)
Cold Pressed Olive Oil – 1 TBSP (we aren't supposed to have oil, but the amount of sauce I used made the Olive oil really miniscule)
Water (for thinning out) Next time I would juice a tomato and just add fresh tomato juice instead of water
Throw in the Vitamix, blend til smooth.  Drizzle in-between the "Rawsagna" layers and over the top.
Dessert Treats tonight are a take on Christine's  No Bake Doughnut holes. I tweaked the recipe a bit to try something different. I've made hers before and they are fantastic, especially with a hot decaf coffee. But since we aren't having coffee on this detox, the DoughNot holes will do just fine on their own.
Hadley Dates (2 cups pitted)
Coconut (1 cup shredded)
Cashews (1/3 cup, soaked for 4 hours)
Nutmeg (2 dashes)
Vanilla Powder  (1/2 tsp)
Cinnamon (1/2 tsp)
Mix all the above ingredients in a food processor and blend until it becomes a coarse crumbly mix.  Be careful not to over process.   Scoop out mix onto a plate and roll into bite size balls. Roll balls evenly in the Topping.
Coconut (1/4 cup shredded)
Cinnamon (1/2 tspn)
Orange Zest (1 inch squared piece)
Throw in a coffee grinder and make as fine a powder as possible. To cover DoughNot Holes, place mixture on a plate and cover the balls evenly. Keep in the refrigerator.
Wait til you see tomorrow's treats!
For more information on TSA/RSS, check out www.itsan.org, the International Topical Steroid Addiction Network.
Heather Petersen
Facebook: Heather PetersenHP Esthetics
Instagram: HP Esthetics
Pinterest: HP Esthetics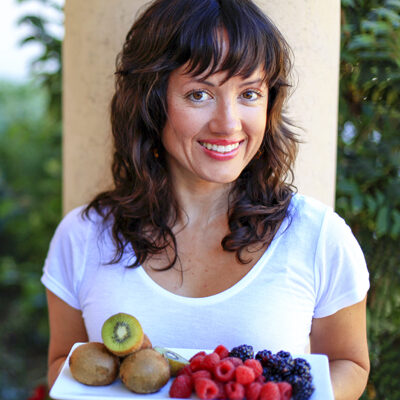 Hi, I'm Christine, thanks for stopping by! As a fibromyalgia thriver (symptom-free for over 10 years now thanks to diet and lifestyle changes), it is my passion to share the healing power of food.
As an RN and Holistic Nutrition Practitioner, it is my desire to empower you to take charge of your life.
Let's journey together to glowing health. Learn More
Your Health Transformation
Starts Here!
Sign up to get FREE healthy lifestyle tips and recipes!