I have to admit, up until now I have never been a fan of beets, other than adding them to my juice of course.  But when it came to making a recipe with them I just couldn't get myself to eat them.  They just have too much of an earthy taste that I could never get past.  Now thanks to my friend Ricky, who made this recipe for us last night,  my taste-buds have been woken up by this sweet and delightfully sour beet salad. When I first tried it, I was so surprised, it was so refreshing and absolutely fabulous that I just had to have more.  In fact, I hogged just about the entire bowl for myself!  I couldn't believe how tasty it was. I even found myself craving it again for lunch the next day!  I am so happy to share such a delightful recipe with you.  I just made a slight change to it, he usually uses vinegar but I decided to use lemon juice instead.
The best part is this beet salad is not steamed or boiled, it is 100 percent raw so you are getting all the potent nutritional benefits from it.  Here are some just to mention a few:
Beets, also called beetroot, are an excellent source of nutrients.  They are high in folate, vitamin C, manganese, potassium and fiber.  They contain powerful antioxidants which protect your heart, and anti-inflammatory  properties protecting us from aging effects. Beets have been recommended to  purify the blood and are known to cleanse the liver.  So to get all these wonderful benefits of beets make sure to enjoy them raw!
Servings 2
Recipe:
1 large beet, washed and peeled
1 small lemon, (juice of)
3 small garlic cloves, minced
1/4 tsp dried oregano
8-10 fresh basil leaves, chopped finely
2 Tbsp extra virgin olive oil
(optional) pinch of Himalayan sea salt
Directions:  Julienne the beet and set aside in a bowl. In a small bowl mix together the rest of the ingredients for the dressing. Pour over the beets mixing in well.  Garnish with basil leaves.
Savor each bite of this delicious beet salad!
Posted in Recipes and tagged with 100% raw, anti-inflammatory, anti-oxidants, basil, beet facts, benefits, boiled, cleanse liver, delicious, fiber, lemon, manganese, not steamed, nutrients, Nutritional, potassium, potent, purify blood, raw beet salad, recipe, sour, sweet, tasty, vitamin c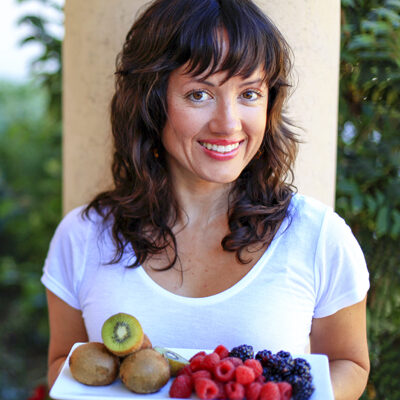 Hi, I'm Christine, thanks for stopping by! As a fibromyalgia thriver (symptom-free for over 10 years now thanks to diet and lifestyle changes), it is my passion to share the healing power of food.
As an RN and Holistic Nutrition Practitioner, it is my desire to empower you to take charge of your life.
Let's journey together to glowing health. Learn More
Your Health Transformation
Starts Here!
Sign up to get FREE healthy lifestyle tips and recipes!