An Unforgettable Trip to Matera (Gluten-free/Vegan Travels)
Matera is an ancient city in the south of Italy in the small region of Basilicata. The historic center is a UNESCO World Heritage Site and the most popular attraction in its region. The 'City of Caves', as it's known, had been on my bucket list to visit for years. I had collected so many photos of it over the years in anticipation of seeing it one day in person. But when you see it in person you'll realise that photos cannot possibly do it justice.
When entering the centre of Matera, it looks like just another characteristic, historical piazza in the South of Italy. But when you walk down to the Sassi di Matera and see that wide open view of the cave dwellings of the ancient city, it leaves you speechless. It looks as if time stood still. It's like nothing you've ever seen. You'll quickly wonder how this ancient city has managed to remain seemingly unknown to travellers.
THE BRIEF HISTORY OF MATERA
The history of Matera will leave you feeling awed, inspired and hopeful. I recommend that you research it in more detail before coming. It'll make it so much more meaningful being there in person to have a better idea of what life was like for the people and where they've come.
Matera is the third oldest continually inhabited city in the world, next to Syria and Jericho. The people lived in caves, built one on top of the other, for thousands of years up until the 1950's. This rural world was neglected, forgotten, and isolated until recently.
They lived in very poor conditions with poor hygiene. There was little ventilation, no electricity nor running water. They collected the water dripping off the walls caused by the humidity and that's what was used. They lived with 8-9 people in a house including many children, parents and grandparents as well as their farm animals. This was all in less than a 400 square foot room.
The infant mortality rate was high, filth and disease were rampant. In 1950 the Prime Minister of Italy came to visit the ancient city and when he saw its condition, he was appalled declaring it a 'National Embarrassment.' It was then that the town inhabitants, mostly of farmers and peasants, were relocated from the Sassi (stones) to new housing projects provided by the government.
The people felt so bitter and resentful about their past. They were embarrassed to even say they were from Matera. But, in 1993 the Sassi became nominated by UNESCO as a World Heritage Site. Shortly after, they began carefully rebuilding the ancient city to what it is now, creating modern restaurants, hotels, bars in caves.
People started moving back in and travelers starting appearing. Then in 2004 it was used for the film 'The Passion of Christ' portraying ancient Jerusalem. This brought a new surge of revival to this city, tourists began flocking to this town. Now thanks to the popularity that has since grown Matera has been built up to the lovely, charming tourist destination it is. Needless to say, the people there are now proud to be living there and of their story.
In fact, thanks to the tourism that has been growing there it was told to us on the tour that the young people no longer have to move away to find work. They're able to get local jobs with tourism and their proud to show tourists their roots. What a story of resilience!
WHAT WE DID
Let's talk about what there is to do in Matera. First of all, there are a lot of steps so get ready and make sure to have comfortable shoes. If you're going in the heart of summer it gets quite hot so make sure to bring a hat, and light breathable clothing since you'll be walking a lot.
We set aside two full days to see everything. We took it slow, explored the unbeaten paths curious to see where they led us. We stopped for a gelato, fresh fruit at the open market and a drink at the cafe when we wanted. We took our time, paced ourselves and really got to see the nooks and crannies of Matera. I really think that's the best way to see the city. In no rush, just letting the spirit of curiosity guide us as we felt compelled to discover more.
Seeing the Sassi during the day and in the evening are two different worlds. When the sun sets and all the lights come on it's magical (see the photo below).
LET'S TALK FOOD
As a gluten-free vegan I always come prepared with food and snacks cause I never leave my nutrition to chance. I filled up a bag with fresh fruit and some energy bars I made. I brought my power shake along so I'd be sure to get plenty of greens in as well as superfoods to keep me hydrated, energized and feeling my best.
When we started exploring around, we would ask different restaurants if they'd be willing to accommodate me as a gluten-free vegan and would you believe there was not one that said no. Each and every restaurant had some gluten-free and vegan options. For the few that there wasn't much t choose from I simply ordered sides like roasted potatoes, grilled veggies, veggie salad, etc.
Some of the typical foods to that area are chickory root, broccoli rabe, dried lava bean cream, and the typical red crispy peppers called crusco. These were my staples at almost every meal. I asked the chefs to incorporate these however they could. Fava bean cream is like masked potato but it's protein based and so delicious. Crusco is used on top of pasta dishes or soups and you can eat it on its own it's absolutely delicious!
There's an outdoor market in the centre of the piazza off the main strip Via Venetto that we picked up lots of fresh fruit to snack on throughout the day and to keep us hydrated. As well there's a small grocery market that had gluten-free pasta as well as a selection of plant milk to choose from so between all that I never had to worry about to eat.
WHAT TO DO IN MATERA?
Matera is a place where you can wander by foot and just get lost in. There are so many picturesque alleyways with beautiful flower boxes filled with bright coloured flowers, cobblestone walkways, quaint cafe's and shops to enjoy. I'd say two full days is plenty to be able to see the town, explore and enjoy the ambiance.
The first day we took a guided tour around the town, which I highly recommend. I'm normally an 'explore on your own and find your way' kinda traveler but I wanted to make sure to get all the details of the history as told by passionate locals, and to see all the important historical sights. It lasted over an hour and was well worth it. They offer personalized tours in English in a tuk tuk which is fun as well.
If you're like me and looking for the best views you'll want to go the Parco della Murgia. iF you want to walk around and discover the trails there make sure to start off early before the heat of the day. This is also the area where 'The Passion of Christ' was filmed. You will see a hill with a lot of small caves which is pretty fascinating dating thousands of years back. If you decide to hike up there make sure to bring water and snacks as it gets quite hot, and definitely avoid peak hours of the day.
WHERE TO STAY?
There are so many beautiful places to chose from right in the smack dab of the historical centre. They do cost a little bit more but let me tell you it was worth every penny being able to wake up and have that fabulous view, in the evening being able to see the view of the ancient town all lit up, and not to mention the convenience of having everything just a walk away from your hotel.
The vacation home that we stayed in was a dream. I couldn't have imagined it any more perfect. It was beautifully decorated that captured the essence of Matera. It was comfortable and inviting and we instantly felt right at home. I highly recommend checking it out, Angola del Poeta it won't disappoint. They also provided me daily with fresh fruit and gluten-free biscuits and cookies which was the cherry on top!
I hope after reading this post, you're inspired to visit Matera one day and see it for yourself. If you have been there please let us know in the comments below as well if you plan on visiting there. Also if you'd like to follow my travels and see more photos from my travels I invite you to follow me over on Instagram at @justglowingwithhealth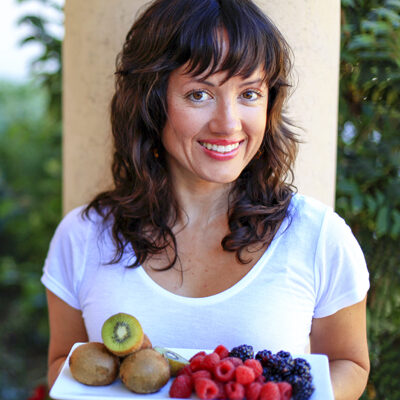 Hi, I'm Christine, thanks for stopping by! As a fibromyalgia thriver (symptom-free for over 10 years now thanks to diet and lifestyle changes), it is my passion to share the healing power of food.
As an RN and Holistic Nutrition Practitioner, it is my desire to empower you to take charge of your life.
Let's journey together to glowing health. Learn More
Your Health Transformation
Starts Here!
Sign up to get FREE healthy lifestyle tips and recipes!