Gluten-Free Plum Crisp (Vegan)
This plum crisp is deliciously satisfying, it's easy to make and is a wonderful summer treat that everyone will enjoy!
This year our plum tree produced, seemingly overnight, bushels of plums. I didn't know what to do with so many ripening all at once. I certainly was not going to let them go to waste! I started using plums in everything I was making…in my smoothies, in my desserts, I even made a marmalade with them! That's then this recipe was born. I'm a huge fan of fruit crisps, they're simple to make, easy and everybody always loves them so you really can't go wrong.
To be honest I'm not the biggest fan of plums, but I since having gotten little more creative I've found lots of ways to enjoy them and this plum crisp is definitely one of the them!
If you're in the mood for something sweet and indulgent but don't want to feel heavy or weighed down afterwards, this plum crisp is for you! It's great for breakfast or as a midday snack. It also makes for the perfect dessert to bring when invited to gatherings or potlucks, and good news it's totally approved on our 30 day lifestyle transformation program!
Not only is it easy to make, but it's versatile. In case you're not a fan of plums you can swap them out for berries, apples or any stone fruit of choice. For this recipe I use rice flour but you can switch it out with almond flour which is really good too. Feel free to experiment with other gluten-free flour of choice. Instead of coconut oil you can substitute it with nut butter. Of course, changing out ingredients will change the taste of the original recipe but it's still yummy.
This plum crisp is:
Vegan
Dairy free
Gluten-free
Versatile
Deliciously sweet
Healthy
Recipe:
Plum Filling
1 3/4 pounds of ripe plums, halved, pitted and sliced (no need to peel)
1/4 cup maple syrup
1 teaspoon tapioca flour
1/2 teaspoon cinnamon
Gluten-free crumble
1 cup gluten-free oats
2 tablespoons maple syrup
1/2 cup rice flour
1/4 cup coconut oil
INSTRUCTIONS
Preheat the oven to 350 degrees Fahrenheit. In a baking dish, mix together the sliced plums, tapioca flour and cinnamon.
In a medium mixing bowl, mix together the oats, maple syrup, coconut oil and flour .
Spread the crumble mix over the plum filling evenly. Bake for 40-45 minutes or until the plums have released their juices and the top is lightly golden. Let the crisp rest for 5-10 minutes before serving. Serve with vanilla ice cream or whip cream.
STORAGE: Store this crisp covered in the refrigerator. It will be good for 4-5 days.
SUBSTITUTIONS: Substitute any stone fruit for the plums. Tapioca flour can be substituted for arrowroot powder or cornstarch. Coconut oil may be substituted for nut butter. Rice flour may be substituted with almond flour or oat flour.
If you're looking for a raw vegan version of this dessert check out my raw vegan peach cobbler recipe.
Did you make this recipe?
Please let me know how it turned out for you! Leave a comment below and tag me on Instagram with a picture with the hashtag #justglowingwithhealth.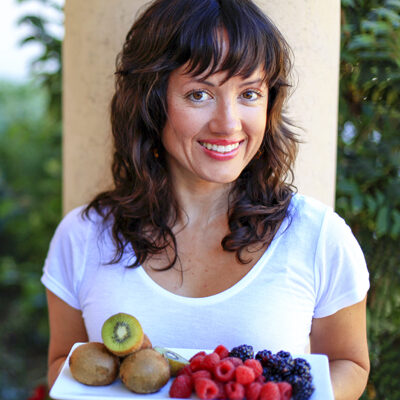 Hi, I'm Christine, thanks for stopping by! As a fibromyalgia thriver (symptom-free for over 10 years now thanks to diet and lifestyle changes), it is my passion to share the healing power of food.
As an RN and Holistic Nutrition Practitioner, it is my desire to empower you to take charge of your life.
Let's journey together to glowing health. Learn More
Your Health Transformation
Starts Here!
Sign up to get FREE healthy lifestyle tips and recipes!