Fudgy Sweet Potato Brownies (V/GF)
These sweet potato brownies are chocolaty, naturally sweet and so satisfying. They're indulgent, without the guilt afterward or that heavy sluggish feeling that often comes with rich desserts. They're gluten-free and plant-based and the best part is with just 8 ingredients you can whip these brownies up and have a delicious treat for you and your family.
I hope you love them as much as we do!
I have some picky eaters in my family so I've been trying to create healthier dessert recipes that will not only satisfy their sweet tooth but keep them coming back for more, in hopes of keeping them out of those junk food isles in the stores!
I've had my mom visiting this summer and she has a mean sweet tooth so I knew I had to prepare some treats to have on hand that she could reach for when she has the munchies. These gluten-free sweet potato brownies quickly became one of her staples. She's been loving them for breakfast and bringing them along on our road trips for snacks.
We traveled the Amalfi Coast, Napoli area and these brownies were a life saver when we didn't have time for a stop or if we couldn't find gluten free or plant-based options nearby. They're quite filling so they held me over so I wouldn't be starving. When traveling to unknown places I always come prepared with food because you just never know what you're going to find or NOT find.
Even though I googled places in advance I found that a lot of the restaurants with supposed "gluten-free options" actually didn't have any stated options. So moral of the story, always come prepared with simple but satisfying snacks so you're never are in a bind.
These brownies will last up to 7 days stored in the refrigerator, but if you're like us they'll get eaten up before then (winky face). You can also store them in the freezer to pull from as needed, which comes in handy as well.
If you like a crunch to them, you can add in chunks of walnuts or pecans. Nuts make for a wonderful addition and make them more hearty as well.
These sweet potato brownies are:
Gluten free
Plant based
Chocolaty and rich
Totally satisfying and delicious
Naturally sweet
Simple and easy to make
Dairy free
Healthier than your average brownie
Having healthier plant-based versions of some of your favourite comfort foods on hand is key to success on this lifestyle. It's especially important while transitioning to a plant-based way of eating because you may still find you're having a lot of cravings initially.
A little preparation and organisation will go along way. Having snack foods and treats on hand to pull from will help you avoid reaching for junk food or eating something you may feel the effects of afterwards.
A little preparation and organisation will go along way. Having healthier snack options on hand to pull from will help you avoid reaching for junk food or eating something you may feel the ill effects of afterwards.
Serves 18 brownies
Recipe:
2 medium sweet potatoes (2cups mashed)
1/4 cup almond butter
3/4 cup oat flour
1/4 cup maple syrup
3/4 cup cacao/cocoa
1/2 cup organic brown sugar
1 melted chocolate bar (150 g)
1 teaspoon baking soda
1/3 cup plant milk ( I use oat milk)
Chocolate Glaze
1 Chocolate Bar (85 g)
Instructions for the brownies:
To make sweet potato puree peel the potatoes, cut them into medium size pieces and steam them in a pan with water until fork tender. Mash in a mixing bowl.
Preheat the oven to 350 F degrees and line an 8×11 baking dish with parchment paper. Set aside.
In a large mixing bowl add all the wet ingredients: sweet potato puree, almond butter melted chocolate and milk.Mix well with a spatula.
Add in baking soda cacao, sugar stirring until mixed well, then add in the oat flour and continue stirring til mixed in well.
Transfer the batter into the lined dish spreading it over evenly. Optional, add walnuts or chocolate chops on top.
Bake on 350F for 30 minutes. When you insert a toothpick into the centre it should come out mostly clean. Remove from the oven and set out to cool completely before adding the chocolate.
Instructions for the glaze:
Melt the chocolate bar. Pour over the baked brownies evenly. Freeze til set.
These brownies are delicious with a dollop of dairy-free whipped cream or vanilla ice cream.
Enjoy!
Did you make this recipe?
Leave a comment below and let us know and don't forget to tag me on Instagram at @justglowingwithhealth and hashtag #justglowingwithhealth with your photo of them!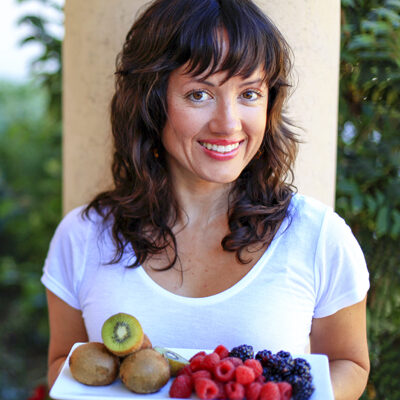 Hi, I'm Christine, thanks for stopping by! As a fibromyalgia thriver (symptom-free for over 10 years now thanks to diet and lifestyle changes), it is my passion to share the healing power of food.
As an RN and Holistic Nutrition Practitioner, it is my desire to empower you to take charge of your life.
Let's journey together to glowing health. Learn More
Your Health Transformation
Starts Here!
Sign up to get FREE healthy lifestyle tips and recipes!