Vitamin C Immune Booster Smoothie
Yesterday was officially the first day of winter so I thought this vitamin C packed smoothie would be appropriate to share with you. After all the flu and cold season is upon us. Especially as a fibromyalgia warrior the last thing we want to be dealing with on top of everything else is being knocked down by a virus.
Our immunity starts from within, so what we eat can really impact our immunity either building it up or tearing it down. Vitamin C is famous for its immune boosting benefits and this smoothie is packed with it! So drink up!
During the winter my two main fruit staples are bananas and oranges. Bananas because they are dense in calories filling me up, and they're easy on the budget. Oranges because when in season are so sweet, make a good base for smoothies, juices and salad dressing. And once again are BUDGET FRIENDLY.
Just to give you an idea, I always buy oranges at the local Armenian store and I get them for 69 cents a pound and when there are sales 2-3 pounds for a dollar. You can't beat that. I rarely buy my fruit at regular grocery stores because they cost significantly more…at least here.
Grapefruit is packed in vitamin C, making it an immune-booster essential.Vitamin C not only helps support the immune system but it helps reduce inflammation. Grapefruit juice ranks as one of the highest amount of antioxidants that help the bodies resistance to free-radicals.
Persimmons are one of the highest vitamin C content of almost any fruit..move over oranges!Vitamin C stimulates the immune system and increases the white blood cells, which are our soldiers of defense for the body against toxins, foreign bodies and infection.
Even mint contains anti-microbial and anti-inflammatory properties that help soothe aching muscles and fight sickness.
Each and every ingredient in this smoothie is a nutritional powerhouse. This winter make sure to strengthen your immunity eating a variety of fruits and vegetables that create a strong immune system from the inside out!
Servings 1 (32 ounces)
Recipe:
3 cups fresh squeezed orange juice
1 pink grapefruit, juice of
1 thumbprint size chunk of ginger
3 fuyu persimmons, chopped
1 hichaya persimmon*
Top with hemp seeds and mint
*Make sure it's super ripe almost gel like.
Blend above ingredients in a blender on high until smooth. Pour into a large glass jar.
NOTE: There are two kind of persimmons. Fuyu are smaller, round and are crunchy similar to apples. Hichaya are larger and when ripe are gel like in consistency.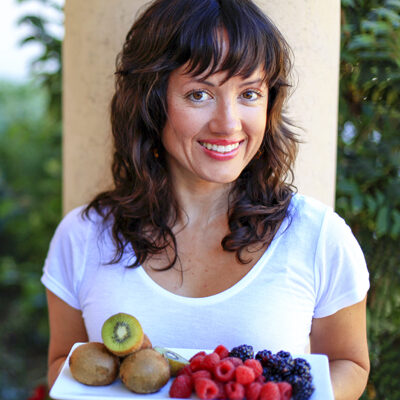 Hi, I'm Christine, thanks for stopping by! As a fibromyalgia thriver (symptom-free for over 10 years now thanks to diet and lifestyle changes), it is my passion to share the healing power of food.
As an RN and Holistic Nutrition Practitioner, it is my desire to empower you to take charge of your life.
Let's journey together to glowing health. Learn More
Your Health Transformation
Starts Here!
Sign up to get FREE healthy lifestyle tips and recipes!