No-Bake Vanilla Coconut Doughnut Holes
I'm really excited to share these no-bake doughnut holes with you because they're so incredibly yummy!  But the best part is they only have four ingredients, take only ten minutes to prepare and are a NO-BAKE recipe, how easy is that? They're dairy-free and gluten-free, with no added sugar and they taste like vanilla caramel melting in your mouth!
This is the best kind of dessert you could feed your family.  If you look at the ingredients, when you buy anything packaged at the store, they usually have at least several ingredients that can't even be pronounced let alone that should be put in your body.
Dates are the perfect sweetener to use.  They  are a whole food and are full of minerals and fiber.
It doesn't get easier than this. You simply process everything in a food processor form into little tablespoon size balls and you're done. Even if you have a busy schedule you can find time for that. They're a great energizing snack to carry with you in your bag or keep on hand at work, or to just have your fridge stocked with for when you get a craving.
I love these with freshly brewed sage tea or lemongrass tea. I boil water in a pot and put fresh leaves in and seep for ten minutes and it's the best tea ever!
I bring these to work with me so that when I get that craving to snack I can easily reach for one and I feel satisfied.  It is especially important to fill your kitchen with healthy snacks, because if you have any junk food  inevitably in a time of weakness you'll give in and grab for it.  If you have on hand only delicious healthy snacks you'll find you have much more success with keeping on track and the same goes for kids too, if they're used to having these deserts on hand that is what they'll look for.
Every time I make these I end up eating at least a couple of them before I even finish, with the aroma of vanilla pouring out they're irresistible!With such a busy schedule no-bake desserts such as these are perfect to make.  I like to double this recipe and freeze the rest so that I can always have some on hand.
Servings 15 (depending on how small you make them)
Recipe:
2 cups fresh medjool dates, pitted
1/3 cup cashews, soaked overnight in purified water drained and rinsed
1/2 tsp vanilla powder (the key to this recipe is that I used Madagascar vanilla powder and it really makes the difference, if you don't have it you can use a vanilla bean or pure vanilla extract but it may not be as vanilla flavored with the extract)
1 cup shredded coconut (1/2 cup set aside to cover the doughnut holes in)
1) Mix all the above ingredients in a food processor and blend until it becomes a coarse crumbly mix.  Be careful not to over process.   2) Scoop out mix onto a plate and roll into tablespoon size balls. Cover in coconut.
Enjoy with a nice glass of coconut milk.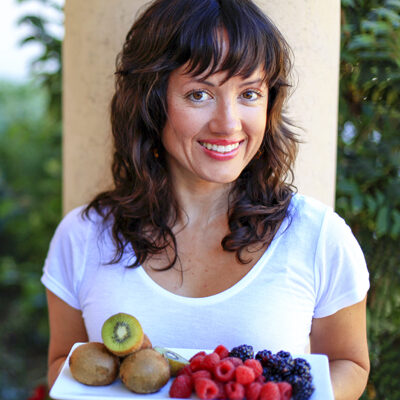 Hi, I'm Christine, thanks for stopping by! As a fibromyalgia thriver (symptom-free for over 10 years now thanks to diet and lifestyle changes), it is my passion to share the healing power of food.
As an RN and Holistic Nutrition Practitioner, it is my desire to empower you to take charge of your life.
Let's journey together to glowing health. Learn More
Your Health Transformation
Starts Here!
Sign up to get FREE healthy lifestyle tips and recipes!