Pink Grapefruit Spritzer to Melt Cellulite
This juice is a powerful boost for the immune system, helps in improving the health of your heart, burns fat and even can help fight prostate cancer!  What a great start, right?
This pink grapefruit spritzer is a refreshing lip pucker.  It's not the usual sweet type of fruit juice I love to make.  Sometimes I just find myself craving a bit more savory and tart.  This is perfect on a hot summer day with a lot of ice.  It's a very hydrating and thirst quenching juice.  The color came out such a gorgeous pink that it was fun to drink as well.  I don't know about you but I am totally influenced by the colors of my food, if it looks beautiful I enjoy it so much more!
This juice is not only nutritionally dense with amazing health benefits, but it is great in helping you lose unwanted pounds.  Pink grapefruit contain a natural enzyme that helps your body burn stored fat for fuel, so this juice helps promote fat burning. It also reduces fluid retention which contributes to cellulite, so if you're trying to melt the cellulite away drink up! Pink grapefruit also helps fight heart disease, lower cholesterol, and may even lower the risk of forming kidney stones.  Grapefruits also contain a flavanoid, called naringenin, concentrated in grapefruits that helps repair damaged DNA in prostate cancer cells.
This spritzer is like a superfood juice with the health benefits of the grapefruit, the cranberries and the pomegranate.  The pomegranate is the most powerful anti-oxidant of all fruits.  It is a potent anti-cancer and lowers cholesterol and blood pressure.  It inhibits abnormal platelet aggregation that could cause heart attacks and strokes.  This powerful fruit has been shown to even promote reversal of atherosclerotic plaque.
Cranberries are very important in heart health.  They too help lower cholesterol, and prevent plaque from forming on the arterial walls.  Cranberries are high in anti-oxidants helping to facilitate the flushing of  toxins out of your body, promoting weight loss.  Cranberries are shown to help improve your memory….now what was I saying?? Maybe I need some cranberries, haha! Just kidding. 🙂
Servings:  4 1/2 cups
Recipe:
2 pink grapefruits, peeled
1 lemon, peeled
2 Navel oranges, peeled
4 celery stalks
4 sprigs mint, set two aside for the glass
1 pomegranate, seeds of (set aside a small handful of seeds for the glass)
1/2 cup fresh cranberries
Place above ingredients, one at a time into the juicer.  Put the mint and pomegranate seeds in the glass, pour and enjoy immediately.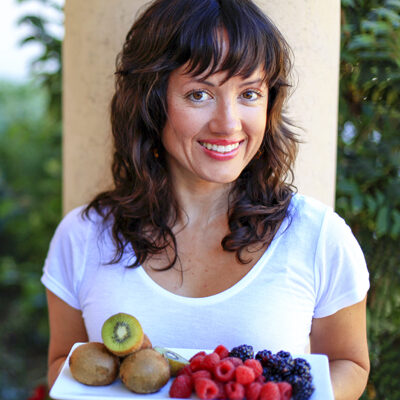 Hi, I'm Christine, thanks for stopping by! As a fibromyalgia thriver (symptom-free for over 10 years now thanks to diet and lifestyle changes), it is my passion to share the healing power of food.
As an RN and Holistic Nutrition Practitioner, it is my desire to empower you to take charge of your life.
Let's journey together to glowing health. Learn More
Your Health Transformation
Starts Here!
Sign up to get FREE healthy lifestyle tips and recipes!