I am so excited to share this pumpkin risotto recipe with you today.  I posted it last week on my Instagram and Facebook accounts and got such an amazing response from it that I had to share! This recipe is so simple requiring only 5 ingredients, it is dairy-free, gluten-free and might I just add dee-lish!  I have to thank my mother-in-law for the inspiration of this dish, her original recipe contains cheese and chicken broth, but this vegan risotto is so amazing most won't even know the difference…just don't tell them hehe.  Once people know it's vegan or healthy somehow it plays mind games with their taste buds lol.
I am really trying to get creative in my plant-based cooking for my family.  While I prefer as much raw foods as possible, I realize that for my family that doesn't always work.  So, instead of being a raw food Nazi with them making it all or nothing, I am really trying to look at healthier alternatives that will be enjoyable to them that will help replace meat and dairy.  This is a dish I totally enjoy too, but in other cases even if it is a dish I may not particularly eat if it is plant-based and healthier than what they would normally choose I am all for it.  One step at a time right? We can't expect everyone to be on the same page when it comes to eating…would be nice but sometimes you just gotta meet them half way.
A friend of ours gave us this gorgeous pumpkin from his garden.  I just love  how rustic it looks! I have to say having a fresh, ripe, organic pumpkin from the garden makes all the difference in taste.  It had so much natural flavor and a hint of sweetness that just made this dish even more incredible, in fact, for me no salt was even needed.  The original recipe contains both so that is why I added it in as optional.  You can play it by taste.  I really prefer to avoid salt and oil when possible.
If you don't have pumpkin you can always replace it with butternut squash.  Also, in the recipe I used water because I didn't have on hand vegetable broth, so if you use vegetable broth it will add even that much more flavor. If you don't have access to a whole pumpkin you can use butternut squash or the packaged cubed pumpkin or squash, but seeing as it's not fresh it will have much less flavor so you may need more salt for flavor.
When scooping out the seeds and pulp from the middle you can set aside the seeds dry them season them and dehydrate them in the dehydrator for several hours (or oven too, but if you want to keep them raw then use the dehydrator).  Nothing has to go to waste!
This risotto is perfect on a chilly fall night it is so warming to the soul, it is definitely a comfort food.  Doesn't this look absolutely delectable? Oh my goodness I'm craving it already just thinking about it!
Ok ok enough teasing time for the recipe!
Prep time 20 minutes
Cooking Time: 50 minutes
Serves 6
Recipe:
1/2 of a medium size organic pumpkin (about 2 pounds) cubed, removing the pulp and seeds from the inside
1 small red onion minced (or yellow onion in place of red)
2 cups Arborio rice
5 cups vegetable broth
2 sprigs fresh Thyme
1 Tbsp high quality olive oil, if you prefer oil free use water instead (just enough to make sure it doesn't burn in the pan)
Optional 1/2-1 tsp Himalayan salt
Directions:
1) Boil in a small pot 5 cups  broth then set aside. 2) In the meantime put the onions, pumpkin, (salt) and oil in a pot and cook on medium-high flame until soft about 10 minutes (after the first 3 minutes add just enough broth to cover the bottom of the pan so it doesn't burn) then cover the pan until the pumpkin is nice and soft, about another 12 minutes.  2) Once soft, purée the pumpkin using an immersion blender, (or you can pour into a blender purée and return it to the pot). 3) Next, add the rice and stir in well. 3) Start to add the broth ladling in 2 ladles of the broth  at a time, stirring frequently. 4) As the broth gets absorbed slowly add in 2 more ladles, stir well and continue to simmer on medium flame.  The texture should be creamy if it is too thick or the rice isn't fully cooked add another ladle of broth, just make sure it doesn't become too liquidy.  Stir well. Cook rice until tender but firm to the bite. 5) Divide the risotto among 6 shallow bowls and top with fresh thyme.
NOTE: Add more seasonings and broth as desired.  Also, the pumpkin can be substituted with butternut squash if needed.
I hope you LOVE this recipe! IF you know someone else that will enjoy it please SHARE,  Also if you liked this recipe and would like to see more healthy plant-based and raw food recipes, I invite you to sign up for my FREE weekly newsletters.
Lots of love and GLOW! Xo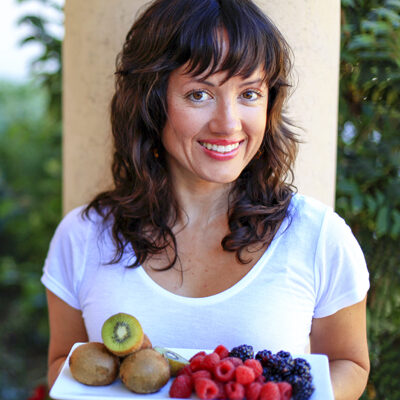 Hi, I'm Christine, thanks for stopping by! As a fibromyalgia thriver (symptom-free for over 10 years now thanks to diet and lifestyle changes), it is my passion to share the healing power of food.
As an RN and Holistic Nutrition Practitioner, it is my desire to empower you to take charge of your life.
Let's journey together to glowing health. Learn More
Your Health Transformation
Starts Here!
Sign up to get FREE healthy lifestyle tips and recipes!