Highlights of My Trip to Italy (Part 1)
I just got back from our trip to Italy visiting family and friends and I can't wait to share with you some of the highlights. I love to take photos of food and sight-seeing so I'm dividing the post into two parts since there's just so much to share! Hope you enjoy!
We started off our trip in the most southern part of Italy, Calabria. This was exciting for me because I'm half Italian, part Calabrian part Napolitan. Seeing Calabria for the first time getting in touch with my Calabrian roots was so awesome for me. Side note my husband, who is from Italy, always calls me "Calabrese" (Calabrian) because I have strong Calabrian traits, I guess all the genes went straight from my grandparents to me haha! So I really feel a connection to Calabria.
The beaches in Calabria are some of the most clear, pristine and overall stunning I've seen. I'm a huge beach lover so I've travelled to many beaches in search of the most exquisite waters. Calabrian beaches are right up there with beauty. The two beaches that I recommend seeing are Tropea and Scilla. Below are a few photos of Tropea:
Not only are the beaches at Tropea stunning but the town of Tropea is an enjoyable way to pass the day with their shops, restaurants and views from a top overlooking the sea. As you can see from the photos the sea is a clear turquoise, the beaches have very white sand..and the water is so warm!
Below is the town of Scilla. I actually liked the beach here even more than Tropea especially for the fact that it wasn't filled with a ton of tourists. The water was so clear and clean you could see right through it.
The little "paese" of Scilla is so quaint and characteristic, it's the typical Italy most of us Americans think of when we picture Italy. Filled with cobblestone narrow streets as you can see below.
Quick story, Calabrians are very hospitable. One woman was in her home and saw us gawking with fascination over each house we saw.  Without hesitation she invited us right in to give us a tour of her almost 1,000 year old historic home! That was really special.
Calabria is known for the spicy hot peppers, they love spicy! Now I know where I got my love for spicy from! There were also grapes growing everywhere. The ones below were growing in our families backyard so I enjoyed just going out and picking bunches of grapes when I wanted. Let me tell you they tasted as vibrant as they are purple..oh my goodness were they good!
Finding fresh fruits and vegetables was never a problem because they literally have fresh produce stands everywhere!
Most restaurants offered a variety of salads with an abundance of veggies. Nothing boring about them. I was completely satisfied. Most of them come with tuna and cheese, so the key is when you ask them to remove the unwanted ingredients, make sure to ask that they abundantly replace them with more of the veggies that were included. And specify to them that the salad will be your meal so you'd like a good size portion. They were always very obliging. Also if they don't have anything on the menu I was able to let them know about my vegan diet and asked if they could create a dish of veggies, salad or fruit and that was almost always no problem.
The highlight of Calabrian food was this partly vegan pizzeria we found. It's called Pizzeria Mandalari 1972.  The owner was an older man who was vegan himself and very passionate about sharing his knowledge of how food heals with his patrons. His passion was expressed in his creative, exquisite dishes he created for us. I've never eaten so good! My husband and our friends were so impressed with my plates they decided to order the same thing. He basically served us a sampler platter of several dishes and one pasta dish, all which are seen below. We ended up coming back again it was so good!
Pictured in the initial box a sampler plate: beet lentil burger, salad, vegetable pizza roll, roasted pepper wraps, eggplant parmigiana torte, "plantball" made with cream of cashew and spinach, falafel, vegan frittata made with garbanzo bean flour. My mouth is watering just thinking about it. The drink you see in the picture was a lemon ginger concoction he made for us.
In the first long box from bottom up is: eggplant parm, lentil burger with eggplant cream, humus, and stuffed zucchini flower. In the second box, top right are stuffed zucchini flowers filled with wild rice, turmeric, cashew cheese and topped with a celery almond pesto. By far the best dish ever! So full of savory flavor and just so creative. In the bottom right box is homemade Farro pasta with a cream of celery, zucchini and zucchini flowers, topped with pistachios. A pleasantly rich, creamy pasta dish.
I fell in love with Agriturismo's in Calabria and I highly recommend you try them. An agriturismo is basically a farmhouse that grows all their own produce sometimes even down to the olives for olive oil and grapes for wine. It's a great place to have a taste of local plates and have a complete meal with appetizers, first and second course, dessert and drinks for a much less price than at a restaurant. It's so worth it everything is made as soon as you order and it all comes from their farm. The best part about that is since they grow everything right there you can order off the menu.
I particularly loved the agriturismo in Reggio called Le Agavi. It overlooks the sea and the city and it has a nice rustic environment. Initially, I didn't see anything I could eat on the menu, so I simply explained what I could eat and they completely created special dishes just for me, it was great! So easy peasy.
Pictured below: Top left to right: la peperonata, basically peppers and potatoes cooked in a tomato sauce and onion, and grilled eggplant. Top right box: porcini risotto. Bottom left: sampler plate of stuffed zucchini flowers, bruschetta, zucchini rolls willed with capers and grilled Tropea onions, grilled radicchio and grilled sweet onions.
Pictured below from left to right: tomato corn salad with basil, gluten-free "pasta alla Norma" with eggplant and tomato sauce, fresh fruit.
Besides having fresh fruit stands there were even nut stands out of little trucks, it was so cute! I mostly saw this in Sicily. They love their nuts and dried fruits.
So as you can see I didn't miss out on anything eating vegan. In fact I think I had even more creative dishes than everyone else with me since they'd go out of the way to make sure they provided me with a dish they were proud to serve.
Hope you enjoyed the photos and I'd love to hear YOUR experience while traveling and how you maintain your vegan diet!
Ciao!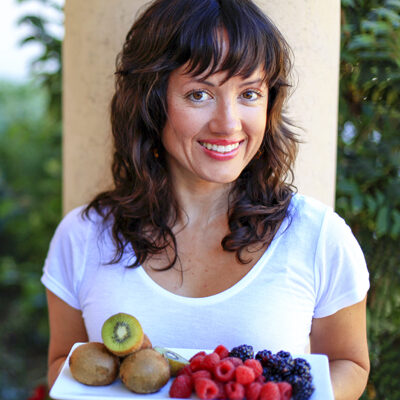 Hi, I'm Christine, thanks for stopping by! As a fibromyalgia thriver (symptom-free for over 10 years now thanks to diet and lifestyle changes), it is my passion to share the healing power of food.
As an RN and Holistic Nutrition Practitioner, it is my desire to empower you to take charge of your life.
Let's journey together to glowing health. Learn More
Your Health Transformation
Starts Here!
Sign up to get FREE healthy lifestyle tips and recipes!