Testimony: "I Am Off My Acid Reflux Medicine" Thanks to the Raw Food Diet
Today I am sharing an experience from someone  who had participated in our '30 Day Raw Food Challenge" back in May.  I am so proud of her because we have spoke from time to time to time regarding challenges she has had in regards to transitioning to a raw food diet.  But, when she heard about the challenge she immediately contacted me and said she was going to give it a try.  She dove right in and saw some wonderful results, in fact at the end she was excited to eat some cooked foods only to try some and realize they didn't have the same allure anymore.  She was preferring more raw foods!  She is an excellent example of someone who did not have immediately family eating raw with her yet she maintained it.  In fact, now her brother and sister-in-law have joined in eating plant-based with a lot of raw foods included. Big high-five to Connie! Check out her experience on the raw food diet for 30 days, and don't forget to show her some love in your comments below!
I'd like to share some positive results from this raw foods challenge for the 30 days. One big plus is that I am completely off a prescription for acid reflux. I was on PANTOPRAZOLE 40 MG. once a day.  I had it so bad, that I would wake up at night with the most outrageous "verping" Ugh! So my Pulmonary Specialist put me on this to help heal the esophagus. (I have him because he is the one who verified I have Emphysema and asthma.) 
 I only felt some discomfort actually, anytime, if I put too much raw garlic on my salads. That's the only "hot" food as in spicy"  I added to my dishes. So I reduced it by 3/4 and that helped. I found the last week of my challenge that just one orange squeezed… made the most wonderful dressing for my salad over OVOO. 
Today I was a little hesitant about what I was going to break my 100% raw. So I opted for Vietnamese  Pho. Thinking well soup is always a good thing to have when breaking a special eating program.  It was ok..not as I remembered it.  Thought it would have that  "Wow! Finally" factor..but it really did not. Then for dinner I had a bean tostado..and that too pretty much, fell flat. I was really thinking I should have gone with my "gut" feeling and had the lettuce wraps taco with veggies. Tomorrow I will.  I'll bring them to the assembly too. I don't know…I'm leaning toward staying mostly raw now. I was thinking about Veggie sandwiches with Ezekiel bread…I'm just not sure. I'm in the groove and not sure I want to get out of it. Giggles….
I forgot to weigh myself but I do know I'm one size down from what I was. So that's good. :o)
Love ya Christine. xoxoxoxo…
Connie
If you liked this information and want to see more of it I invite you to sign up for my weekly newletters where you will receive weekly tips, recipes, and inspiration on how to start the raw food diet AND have success! The link is found at the top of this page.
Wishing you GLOWING health.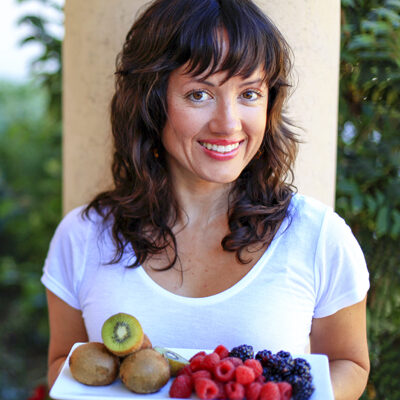 Hi, I'm Christine, thanks for stopping by! As a fibromyalgia thriver (symptom-free for over 10 years now thanks to diet and lifestyle changes), it is my passion to share the healing power of food.
As an RN and Holistic Nutrition Practitioner, it is my desire to empower you to take charge of your life.
Let's journey together to glowing health. Learn More
Your Health Transformation
Starts Here!
Sign up to get FREE healthy lifestyle tips and recipes!