Dinner at Vegan Restaurant 'Gracias Madre'
I recently had dinner at  Gracias Madre with some friends of mine, and I was so impressed that I wanted to share my experience with you.  Gracias Madre is a vegan organic Mexican restaurant in West Hollywood, and after hearing so many rave reviews on it I couldn't wait to try it out myself!  In my group of friends none were vegan but they were all interested in seeing how the plant-based version would compare to the 'real' thing.  I love bringing friends who are new to the plant-based/ vegan world and watching their eyes grow big as they skeptically take their first bite into 'plant food' and suddenly that skepticism turns into pure delight. That was definitely the experience had here!
 Brave fellows…hehe
From the moment I stepped foot into the restaurant I knew that it was gonna be good! I mean if the food tasted half as good as the atmosphere they created I knew we were in for a treat.  Having lived in Brooklyn for many years I tend to be a little bit of a restaurant snob…just a little bit 🙂 .  In the sense I am always looking for creative, unique atmosphere that sets an eatery apart, because in NYC the majority of restaurants are based off unique creative ideas.  So, when I find that here in my beloved Cali I am so happy. I was not able to get photos of the outside area too much but in the patio there is a fire-place and very quaint outside seating.  It was lovely.
Everything on the menu looked so good, and I made the mistake of coming starving so I would have ordered one of everything if I listened to my stomach, but instead we all ordered something different so that we could all share.  I don't think I even need to say much about the food the pictures do all the talking.
The evening was a little chilly so I started out with this creamy delicious Mexican hot chocolate. Such a comfort drink!
For a side the Repollitos Fritos, brussel sprouts with cilantro, lemon and almond, were scrumptious.  Definitely worth trying so lemony and savory…yum!
Next dish was the Flautas De Camote.  These were rolled tacos with sweet potatoes and caramelized onions, topped with pico de gallo, guacamole, cashew nacho cheese and cilantro.  Served with black beans. These are a must try I can't even begin to tell you how good, just make sure to order them!
This is the plate I ordered, the El Plato.  It basically was a little of everything, a sampler plate.  Butternut squash, cashew nacho cheese, chorizo mushrooms, cilantro pesto, beans, pico de gallo, rice and tortillas.  This plate was so filling and it was perfect because I wanted a little bit of so many things so this gave a nice feel of many flavors.
My husband ordered the Chilaquiles which are tortilla chips, spicy tomato salsa, avocado, cashew cream, cilantro and black beans.  These are great if you like a kick to your food.  I love spicy so I really enjoyed them.  If you don't like spicy don't get these! My husband has stomach issues and could not handle them so I helped him finish them off…most willingly!
This is the pozole which is hominy stew in an ancho-chile broth.  I personally did not get a chance to taste it, but my friend who is of Mexican descent could not wait to try it to see how it compares to what she knows and she  loved it.  So that's gotta be good!
The service was great, they even had stacked freshly folded blankets for those sitting outside just to keep the experience up to par on all levels.  We were pleasantly surprised.
Needless to say we all left more than satisfied and my friends are still talking about how good it was.  In fact, we have a dinner date to go back again.  So if you are ever in the Los Angeles area you must put this restaurant on your 'To Do' list,even if you're not vegan or plant-based you will have a delectable dining experience!
Here is their address:
8905 Melrose Ave
West Hollywood, Ca 90069
Have you ever dined at Gracias Madre? If so what was your favorite dish?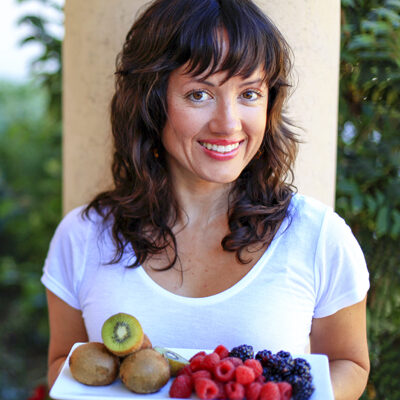 Hi, I'm Christine, thanks for stopping by! As a fibromyalgia thriver (symptom-free for over 10 years now thanks to diet and lifestyle changes), it is my passion to share the healing power of food.
As an RN and Holistic Nutrition Practitioner, it is my desire to empower you to take charge of your life.
Let's journey together to glowing health. Learn More
Your Health Transformation
Starts Here!
Sign up to get FREE healthy lifestyle tips and recipes!