Raw Vegan Spicy Hot Chocolate
Did you ever see the movie Chocolat? I just loved that movie, I loved the French ambience, her quaint little chocolate shop, but the one thing that it left me wanting so bad was her thick Parisian hot chocolate.  It looked so rich, so creamy and chocolaty that I just had to have it!  Years later I ended up moving to Italy, and I found myself in this quaint little Italian pasticceria (pastry shop) on a cold day and what do you think was the first thing I asked about? Yes! Their cioccolato calda (hot chocolate), at that time I was still drinking milk.  And as the steaming cup was brought to me my mouth was watering, I couldn't wait to try this long anticipated hot chocolate! As I took my first sip, I felt it warm my soul, it was so comforting and absolutely perfect.  After that I could never go back to a regular 'ol hot chocolate which just seemed watered down.
Well, needless to say I have missed having my hot chocolate on chilly winter, rainy days so I finally have created my own dairy-free version that has no added refined sugars and believe it or not is actually raw! I have to say it really hits the spot for me with the creaminess, the thick texture and even using the carob powder gives it the chocolate flavor without really using chocolate.  I love carob because unlike cacao carob does not contain caffeine or theobromine.  Both of these substances are stimulants, which I prefer to avoid. Carob is also very nutritious containing many vitamins and minerals and is even a good source of fiber.  Many times when I have clients that are trying to quit coffee, I will have them substitute a glass of warm water with carob and cinnamon and it has been very helpful. Many times it is just the idea of having a nice warm drink in hand sipping on it, the relaxation of the moment in the morning.  So, if you're trying to kick the coffee habit maybe this hot chocolate will be the thing for you.
In the winter time, adding warming spices like cayenne or ginger really help to warm you up from the inside out.  I always had a thing for spicy chocolate, so since it's winter and I'm trying to stay as raw as possible I decided to add a little spice to this baby.  So, I guess you can say it's a Parisian meets Italy meets Mexico kinda hot chocolate, hehe. But if you prefer, feel free to leave it out.
Servings 3 glasses (about 20 ounces)
Recipe:
1 young Thai coconut (flesh of and water of, should be 1 1/2 cup of coconut water if not add filtered water to make up the difference)
1/2 tsp vanilla powder
1/4 cup dates, pitted ( I used halway dates, but medjool dates are fine too)
3.5 Tbsp carob powder
1/8 tsp cinnamon
2 shakes cayenne pepper
1/2-1 cup water (NOTE: this is hot chocolate is meant to be quite thick, but if you prefer more liquidy add more water)
Blend above ingredients in a Vitamix blender on high for at least two minutes and it will come out nice and warm! Top it with a dollop of coconut whip cream, yum!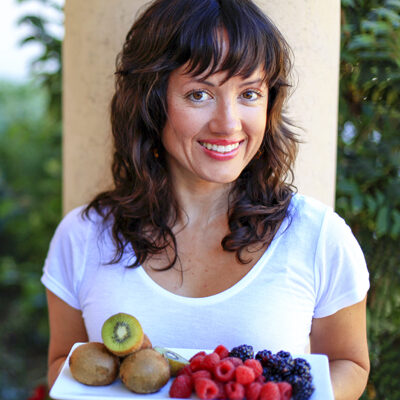 Hi, I'm Christine, thanks for stopping by! As a fibromyalgia thriver (symptom-free for over 10 years now thanks to diet and lifestyle changes), it is my passion to share the healing power of food.
As an RN and Holistic Nutrition Practitioner, it is my desire to empower you to take charge of your life.
Let's journey together to glowing health. Learn More
Your Health Transformation
Starts Here!
Sign up to get FREE healthy lifestyle tips and recipes!