Glowing health stems from many factors other than simply diet.  Your emotional state, including your thinking pattern, hugely impacts not only how you feel and but can directly affect your physical health.  Your thoughts create neurotransmitters that communicate with the body.  For example, happy thoughts create unique molecules that communicate with the cells in the body to make you feel happy.  The same goes for fearful thoughts, making you feel afraid.  So in essence emotions, or feelings, are preceded by a thought.
The mind body connection teaches you to take control of your thoughts and feelings, which can directly impact your physical health starting at cellular level.  This is a powerful concept.  It is empowering to know that by taking conscious control of your thoughts you can impact your feelings and physical health! Think of what this means if you suffer from anxiety let's say.  Some of the worst anxiety is associated with "what if's".  For example, for me I get very anxious using an elevator.  Living in Cali I start thinking, "What if an earthquake comes while I'm in it? What if it gets stuck and I'm trapped?" These thoughts escalate my anxiety.  In this situation taking conscious control of my catastrophic thoughts would mean I start to rationalize the probability of my feared outcome, or the realistic odds of this happening.  I stop, deep breathe and change the thoughts to ones more realistic and positive. I can create coping statements  such as: Nothing serious is going to happen.  People ride in elevators all day long and nothing happens.  I can do this.  I don't need these thoughts-I choose to think differently.  Stopping my negative thoughts in their tracks and changing them to positive ones I feel less anxiety and more confident about the situation.  This is a minor example, but it gives you an idea of how it works.
It has been said that up to ninety percent of our inner dialogue, or our inner thoughts, are negative.  According to the mind/body connection you can see how these negative thoughts can directly effect how you function daily. Becoming more consciously aware of changing your thought pattern you can thus create a more confident, happier, successful YOU!
Here are some examples of positive dialogue, suggested by my friend Allison over at the Glow Effect:
"I promise myself to be so strong that nothing can disturb my peace of mind. To talk health, happiness, & prosperity to every person I meet. To make all my friends feel that there is something worthwhile in them. To look at the sunny side of everything and make my optimism come true. To think only of the best. To work only for the best and to expect only the best. To be just as enthusiastic about the success of others as I am about my own. To forget the mistakes of the past and press on to the greater achievements of the future. To wear a cheerful expression at all times and give a smile to every living creature I meet. To give so much time to improving myself that I have no time to criticize others. To think well of myself and to proclaim this fact to the world not in loud words, but in great deeds."
Over at the Glow Effect they have weekly posts that come out on Monday called 'Rise and Shine' to give you a glowing start to the week of where you can learn more about how to control your thoughts instead of letting your thoughts control you.  Head over there and sign-up for your weekly newsletter! Start taking control of your thoughts NOW and Ignite your GLOW from within!
I'd love to hear comments from you.  Do have a particular affirmation that helps you? What do you find helps control negative thinking?  Please SHARE!
If you found this information helpful and know someone else that can benefit from it please share this article with them.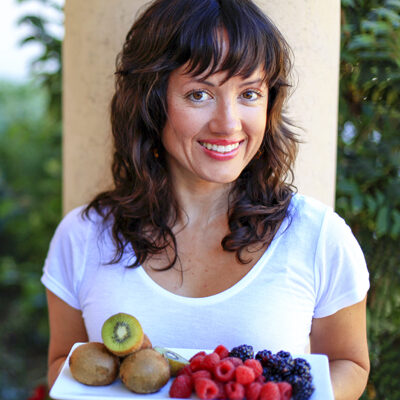 Hi, I'm Christine, thanks for stopping by! As a fibromyalgia thriver (symptom-free for over 10 years now thanks to diet and lifestyle changes), it is my passion to share the healing power of food.
As an RN and Holistic Nutrition Practitioner, it is my desire to empower you to take charge of your life.
Let's journey together to glowing health. Learn More
Your Health Transformation
Starts Here!
Sign up to get FREE healthy lifestyle tips and recipes!