Spiced Persimmon Chia Parfait for Weight Loss
I have such a treat for you today! This Spiced Persimmon Chia Parfait is so simple to make, requiring just a few ingredients, and tastes like a decadent dessert with all the makings for a perfect fall breakfast. It's dairy-free, gluten-free and packed with fiber so it'll keep you feeling full for hours. Even though it tastes decadent and sweet and is so filling it actually can aid in weight loss.
A diet rich in fiber is key for weight loss. Fiber keeps your digestive system working properly to eliminate those nasty toxins and keeps you feeling full and satisfied longer. It can also help you avoid the feeling of needing to snack and overall lessen cravings as you feel satiated.
Just to be clear I'm not promoting eating less to lose weight by any means. I believe that it's more important to focus on the quality of foods one eats and NOT the quantity. A big part of weight loss is nourishing your body with the nutrients it needs. That's why on the raw food diet there's no calorie restricting or carb counting needing. For many people it's an effortless way to lose weight while eating until satisfied because you're feeding your body easily digested foods that nourish your body.
Often times weight gain is common in individuals who suffer with fibromyalgia. Whether it be due to inability to maintain physical activity because of  pain or fatigue, or from hormonal imbalances going on, or perhaps as a result of the medications it can be hard to lose weight.
This Chia Parfait is a great meal to help you feel satiated and at the same time aid in weight loss. How so? you might ask. Both chia seeds and persimmons contain a high amount of fiber. One persimmon alone has 6 grams of fiber.
Chia is low in calories high in fiber. Just two tablespoons of chia seeds have 11 grams! Because of the rich fiber content, chia seeds absorb water and expand in the stomach when eaten curbing hunger, which can lead to weight loss. Not to mention chia seeds are one of the top plant based sources of  protein which also helps keep you feeling satisfied longer.
Both persimmons and chia seeds are packed with important minerals, vitamins, antioxidants and nutrients to fight fibromyalgia, disease in general and keep y0u glowing with health! I hope you enjoy this totally guilt-free parfait as much as I did!
Servings 2
Recipe
1-2 persimmons* (tops removed)
1 1/2 cups coconut milk (or plant-based milk of choice)
4 tablespoons chia seeds
1/8 teaspoon cinnamon*
1/8 teaspoon nutmeg
1/8 teaspoon ground cloves
Maple syrup as desired
(optional) Walnuts or nuts/seeds of choice for topping
Directions: 1) Pour in a glass jar the coconut milk and stir in the chia seeds. 2) Place a top on the jar closing tightly and shake well to keep from clumping. 3) Set aside in the fridge for at least 20 minutes or until it turns into a thick pudding-like consistency 4) In the meantime, blend persimmons and spices together in a blender until smooth. 5) Pour half the amount into a large glass jar, or bowl, followed with half of the chia pudding topping the chia layers with a drizzle of maple syrup. Continue layering, topping the final layer with fresh fruit like kiwi and another drizzle of maple syrup and optional crushed nuts or seeds.
*NOTE: Make sure the persimmons are nice and ripe almost gel like, otherwise if they're not ripe it will give you a dry, cotton-ball feeling in your mouth. Add more spices according to taste.
If you get a chance to try this recipe make sure to tag me with your photos on Instagram and facebook with #justglowingwithhealth or @justglowingwithealth. I always love seeing your re-creations of my recipes!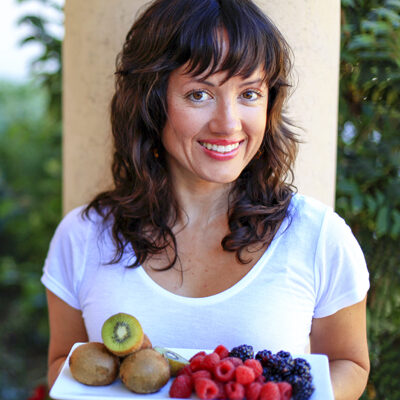 Hi, I'm Christine, thanks for stopping by! As a fibromyalgia thriver (symptom-free for over 10 years now thanks to diet and lifestyle changes), it is my passion to share the healing power of food.
As an RN and Holistic Nutrition Practitioner, it is my desire to empower you to take charge of your life.
Let's journey together to glowing health. Learn More
Your Health Transformation
Starts Here!
Sign up to get FREE healthy lifestyle tips and recipes!