Guest Post: Eat Your Way to Less Back Pain
Today, I'm happy to share with you a guest post on how te eat your way to less back pain.  This information has been so helpful for me since having had  pretty bad back injury at my job last summer, dealing with a sedated patient. It was and still can be quite painful to say the least.  But, I have learned first hand how eating the right foods can be as powerful as medicine, not only in the healing process but in taking the edge off the pain.  So, I hope you find these tips useful and if you know someone who can benefit from them please share!
Low back pain is the biggest cause of disability worldwide, with Americans spending over $50 billion a year on treatment and remedies. But while surgery may be the only option for some, others may help relieve their pain by changing their diet. That's right. One of the best things you can do for your back is to eat the right foods. Certain foods help fight inflammation, which in turn may help prevent low back pain.
Back pain or not, here are a few foods you should start incorporating into your diet immediately.
Nuts and Vegetables
While the omega-3 acids in almonds and walnuts offer an alternative for vegetarians and people with seafood allergies. And don't forget pecans and almonds, as these are also good sources of omega-3.

In addition, magnesium has also been known to alleviate muscle-related back discomfort. Foods that are high in magnesium include eggplant, spinach and tomatoes.
[
Source:
https://chicago.cbslocal.com/2010/11/22/your-back-pain-may-be-linked-to-foods-you-eat/]
Fruit
Some fruits have been found to reduce pain by controlling inflammation. Common pain-relieving fruits include strawberries, blackberries, raspberries, pineapples and cherries. A study published in Science Daily found that dark cherries were as effective at treating pain as most common pain medications.
North American Spine recently mentioned the powerful effects of cherries and other bite-size fruit in their new eBook. Apparently, eating a handful of cherries a day helps increase blood flow and lessens the amount of pain you feel.
Turmeric
This incredibly potent (and spicy) ingredient is chock-full of anti-inflammatory properties. In fact, it's currently being studied as a possible way to help relieve arthritis. Sprinkle a tiny pinch in your smoothie, salads, soup, rice or pasta and reap the benefits. And while turmeric's not for the faint of heart, don't worry. It comes in capsules too.
[
Source
: https://www.everydayhealth.com/pain-management-pictures/7-foods-that-help-fight-pain.aspx#06]
Ditch the Cooking Oils

While some oils are beneficial to your skin and health, most cooking oils tend to worsen back pain. According to a report done by CBS News, many vegetable-based oils trigger inflammation. Luckily, extra-virgin olive oil has the opposite effect.
Tea and Ginger
Finally, ginger and green tea have also been found to help reduce inflammation. Ginger has been found to reduce some pain symptoms, and green tea is a great source of antioxidants, which may help prevent arthritis.
In addition to incorporating the above foods into your diet, try not to eat meals with high levels of saturated fat or sugar. Certain ingredients may actually intensify pain by preventing your body from absorbing calcium. This is a good reason to limit consumption of wheat bran, meat, caffeinated drinks and processed foods.
Happy eating.
Brad Smith| Brad is a freelance health writer who loves learning more about fitness and putting his theories to the test. When not exercising he can be found drumming, reading or perusing the local farmers market.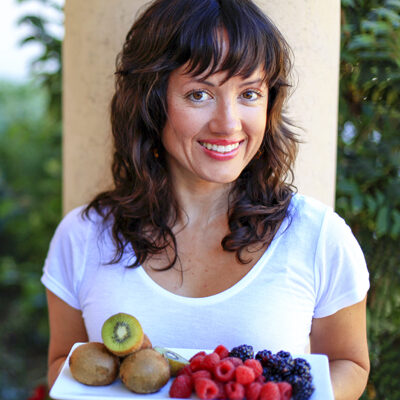 Hi, I'm Christine, thanks for stopping by! As a fibromyalgia thriver (symptom-free for over 10 years now thanks to diet and lifestyle changes), it is my passion to share the healing power of food.
As an RN and Holistic Nutrition Practitioner, it is my desire to empower you to take charge of your life.
Let's journey together to glowing health. Learn More
Your Health Transformation
Starts Here!
Sign up to get FREE healthy lifestyle tips and recipes!