This past week, as some of you may know, I attended the Raw Living Expo, here in Los Angeles.  It was a three-day event of workshops, food demonstrations, interviews, etc.  I was only able to attend one day, unfortunately, but in just one day I learned so much, met amazing, inspiring people and   really felt motivated to keep going strong!  So, I thought I would share with you some of the highlights of the day that I thought were important and helpful for you to know.  I want to apologize first off for the quality of these pictures, I thought my iPhone would do the job, so I left my good camera at home…apparently I was mistaken!lol.
To start the day off was Joan Jackson from I Am Living Raw.  She talked about 'How To Organize Your Raw Kitchen'.  She stressed that the keys to success on the raw food diet are 1) organization and advanced preparation, 2) convenience 3) keeping it simple but satisfying.  She encourages everyone to "make the commitment not to waste!" That goes for time and food. For example, if you are making a kale salad and tear off the stems, save them to add to a green juice.  As for time goes, pick a day to prepare a large batch of food one day during the week, this way you make only one big mess instead of messes everyday of the week requiring more cleaning.  Example: if you are going to dehydrate something, do all your dehydrating recipes together.  Another important concept she stressed was not to get caught up in having to have exact recipes.  Another words, learn the process for creating this way you can start creating your own recipes.  If you start to let your mind go out of the box you can create some amazing recipes.  Think of the sensations, texture, flavors and tastes you are looking for in each recipe.  She says, "just taste and adjust" as you go.  Food for thought, right?
Next on the agenda, was the radiant Mimi Kirk from Young on Raw . She is a raw food chef, author and traveling around the world all at  75 years young! Need I say more?? Yes you heard right, 75! She became raw vegan at the age of 69 and said she actually saw the aging process reversing from that point right before her eyes! She also stated that the earlier you start the raw food diet, the longer you can prevent lines and wrinkles from appearing.  WOW!  She said she feels like she's in her 20's at the age of 75.  If that isn't motivation to start this diet, I don't know what is!  And let me tell you, this picture does her no justice, when you see her she is literally GLOWING with vibrant energy she is captivating!  One thing she did stress was to make sure to get your blood drawn regularly, especially vitamin B12 and vitamin D, those are very important to monitor to make sure you are not low. That was such a highlight meeting her!
Next on the list was Steve Factor from Pure Energy Factor.  He spoke about 'The Pure Energy of Raw Foods'.  He shared with us his story of transitioning to the raw food diet.  He said it took two years of going back and forth from eating raw foods then binging on Shakey's pizza and fries, feeling guilty for giving in and repeating the same cycle over those two years.  He explained that he didn't love himself and basically was sabotaging himself with the wrong foods.  Now thanks to the raw food diet, which he emphasizes is a LIFESTYLE, he feels love not only for himself but he says now he "looks through the eyes of love" towards others. He explains that his walls have been brought down, and he got in touch with his feelings, his heart.  Basically the raw food diet helps heal not only physically but emotionally with regards to negative emotions.  He also stressed that the raw food diet is a diet of abundance, no calorie counting or restrictions!
My biggest highlight at the expo was meeting Karen Ranzi, the author of Creating Health Children.   I am such a huge fan or hers! She talked about her young son who was suffering with sever asthma, to the point she almost lost him twice.  She and brought him to doctor after doctor but nothing helped.  Finally she took charge and began a raw food diet and healed not only her son with his asthma but her cystic acne as well.  She continued the raw food diet through her next pregnancy raising her children on this diet.
She mentioned so many interesting facts about the raw food diet versus cooked food during pregnancy and for children.  I will quote some of them here: "From the moment a mother becomes pregnant what she eats will effect the health and genetic code of that baby." She went on to explain that the DNA can be completely changed through a raw food diet.  That is huge!  Dairy, wheat cooked processed and refined foods harm our bodies.  Vitamin C, vitamin B1 and folate are completely destroyed in foods when cooked.  Be aware of ingredients like yeast extract, hydrolyzed vegetable protein, and "natural flavors" they are just deceiving names for MSG. "Pregnant mothers who eat an abundance of raw fruits and vegetables, it goes into their amniotic fluid and breast milk and the cild will love them for life!"  The highest form of plant protein on this planet is dark leafy greens, spinach contains 49% protein per calorie and kale 45% per calorie.  Another powerful point she brought out is that milk of each animal depends on how fast that animal grows and its specific needs.  The calf grows four times faster than a human baby and in fact it's milk has 20% protein compared to human milk which only has 5-6%.  Also, a cow's milk is made for a calf that will grow into a 2,000 pound cow! Last point was that the longest living cultures have only 1% animal protein in their diet.
After this powerful, informative talk she gave I was able to meet her and spend a while talking with her.  She was so down to earth and it felt like we and had  known each other for years.  I really enjoyed it! My personal highlight was that after all that she interviewed me on video about how I was able to heal my fibromyalgia through the raw food lifestyle, that was so awesome! I am always excited about spreading the word for other fellow fibro fighters to give them hope that they too can heal their fibromyalgia, with no meds needed!
The last, but not least, of the day was Brandi Rollins from Raw Foods on a Budget.  She helps people enjoy raw foods while living on a budget.  She explained that HOW we eat can affect our budget.  For example, eating when hungry and stopping when full.  She mentioned that the average American eats 1/3 more, and 400 calories more per day in the 2000's than back in the 1980's.  She also stated that "in the U.S. 60% of food purchases were unplanned or impulsive" and that households in the U.S and U.K. throw away half of their food.  So, it's not always about the price of food, as it is using what we actually buy, not wasting and stopping when we are full.  Another problem is inconsistency, that is buying a while lot of food because at that moment you have a lot of ideas to make different recipes, and then you don't end up using it. She says consistency is the key.
I hope these highlights that I have shared with you from the Raw Living Expo will be of help to you and if you have any tips that you find helpful that you would like to share please leave a comment in the space below.  I love hearing from you!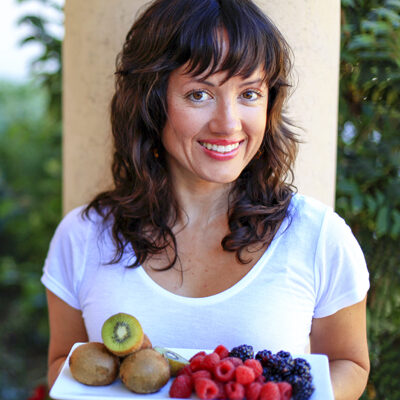 Hi, I'm Christine, thanks for stopping by! As a fibromyalgia thriver (symptom-free for over 10 years now thanks to diet and lifestyle changes), it is my passion to share the healing power of food.
As an RN and Holistic Nutrition Practitioner, it is my desire to empower you to take charge of your life.
Let's journey together to glowing health. Learn More
Your Health Transformation
Starts Here!
Sign up to get FREE healthy lifestyle tips and recipes!