Organic Gardening Video + Tomatomania
This weekend was packed with gardening activities.  If you follow me on my social media you probably saw that on Friday I spent the day learning about organic gardening, getting a personal garden tour from the gardening and sustainability expert himself Mike Garcia from EnviroScape LA. We also shot a video on Organic Gardening (see link below).
If you've been following me for a while now then you no doubt know how passionate I am about gardening! I can spend hours tending to my garden, it's like I'm a mother to tons of baby seedlings (smiling) and I nurture and care for them and watch them grow! It really is so exciting to see their progress in growth and when you finally get that first-fruit that they produce it's priceless all that hard work paid off.
I've received a lot of awesome questions about gardening, how to start, composting, keeping it organic, etc so I was so excited to finally get the answers for you from the expert! We did a video together that answers all those questions.  Click here to watch it!
This weekend was also Tomato Mania! the world's largest heirloom tomato seedling sale.  In the month of March, here in Los Angeles, they've been traveling every weekend to a new place.  This weekend they were in Westwood. For a listing of all their events for 2015 check out their website link above.
There I was finally able to get my hands on some Azomite for my garden. Azomite comes form an ancient volcano ash in Utah, and so it is a condensed amount of trace minerals that are very much missing in the soil these days. So the richer the soil in minerals the richer the food, right? This stuff can basically make dead plants come back to life (slight exaggeration 🙂 ) it's so nutrient dense! It should be applied about 3-4 times a year to the garden.  It's really hard to find here so this was worth the trip alone. I'll keep you updated on the progress of the results!
What about you? Do you have a garden? If so, what are you growing in yours? If you are on Instagram or Facebook or other social media networks feel free to tag me with photos of YOUR garden with #justglowingwithhealh I love seeing them!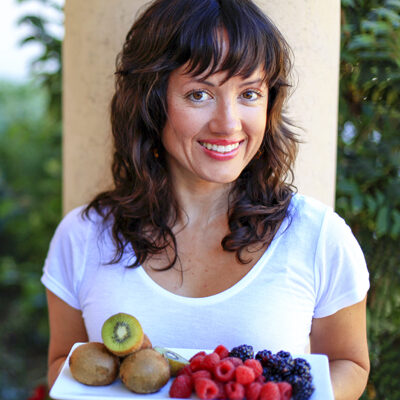 Hi, I'm Christine, thanks for stopping by! As a fibromyalgia thriver (symptom-free for over 10 years now thanks to diet and lifestyle changes), it is my passion to share the healing power of food.
As an RN and Holistic Nutrition Practitioner, it is my desire to empower you to take charge of your life.
Let's journey together to glowing health. Learn More
Your Health Transformation
Starts Here!
Sign up to get FREE healthy lifestyle tips and recipes!