Raw Vegan Gingerbread Smoothie
Yesterday I posted the gingerbread truffles recipe, so I thought the perfect way to follow that up would be a gingerbread "dessert smoothie" as I like to call them.  Who doesn't love a delicious dessert-like smoothie for breakfast, or as a dessert in itself? When I feel like something sweet these smoothies really hit the spot for me.  In the winter ginger is a great spice to use because it is so warming to the body.  I happen to love ginger and it has so many amazing health benefits, so I put it in everything!
If you are new to the raw food diet or are looking to start adding smoothies into your diet, sweet smoothies like this one make for a great transition.  You could always add a handful of spinach to it and you have a full on green smoothie that tastes like a dessert!
I always like to emphasize that these are the type of desserts we should be feeding our kids,  ones full of nutrients, vitamins and minerals.  No added sugar to bring down their immune systems!  Only raw living goodness to strengthen them. They will love smoothies like this gingerbread one.  In fact healthy deliciousness like this doesn't have to wait for dessert it can be a meal for them, or as a daily snack.
Serves 4 cups
Recipe:
1/3 cup pecans, soaked 6+ hours drained and rinsed
2 cups water
3 ripe spotted bananas, peeled
3 medjool dates, pitted
1 Tbsp molasses
1/2 tsp cinnamon
1/4 tsp cloves
1 Thumb size chunk ginger
pinch of cayenne pepper
Blend all the above ingredients in a blender on high, until creamy.  Pour into a large glass and top with pecans, cloves or even a crumbled gingerbread truffle on top..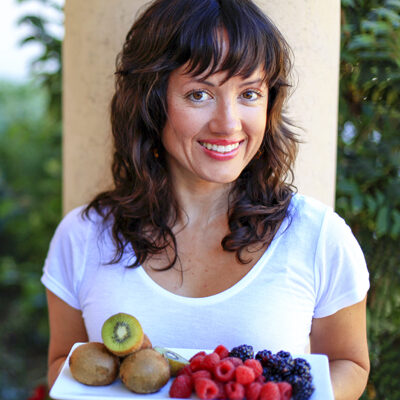 Hi, I'm Christine, thanks for stopping by! As a fibromyalgia thriver (symptom-free for over 10 years now thanks to diet and lifestyle changes), it is my passion to share the healing power of food.
As an RN and Holistic Nutrition Practitioner, it is my desire to empower you to take charge of your life.
Let's journey together to glowing health. Learn More
Your Health Transformation
Starts Here!
Sign up to get FREE healthy lifestyle tips and recipes!