Guest Post: Raw Vegan Day 13 + Red Skin Syndrome Testimonials
Day 13 – Raw Vegan and Red Skin Syndrome Testimonials
Red Skin Syndrome Fireside Chat:

Today we will check out an article posted on the DERMATOLOGY TIMES website published in October of 2012 by Paula Moyer, a Minnesota USA, based writer. Here is the link to the article: https://dermatologytimes.modernmedicine.com/news/topical-corticosteroid-addiction-may-be-blame-when-rash-defies-treatment
Here Ms. Moyer reports on Dr. Rapaport's commentary on why Red Skin Syndrome occurs and his experience in treating patients with Topical Corticosteroid Withdrawals. She also quotes Dr. Rapaport (Beverly Hills, CA dermatologist and a clinical professor of dermatology at University of California, Los Angeles (UCLA)) as saying, "Be suspicious when a patient reports an itch, temporary success with an over-the-counter (OTC) topical corticosteroid and then treatment with a stronger dose when the original treatment failed… Treatment requires the dermatologist to be persistent and support the patient through a long process… The cure can only occur with immediate complete withdrawal, as tapered withdrawal causes continued flare… Pain medication, sleep aids, anti-anxiety medication and anti-histamines can temporarily ameliorate the itch until the withdrawal reaction subsides…"
For more information, check out www.itsan.org, the (ITSAN) International Topical Steroid Addiction Network.
Day 13 Raw Vegan
Really lovely day outside and I'm starting to feel a lot better. Have my skin infections at bay. Sleeping a lot better too this last week.
Today's Breakfast – A friend from out of town came to visit me for the day so we went to one of my favorite spots, Café Brazil. You may remember these dishes from Christine's posts in January when she did her 14 day Raw Food Challenge. You are looking at the infamous "Acai Bowl" which is basically Acai smoothie topped with banana and strawberries. To the right you see a "Pineapple Orange" smoothie, I believe it had Mint, Pineapple, Orange and Water freshly juiced. I also downed my morning quart of water.
Lunch – My Carrot Pulp crackers from yesterday with a delectable array of vittles.
Dinner – Wasn't overly hungry, so just made a spinach salad with walnuts, Kalamata olives, carrots and cucumber and had some watermelon.
Evening Snack – Oranges, black mission dried figs, pecans, slab apricots (these are seasonal and local to Northern California Trader Joe's, if you see "SLAB" apricots buy a bunch o' bags – they don't stay on the shelves very long. UBERLISH!)
Heather Petersen
www.eczemancipated.com
Facebook: Eczemancipated
Twitter: @HPEsthetics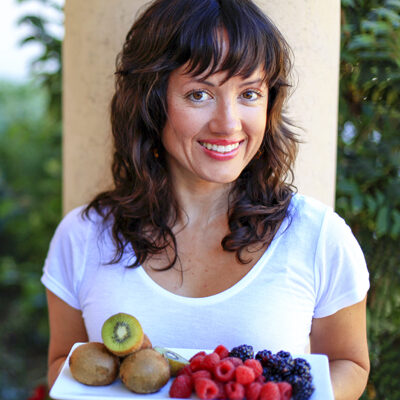 Hi, I'm Christine, thanks for stopping by! As a fibromyalgia thriver (symptom-free for over 10 years now thanks to diet and lifestyle changes), it is my passion to share the healing power of food.
As an RN and Holistic Nutrition Practitioner, it is my desire to empower you to take charge of your life.
Let's journey together to glowing health. Learn More
Your Health Transformation
Starts Here!
Sign up to get FREE healthy lifestyle tips and recipes!