Raw Vegan Challenge Days 10/11+ Guest Blogger
Weekend Update – Day 10 & 11 – Raw Vegan and RSS Fireside Chat
Red Skin Syndrome Fireside Chat: 
Today we are going to hear from Ms. EczemaExcellence, fellow blogger at www.eczemaexcellence.wordpress.com. I asked her to tell us a bit about how she found the ITSAN community and how it has helped her thus far in dealing with her Red Skin Syndrome.
Hello! I go by the name Ms. EczemaExcellence on the ITSAN Google forum and on my blog. I'm a 26-year-old woman from Michigan.  I had mild eczema as a child, but never used steroid creams until around age 20 when I was prescribed Desonide for some eyelid dermatitis.  Over the past 3 years I was prescribed Elidel, Protopic, and Mometasone in addition to Desonide and used them sporadically on my body and face.  It was around 2 years ago that I noticed my eczema very gradually getting worse, my skin getting very sensitive, and even some food intolerances seeming to crop up.  I tried absolutely everything – dietary changes, supplements, all kinds of creams, I even sold my car because I thought maybe it had chemicals that were irritating my skin.
Out of desperation the past year, I started my blog to try to make sense of everything in my quest to manage my eczema.  Another blogger saw a picture of one of my rashes and pointed out that it looked exactly like Topical Steroid Withdrawal.  I immediately went to the ITSAN forum and devoured every bit of knowledge I could.  One of the biggest benefits is no matter what symptom I am worried about, I can always find the answer on the forum and feel reassured that others have gone through it and this will pass.  Reading about other people's journeys to healing never fails to renew my optimism that one day I will heal too, even though I am now less than 2 months in and have a ways to go.  I appreciate the camaraderie among all the members and all the encouragement to each other – where else could you bond with someone while freely talking about oozing, itching, and flaking skin?  I am so very grateful for the ITSAN community!
For more information and fun facts, check out www.itsan.org, the International Topical Steroid Addiction Network.
Day 10 and 11 – 19 Raw Vegan Days To GO!!!
A good friend of mine has been vegetarian for years; she's about 75% raw vegan and 25% vegetarian. She was so excited to hear what I was doing that she made me some raw vegan treats and brought them over Saturday morning. But even more exciting is that she brought over her beast of a dehydrator so I could make my own crackers and breads for the rest of the month. Then she helped me make a couple of recipes.
Saturday Breakfast and Snack – "Banana Bread" that my friend brought over and a small green juice. (Apple, Kale, Lemon, Celery).
I loved the Banana Bread so much that I ate that whole plate full after she left. So I wasn't very hungry for the rest of the day. She said the ingredients were Buckwheat Groats, Flaxseed, Bananas, Dates and Almonds.
Saturday Lunch/Dinner – Consisted of me grazing on Yam Chips, Romaine Lettuce Hearts, Guacamole, Watermelon, and Olives. 
But check out what we made:
Fruity Crackers – They remind me of a "Lara bar". We used water, Ground Flaxseed, Buckwheat Groats, Dried Dark Cherries, Goji Berries, Cinnamon and Cashews.
Then we made Savory Flatbread – Water, Onions, Garlic, Salt, Ground Flaxseed, Buckwheat Groats, Sesame Seeds, Walnuts and the "Real" brand of Salt.
Sunday Breakfast – I was slow-moving this morning and my husband and I were getting ready for a meeting so he generously made me my favorite Berry Smoothie you've all seen me make before.
Then for Sunday Lunch he took me out to my favorite Mediterranean restaurant where I got a salad and a humus sampler plate. My hubs had the bread, falafel and grape leaves while I mangied on the 3 different hummuses. (I think that the chick peas may have been cooked, I didn't ask. I figure best to ask for forgiveness than for permission… Right Christine? J ) Salad had red onion, cucumber, tomato, walnuts, spinach and apples. I forgot to tell them no dressing and they predressed it with some type of lemon vinaigrette, I feel like I was a bad girl today…
Snack – 7 Carrots, 2 Green Apples, ½ English Cucumber, 1 Meyer Lemon peeled, 2 Limes peeled throw 'em in the  Juicer. Made 24 ounces, I gave 8 oz to my husband and I diluted my 16 oz of juice with another 8 oz of water.
Sunday Dinner – was most exciting. Made a plate of goodies to top on my Savory Flatbread. Also a bit of pesto and a fresh  Spicy Smoked Tomato "sauce".
Spicy Smoked Tomato "sauce" recipe: 1 large dried chipotle pepper (Soak for an hour in water), ½ cup sun-dried tomato, 3 ripe Roma tomatoes, ¼ cup ground flaxseed, ½ tsp cayenne pepper, 10 Basil leaves, 4 cloves garlic, 1/3 cup almonds, ¼ cup olive oil. Blend til smooth in the food processor. YUMMY!
Heather Petersen
www.eczemancipated.com
Facebook: Eczemancipated
Twitter: @HPEsthetics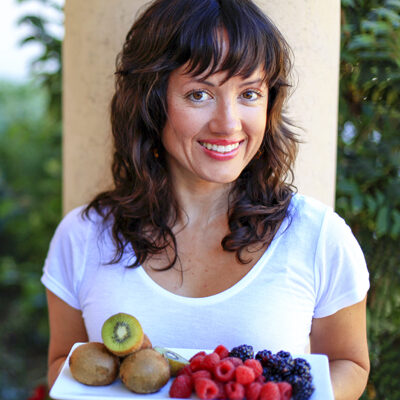 Hi, I'm Christine, thanks for stopping by! As a fibromyalgia thriver (symptom-free for over 10 years now thanks to diet and lifestyle changes), it is my passion to share the healing power of food.
As an RN and Holistic Nutrition Practitioner, it is my desire to empower you to take charge of your life.
Let's journey together to glowing health. Learn More
Your Health Transformation
Starts Here!
Sign up to get FREE healthy lifestyle tips and recipes!