Raw Vegan Challenge Day 7 +Treatment of RSS
Day 7 – Raw Vegan and RSS Fireside Chat
My skin is raw and feels like it's burning and scraped all over. My hands and fingers are especially swollen and cracked, so I've bandaged up. This isn't rare and actually overall I'm nowhere near as bad as I was in the summer.
Red Skin Syndrome Fireside Chat:

In 1999, Drs. Marvin and Vicki Rapaport published another report in the American Academy of Dermatology's J Am Acad Dermatol 1999;41:435-42. They summarized the results of a study done over an 18 year period on 100 patients who had an ongoing problem of Eyelid Dermatitis. All were evaluated and diagnosed as addicted to Topical or Systemic (Oral or Injections) Corticosteroids because of the long period of the steadily increased doses of Corticosteroids to resolve the skin affliction.
The treatment prescribed was 1) Total cessation of Corticosteroids, 2) Ice or cool water compresses 4 times/day for 15 minutes, 3) Multiple reassuring phone calls and visits, 4) Hydroxyzine 10mg twice daily if itchy, 5) Mild lubrication when exfoliating, 6) UVB therapy once or twice a week when flare subsides.
The duration of earlier corticosteroid use and potency was what determined how long it would take for the skin to completely heal and all flaring to stop; normally this took about 6-18 months. It wasn't uncommon for the swelling and flares to move down the entire face, scalp, neck and chest – even if Corticosteroids were only used on the eyelids. They noted that Atopic Dermatitis patients had a more difficult process healing then the Seborrheic Dermatitis. No one was able to use makeup during healing nor could they use lubricants, ointments or creams in the initial stages of flaring until the skin was able to heal enough to tolerate assistance. Fifteen of the patients refused the diagnosis of Red Skin Syndrome and continued to use Corticosteroids and other immune suppressant prescriptions.
85 of 100 of the patients accepted and followed the treatment. They were completely healed, including any atrophy of the skin that had occurred prior to Corticosteroid cessation.
For more information and fun facts, check out www.itsan.org, the International Topical Steroid Addiction Network.
Day 7 of 30 Day Raw Vegan Challenge
Week one is done! I am continuing to fight a cold; the viral infection around my nose is FINALLY starting to go away. (Just stuck with the infection on my forehead, I'm thinking it will be another week.) Tomorrow I plan on doing a lot of green juices which I will make in my new Breville Juicer.
Breakfast – A quart of water. Didn't get out moving until a little after noon.
Lunch – My husband worked from home to keep me company and got us Chipotle. So I went for a very limited Salad bowl to-go which included Romaine lettuce, Pico de Gallo, corn with cilantro and onions and guacamole.
Snacks – I made Christine's Orange Creamsicle Smoothie. (link to this https://glowingwhealth.wpenginepowered.com/raw-vegan-orange-creamsicle-smoothie/) Holy Cannoli! It was amAAzing, my husband even thought it was fantastic. A definite treat I plan to repeat.
Dinner – Was craving dinner, yah know what I'm saying. So I tried to make "Mashed Potatoes" by throwing a Red Bee potato, 2 cloves garlic, couple tablespoons olive oil and ¼ cup of raw cashews in the food processor. I did eat it, with my peas and carrots which I defrosted. But I wouldn't advise anyone make it. I also had a scoop of sun-dried tomato humus which I made. I do miss hot food a bit. I must confess, I had a bite of my husband's cornbread. Sorry!
Snacks – Probably will have some dried tart cherries, possibly a berry smoothie later, unsure at the moment.
Heather Petersen
www.eczemancipated.com
Facebook: Eczemancipated
Twitter: @HPEsthetics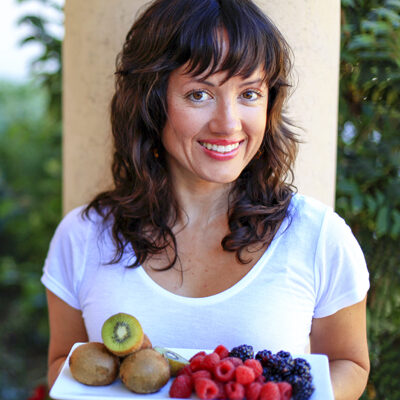 Hi, I'm Christine, thanks for stopping by! As a fibromyalgia thriver (symptom-free for over 10 years now thanks to diet and lifestyle changes), it is my passion to share the healing power of food.
As an RN and Holistic Nutrition Practitioner, it is my desire to empower you to take charge of your life.
Let's journey together to glowing health. Learn More
Your Health Transformation
Starts Here!
Sign up to get FREE healthy lifestyle tips and recipes!