Raw Vegan Day 6 + What is Red Skin Syndrome?
I slept off and on most of the day. I have a feeling I will be a bit under the weather for a while as I fight these skin infections and the damp overcast Santa Cruz winter lingers. My skin does a lot better when the sun comes out.
Red Skin Syndrome Fireside Chat:

Why the "Red" skin? "Red Skin Syndrome" is identifiable by the deep red, rash like, swelling skin resulting from cessation of Corticosteroids. Though it looks similar to Dermatitis, it is the measurement of Nitric Oxide [molecule important to the communication between cells] in the blood that is the difference between the various forms of Dermatitis and "Red Skin Syndrome" (RSS).
The paper "Serum Nitric Oxide Levels in 'Red' Patients: Separating Corticosteroid Addicted Patients from those with Chronic Eczema" by Drs. Marvin and Vicki Rapaport published in the Arch Dermatol/Vol. 140. August 2001 explains there is continuous vasodilation [dilated blood vessels] accompanied by intercellular and extracellular edema [swelling], which is NOT reflected in worsening eczema only in Topical Corticosteroid Addicted patients. "Since nitric oxide is synthesized by the endothelium [smooth thin cells that line the blood vessels, lymph, heart and serous cavities] of the vasculature and functions as a vasodilator, this might explain vasodilation and redness in Cortico-steroid-addicted patients… Since the withdrawal phase of these addicted patients can last for a year or more, nitric oxide levels can be used to gauge recovery time and determine when the withdrawal will be complete and the dermatitis and erythema cease… We believe that the rash does NOT represent eczema anymore, but permanent vasodilation caused by elevated serum levels of nitric oxide."
For more information and fun facts, check out www.itsan.org, the International Topical Steroid Addiction Network.
Day 6 of 30 Day Raw Vegan Challenge
My body is fighting something and my skin feels scraped all over. So I was reaching for really simple uncomplicated food.
Breakfast – 25 oz of Mixed Berry Smoothie, like the other day and a quart of water.
Lunch – 3 Organic Local Mandarin Oranges, a handful of Raw Pecans and Tart Cherries.
Dinner – 2 Organic Local Mandarin Oranges and the rest of the "Green Salad" from yesterday.
Snacks – More Pecans and Dried Tart Cherries.
Heather Petersen
www.eczemancipated.com
Facebook: Eczemancipated
Twitter: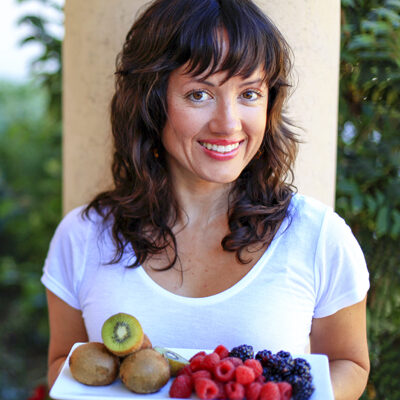 Hi, I'm Christine, thanks for stopping by! As a fibromyalgia thriver (symptom-free for over 10 years now thanks to diet and lifestyle changes), it is my passion to share the healing power of food.
As an RN and Holistic Nutrition Practitioner, it is my desire to empower you to take charge of your life.
Let's journey together to glowing health. Learn More
Your Health Transformation
Starts Here!
Sign up to get FREE healthy lifestyle tips and recipes!