Raw Vegan Day 8 + Apple Lemon Green Juice Recipe
Today I'm still really under the weather with a spreading rash. Part of me thinks this is my body detoxing from the raw diet. Actually, that is what I would like to believe. However, the rainy season of Northern California is typically the worst time of year for me and it's been raining for about 3 days now…
Red Skin Syndrome Fireside Chat:

Drs. Marvin and Vicki Rapaport (Father/Daughter team of Dermatologists currently practicing in Beverly Hills, California, USA.) have continued to care for more than 2000 patients suffering from Red Skin Syndrome on a variety of locations on the body.
You can read the doctors compiled diagnoses, treatments and patient results in the 2003 paper detailing an account of their findings after caring for more than 300 patients. It's entitled "Corticosteroid Addiction and Withdrawal in the Atopic: The Red Burning Skin Syndrome" published by Elsevier in the Department of Dermatology, UCLA School of Medicine, LA, CA and the Department of Dermatology, Mt. Sinai Medical Center, NY, NY. All of the over 300 patients had seen multiple doctors over a period of months – years and had been prescribed increasingly strong prescriptions of Topical and Systemic Corticosteroids to care for rashes on one or more areas of the body. Drs. Rapaport diagnosed them all as being Corticosteroid Addicted, despite previous medical diagnoses. Some patients took close to 3 years before fully complete recuperation, but they completely healed. The only patients who did not completely recover are those who went back to using Corticosteroids.
One thing that caught my eye in the paper was that "in recent years, corticosteroids have often been prescribed after resurfacing procedures to prevent" (post cosmetic procedures) scarring and swelling. Other people had self-prescribed over-the-counter topical Corticosteroids (many of us are familiar with products like Cortaid) before even seeking medical consultation. Others were given Clobetasol, which according to a report by Glaxo, is "demonstrated to be 1800 times stronger than hydrocortisone". This is important to note because Clobetasol has become a drug of choice since the 1990s. Even more disturbing to me was that many cosmetics, products meant for reducing pigments on the skin and other "natural" skin care contain corticosteroids (such as hydrocortisone acetate 1% or betamethasone .05%) even though it is not declared in the list of ingredients. As an esthetician, this is disturbing. No wonder why so many people are being diagnosed with Red Skin Syndrome.
Don't just read labels, call manufacturers, get to know what is in your products.
For more information and fun facts, check out www.itsan.org, the International Topical Steroid Addiction Network.
Day 8 of 30 Day Raw Vegan Challenge
Breakfast – Finally, some Green Juice. The Breville Juicer by the way is so much more amazing than my Waring Pro and it's so much easier to clean than the previous 2 Jack La Lane Juicers I've owned.
Green Juice Recipe: 1 head of celery (the whole thing, minus the bottom root knot), 2 green apples, 1 Meyer lemon peeled, 3 cups of spinach, 1 cup of carrots + 1 cup of water to dilute.
Just as a note, I always juice a lemon into any type of juices including some type of leafy green. Many farms have been culprits of E coli in the packaging process of leafy greens, which is why I always wash my greens in a bit of veggie detergent and distilled white vinegar before using them raw. Lemon juice is an astringent and kills bacteria, as well as chemically "cooks" things. So not only does it taste good to include lemon, but it make juicing raw greens safe and clean.
Snack: "Larabar's" Carrot Cake vegan bar. I'm almost positive it's raw, the ingredients are dried shredded coconut, dried carrot, dried pineapple and almonds. There may be Cinnamon and something else but I think that's it.
Lunch – Zucchini "pasta" with Pesto. (Made the pesto the other day.)
Dinner – I wanted oatmeal, so I made "Nutmeal" porridge. It doesn't look pleasant but it was really yummy. I poured some of my "Avocado Green Milk" into it so it would be creamy.
Avocado Green Milk recipe: ½ ripe avocado, 3 cups water and juice of 1 lime. (You can add sweetener if you want, I didn't.) Blend until smooth, should be a very thin liquid. Use less water if you want it to be thick and creamy.
Nutmeal Porridge recipe: 1 cup of raw nuts, I used Cashews, Pecans, Almonds and Walnuts. 5 Dried Black Mission Figs, 1 teaspoon Cinnamon and ¼ teaspoon ginger, 1 green apple cut up into 8 pieces. Throw in the food processor and blend until almost a paste type texture. Poor some type of milk over it (I didn't have bananas otherwise I would have done a banana milk.) and enjoy!
Heather Petersen
www.eczemancipated.com
Facebook: Eczemancipated
Twitter: @HPEsthetics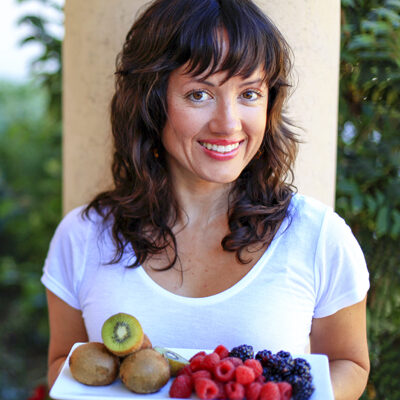 Hi, I'm Christine, thanks for stopping by! As a fibromyalgia thriver (symptom-free for over 10 years now thanks to diet and lifestyle changes), it is my passion to share the healing power of food.
As an RN and Holistic Nutrition Practitioner, it is my desire to empower you to take charge of your life.
Let's journey together to glowing health. Learn More
Your Health Transformation
Starts Here!
Sign up to get FREE healthy lifestyle tips and recipes!