Planet Raw + The Culinary Genius Chef Juliano
This weekend I had lunch at Planet Raw with friends for the first time.  I have tried several raw restaurants but have always heard such amazing things about Planet Raw that I just finally had to try it! The fun thing for me was that I brought friends who are not raw nor had ever tried raw foods.  So, I knew this would be a true test.  After all, if the average person on the Standard American meat-eating diet walks out of a raw vegan restaurant, with a stomach full AND happy you know it was exceptional!
Planet Raw is in Santa Monica, my favorite spot for hangin out, shopping, eating, going to the Pier, the Promenade, it really has it all.  If you have never been you really must go and visit! And while you're at it put Planet Raw on your to do list, it really is an experience!  If you are not a rawfoodie, don't let that stop you.  The foods are so savory and rich in flavor I'd venture to say that Chef Juliano can turn meat eaters vegan!
This was our lovely host who was so accommodating to us, as was our gracious server who unfortunately I did not get  a picture of.
I always love how people who are into raw foods are so happy and positive, and just seem to glow.  There usually is an instant connection as you bond over how you got into the raw foods and how it has changed your whole world! So, I instantly felt at home here. 🙂
This is the view of the bar.
  Planet Raw is known for their amazing shakes so you must try one of their decadent desserts in a glass!  If you are a chocolate lover I highly recommend this Chocolate Shake.  The mix of decadent creamy chocolate  mixed with  nuts, cacao nibs and dried sweet fruit was absolute perfection!
For starters we ordered these Lexi Sliders made with pumpkin tortellini, sun-dried heirloom tomatoes, avocado and onion on flax with a balsamic drizzle.  They were delicious but a lot of onion!
Then I ordered this Tom Kha Gai soup warmed to perfection.  This was heaven in a mug! I savored every last spoonful.  Creamy coconut curry with lemongrass, kiefer lime and galangal root. As I am writing this my mouth is watering for it!
Onto the main dish: Bangkok Thai Pasta….
This artistic display of kelp noodles with a Thai Green Curry  Kream was magnificent!  You can get it Mild, Medium or Hot.  I ordered it mild and it was perfect to appreciate all the rich blends of flavors, without being over ruled by the hot spice.
For those you who feel heavy and weighed down after a big pasta meal, you will love the kelp or zucchini noodles, which you can eat until your heart is content and never have digestion problems afterwards!
I was so excited to meet the raw food chef and best-selling author Juliano Brotman!  The genius behind this creative culinary cuisine.
This is his "RAW-UNcook Book"
Take a night  to step into the beauty of a raw food world, you might just get hooked! 🙂
Have you ever been to a raw food restaurant? Leave me a comment and let me know what you think.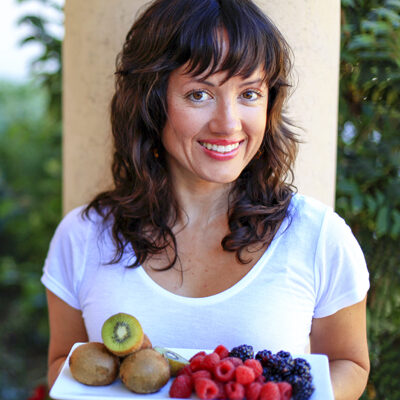 Hi, I'm Christine, thanks for stopping by! As a fibromyalgia thriver (symptom-free for over 10 years now thanks to diet and lifestyle changes), it is my passion to share the healing power of food.
As an RN and Holistic Nutrition Practitioner, it is my desire to empower you to take charge of your life.
Let's journey together to glowing health. Learn More
Your Health Transformation
Starts Here!
Sign up to get FREE healthy lifestyle tips and recipes!