Moist Gluten-Free Zucchini Bread (Vegan)
This zucchini bread has become a staple for me. It's gluten-free, vegan and totally delicious! Healthy does not mean that taste has to be compromised. Sometimes I find gluten free breads or pastries can be a bit dry but NOT this one! I've had this tried and tested on both vegans and non, healthy eaters and less healthy eaters and they all mentioned how not only was it delicious but how moist it is. So, I know you will love it too!
I grew up with my mom baking in the kitchen as well as going to my Nonna's house (Italian for grandma) and they'd often have freshly baked zucchini bread ready and I always looked forward to it. When I decided to try to recreate the family recipe but with a vegan, gluten-free twist it felt a little bit daunting.
When you have a recipe in mind that you will inevitably compare it with it seemed impossible to come up with one that would be just as good. But, I'm quite proud to say that after many attempts I finally came up with a recipe that I felt was "worthy of the name (hehe).
The big test was getting my moms approval. While she is vegan and a healthy eater she is extremely picky and will not be generous with compliments in any way if she does not like it. She will tell you straight up that it's not even close to the real deal. So, when she took a bite and her eyes lit up and she came back for seconds I knew I was on I knew I was on to something!
I love have baked goods on hand like this zucchini bread to pull from when on the run, when in a pinch for time or for when I'm craving something comforting. It really hits the spot, it's filing, and easy to pack up.
I'll bring this to friends house when and everyone loves it, or take it if I'm going to be out for hours and want to have snacks with me. It also make for a great breakfast! Now that it's almost fall and our mornings are getting chilly, I love starting out my morning with my pumpkin spice latte and a slice of this zucchini bread. It makes for the perfect comfort breakfast! If you follow me on Instagram then you probably have seen me making it!
This zucchini bread is:
Delicious
Easy to make
Gluten-free
Vegan
Healthy
Moist
Dairy-free
Refined sugar free
Cinnamon infused
I chose to use Millet flour since I use rice flour in so many recipes. I like to change it up when possible and I've found that millet is a wonder flour to use in baking. It's gluten-free, has a nice mild flavour and is also a good source of protein. You can easily swap it out with brown rice flour is you choose.
In this recipe I use millet flour, but you can substitute with rice four if you choose. Maybe even oat flour but I can't verify for that cause I have not yet tried that. This zucchini bread is also a delicious way to add in zucchini without your kids even tasting it, veggies have never tasted better! (wink wink lol)
Once baked it'll last stored in an airtight container in room temperature for 2-3 days I honestly can't tell you longer than that cause it usually goes in the first day or two! You can also slice and freeze and store up to a month.
RECIPE:
2 cups zucchini, grated
1 cup Oat milk (or plant milk of choice)
1 1/2 cups millet flour*
1 cup almond flour**
1 teaspoon baking soda
2 flax eggs (2 tablespoons ground flax seeds and 6 tablespoons water, whisked together, set aside for 15 mins to thicken)
1/4 cup coconut oil, melted*
1 teaspoon cinnamon
1/4 teaspoon nutmeg
1 cup organic brown sugar
1/2 cup chopped walnuts
(optional) chocolate chips as desired
INSTRUCTIONS:
Preheat oven to 350 degrees F. Lightly oil a loaf pan with coconut oil, or oil of choice, then set aside.
In a small bowl mix the ground flax seeds and water together well and let sit for at least 10-15 minutes
In a medium mixing bowl, mix together well the rest of the dry ingredients.
Add to the bowl milk, flax eggs and oil.
Stir well and mix until the batter is smooth. Add in the grated zucchini, mixing evenly.
Scoop the batter into the oiled baking pan and bake for 60-70 minutes, until the outside is slightly cracked. A toothpick or knife should come out clean.
Cool in pan for at least 15 minutes, then transfer to a cooling rack. If it's not completely coo before serving it may crumble. It's delicious served with vegan butter!
*SUBSTITUTIONS:
Millet flour can be substituted with brown rice flour. Coconut oil can be substituted with avocado oil or any other neutral oil.
** To make the almond flour I used blanched almonds and ground them up in a coffee grinder.
Did you make this recipe? Let us know how you enjoyed it in the comments below or tag me on Instagram at @justglowingwithhealth so I can see the deliciousness!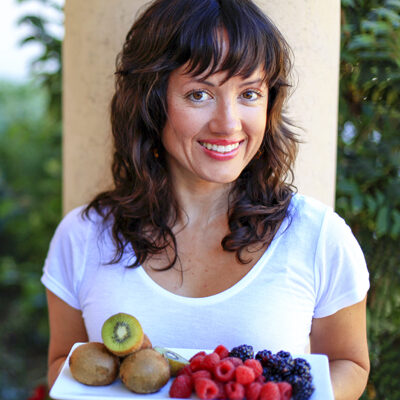 Hi, I'm Christine, thanks for stopping by! As a fibromyalgia thriver (symptom-free for over 10 years now thanks to diet and lifestyle changes), it is my passion to share the healing power of food.
As an RN and Holistic Nutrition Practitioner, it is my desire to empower you to take charge of your life.
Let's journey together to glowing health. Learn More
Your Health Transformation
Starts Here!
Sign up to get FREE healthy lifestyle tips and recipes!