No-Bake Mocha Breakfast Brownies
I have such a treat for you today. These No-Bake Mocha Breakfast Brownies have been such a huge success around here that I simply couldn't wait to share them with you! I've shared them with my friends, my husband even guests we've had over for dinner and they passed the taste-test with flying colors.
Italians are my most challenging critics, mostly because I use flavors that they're not used to. Also because they're not always used to trying new flavors or the way I combine certain spices together.
Living here in Italy I've learned so much from them. It's so interesting how precise they are when it comes to combining flavors. For example, I love cooking mushrooms with sage. When I mentioned that, I was told mushrooms go with parsley…end of discussion, it wasn't even taken into consideration that it could possibly be a new delicious combination. HaHa. But hey, they're known as the kings of cuisine who am I to question…parsley it is!
Anyway, my point is when I can get the Italians to rave about my food I know it's definitely a winner.
These mocha brownies are so rich, moist, decadent, chocolatey and mocha-y (is that an adjective?lol) I'm addicted to them. I have a constant supply of them on hand lately cause I crave them! Then there's my husband, he's a chocolate fiend. I'm in the never ending search of a healthier chocolate recipe that'll keep his attention off store bought candy bars.
I mean seriously, no joke he has chocolate stashed all around the house, in the car, I even found some in his drawers as I was cleaning them out one day! The obsession is real. He was reluctant to try these. In fact, he only took the tiniest piece possible expecting that surely he wouldn't like them. But, to his surprise he loved them and has been eating them for breakfast.
SunWarrior has a new Mocha Protein Meal Blend that I just love. I'm not one to add protein powders into my food in general, but these are raw, vegan, organic and gluten-free. I love the flavor of it and since my husband's eating them I like to make sure they keep him feeling satisfied.
These breakfast brownies are perfect for the morning. Protein packed they keep you feeling full longer. I like to make these Sunday evening and have them all ready to go for the week. It's so nice to be able to wake up in the morning and not have to prepare anything. I just wrap a couple of them up and take them on the go.
They can be stored in the freezer if you don't plan on eating all of them within the week, but seriously I don't think that's possible, lol.
If you like these and are looking for other protein rich breakfast and snack ideas check out my Aztec Chocolate Protein Bars Recipe. I hope you enjoy these brownies as much as we are here in Italy, and if you do please leave a comment below and share!
Servings 9 brownies
Recipe:
Brownie
100 g oat flour
50 g coconut flour
2 cups soft* medjool dates, pitted
2 tablespoons tahini
2 tablespoons SunWarrior Mocha Meal
1 heaping tablespoon cacao
Chocolate Glaze
3 tablespoons melted coconut oil
2 tablespoons maple syrup
1 tablespoons SunWarrior mocha meal
1 tablespoon cacao
1)Line an 8×8 glass dish with parchment paper then set aside.2)In a food processor blend together all the brownie ingredients until it becomes a sticky mix. 3)Scoop out into the dish and using your hands press the mix evenly and firmly. 4) In a small bowl whisk together the chocolate glaze ingredients until smooth. 5)Spread over the brownies. 6) Place in freezer for at least 30 minutes. 7) When ready to eat remove from freezer and thaw out for at least 10-15 minutes.
* The medjool dates should be nice and soft if they're not, simply soak them in warm water for about 20 minutes or until soft.
NOTE: Oat flour can be substituted with buckwheat flour, coconut flour can be substituted with almond flour. Carob can be used in place of cacao. Peanut butter or cashew butter can be used instead of tahini.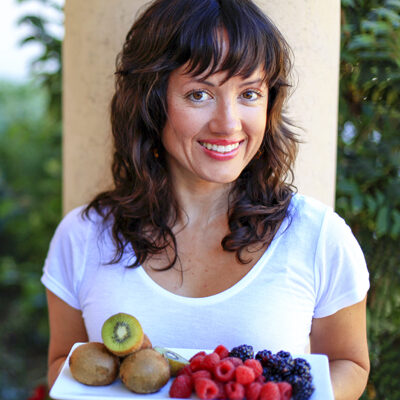 Hi, I'm Christine, thanks for stopping by! As a fibromyalgia thriver (symptom-free for over 10 years now thanks to diet and lifestyle changes), it is my passion to share the healing power of food.
As an RN and Holistic Nutrition Practitioner, it is my desire to empower you to take charge of your life.
Let's journey together to glowing health. Learn More
Your Health Transformation
Starts Here!
Sign up to get FREE healthy lifestyle tips and recipes!