No-Bake Aztec Chocolate Protein Bars
This Aztec Chocolate Protein Bar recipe has been long over due and I'm so excited to finally be sharing it with you. I had planned to share this after posting it back in December on my social media but what I've learned about living here in Italy is sometimes, actually a lot of times, things don't go as planned and you have to adjust your sails accordingly. Basically winter happened as I'll be explaining in today's post…
Let me catch you up on what's been going on with me here since it's been a while that I've shared my Italian adventures with you!
This being my first winter in Italy, in the country, in an old rustic country house I had no idea what to expect. I was a little nervous because I'm a sun and heat lover and as a southern Californian any weather other than HOT is foreign to me, lol! Now that spring is almost here I can say I got through it rather smoothly with minimal pain, lol. However, there's a lot of getting used to the old country inconveniences.
The hardest thing for me was not having "normal"(central) indoor heating that I'm used to. Here we use a stove, either wood or pellet. We had a small one in our living room that we were convinced would heat our place just fine, but when the digits went below zero in January we found ourselves having to take showers in a ice cold bathroom, yikes! And our hot water would run out after only 8 minutes cause our tank only holds 30 liters at a time.
As a result, we ended up packing up to spend the winter in the city at my in-laws house until we got a proper stove that now heats it up nice and toasty..now I never want to leave the house it's so cozy!
The other big issue was the water pipe system. When the temperatures drop below thirty degrees the pipes start freezing over and you have to turn off the water otherwise the pipes break creating the inconvenience of being without water and having to repair the pipes.
Outside of these, now laughable stories, it's been an beautiful experience living in Italy, especially the old country life. I'm loving it and learning a lot from it.The biggest lesson for me is learning to let go of certain expectations of how things should be and just go with the flow making the best of the circumstance, basically trying to see through Italian eyes not American eyes. It is not easy but I'm always up for a challenge!
We're now back at home and it feels so good being back in my kitchen making recipes, waking up to our spectacular country views in the morning accompanied by the chorus of birds singing, and farm animals chattering back and forth.
Make sure to follow me on Instagram at just glowing with health where I share regularly on Insta story my country life.  I feel like I'm  living a scene out of the film Under the Tuscan Sun! 
So now let's talk about these Aztec Chocolate Protein Bars! They're quite easy to make, and the recipe is so flexible. Simply changing a few ingredients you can completely change the experience. They make great breakfast bars when you're on the run or even a snack to have on hand in your bag.
The great thing is they're hearty and rich in protein  so they keep you feeling filled. I've sampled them with several friends here and they were a big hit, so I know if the Italians enjoyed them you will too!
Servings 9 squares
Recipe:
Aztec Chocolate Bar Base
1 1/2 cups oat flour
1/2 cup coconut flour
2/3 cup raisins**
1 1/2 cups medjool dates, pitted*
3 tablespoons Sun Warrior Aztec chocolate organic meal
3 tablespoons cacao
3 tablespoons tahini
1/4 teaspoon chili powder
1 1/2 teaspoon ceylon cinnamon
Chocolate Glaze
3 tablespoons melted coconut oil
2 tablespoons maple syrup
3 tablespoons cacao
Directions:
1) In a food processor blend the dates and raisins together. 2) Add the rest of the ingredients and blend until it becomes a sticky dough-like texture. 3) Scoop out the mixture into a 8×8 glass dish lined with parchment paper,  press the mixture firmly with your hands.
For the Chocolate Glaze: 1) In a small bowl whisk together the coconut oil, maple syrup and cacao 2) Spread the glaze over the chocolate bars and chill in the freezer for about an hour. 3) Remove the bars from the freezer, and slice into 9 pieces.
These will last about 1 week in the refrigerator.
*The dates should be nice and gooey to help the mix stick together well. If not simply soak them in warm water for about 20 minutes or until soft, drain and gently pat off excess water.
** The raisins should be fresh and soft. If they're not simply soak them in warm water until soft then drain and gently pat off excess water.
NOTE: Chili powder can be substituted with cayenne pepper or chipotle to change it up slightly. If you want to a traditional brownie-like bar omit the Aztec chocolate meal and chili powder. Oat flour can be substituted with buckwheat flour. Cacao may be substituted with carob. Tahini can be substituted with peanut butter or any nut butter. Oat flour can be substituted with buckwheat flour. If you don't have Sun Warrior Aztec Chocolate Meal you can simply add more cacao and spices ie cinnamon, chili etc.
Enjoy!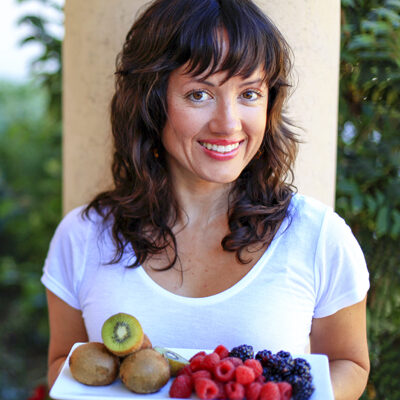 Hi, I'm Christine, thanks for stopping by! As a fibromyalgia thriver (symptom-free for over 10 years now thanks to diet and lifestyle changes), it is my passion to share the healing power of food.
As an RN and Holistic Nutrition Practitioner, it is my desire to empower you to take charge of your life.
Let's journey together to glowing health. Learn More
Your Health Transformation
Starts Here!
Sign up to get FREE healthy lifestyle tips and recipes!