Today is black friday, and instead of shopping I am at home doing a two-day juice diet, meaning I am only consuming fresh juices and water for these two days.  I wanted to take advantage of having a few days off consecutively to rest, catch up on some well needed sleep and just rest my body physiologically (digestive wise), drinking just juice over these two days.  Resting your digestive system through a juice fast can do wonders for your body.  It allows your body to work internally healing, restoring, cleansing, etc.
I call this juice 'The Fat Burner'.  Some of the top foods to burn fat are broccoli, collard greens, leafy greens, lemon and apple. This green juice not only is a nutritional powerhouse but contains all of those fat burning foods.  In order to lose weight or burn fat efficiently, the body requires certain vitamins and minerals to metabolize properly. B-complex vitamins help metabolize carbohydrates, fats and protein.  Niacin, vitamin B-6 and iron help increase metabolism by helping with producing L-carnitine, which is an amino acid that promotes fat burning.  L-carnitine also helps promote the release of triglycerides into the bloodstream and then into the muscles to be burned for energy.   This juice infuses such nutrients in large amounts into your body.  Obviously juice alone will not necessarily help you burn fat, a balanced diet and regular exercise is important too.
Servings: 1 (20 ounces)
Recipe:
4 collard smaller green leaves
1 cup broccoli
2 cups Romaine lettuce
5 celery stalks
2 inch chunk of ginger
2 apples (I used Fuji, but you can use any of choice)
NOTE: The Collard greens come in really large leaves or smaller leaves.  Make sure to use the small ones otherwise it will be very overpowering.
Place above ingredients in the juice one at a time. (Optional) If you prefer not to have any pulp in your juice, pour juice through a strainer to make it extra smooth.  Pour juice into a beautiful glass and enjoy immediately.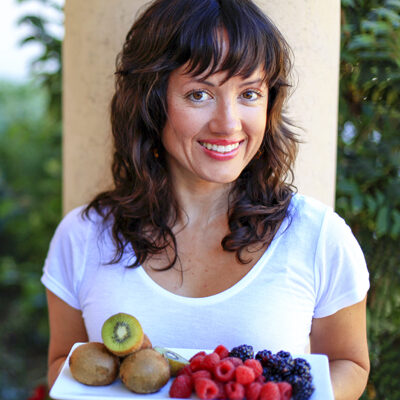 Hi, I'm Christine, thanks for stopping by! As a fibromyalgia thriver (symptom-free for over 10 years now thanks to diet and lifestyle changes), it is my passion to share the healing power of food.
As an RN and Holistic Nutrition Practitioner, it is my desire to empower you to take charge of your life.
Let's journey together to glowing health. Learn More
Your Health Transformation
Starts Here!
Sign up to get FREE healthy lifestyle tips and recipes!